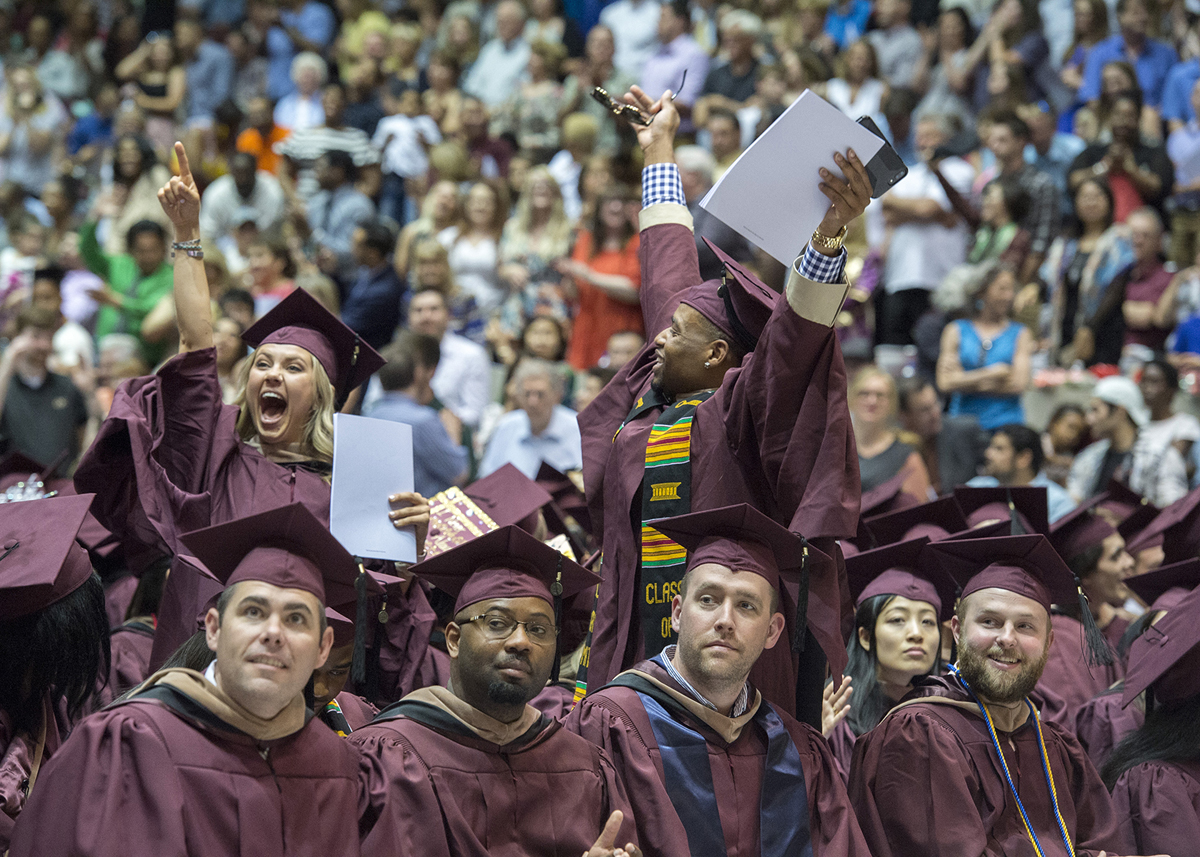 May 08, 2019
Nearly 2,600 SIU students will be celebrated at commencement exercises this week
CARBONDALE, Ill. – Southern Illinois University Carbondale commencement ceremonies are set for Friday and Saturday. 
The seventh annual "Forever SIU: A Commencement Celebration" on Friday will celebrate the members of the Class of 2019 and their families. Festivities are from 5 to 10 p.m. in the Student Center and include food and drinks, a balloon artist, bowling, billiards, a life-size Saluki Jenga, and graduation craft projects to document memories. 
Four commencement ceremonies will celebrate 2019 graduates 
Three separate commencement ceremonies will be in the SIU Arena on Saturday for undergraduate, graduate and professional students. 
The SIU School of Law will hold its commencement ceremony at 3 p.m. Friday in Shryock Auditorium. Retired federal judge David R. Herndon is the keynote speaker. 
As of May 1, there are 2,594 candidates for degrees, including: 1,908 candidates for bachelor's degrees, 467 candidates for master's degrees, 87 candidates for doctoral degrees, 76 law degree candidates and 56 candidates for associate degrees. 
Commencement ceremonies are open to the public, and there is no ticket requirement. Each ceremony will be available via livestream. Previous commencement ceremonies are also available on the university's YouTube channel. 
Commencement ceremony schedule for Saturday 
Here is the ceremony schedule and the honorary degree recipient and distinguished service award recipient where applicable. 
9 a.m. – SIU Arena
College of Agricultural Sciences.
College of Liberal Arts.
College of Science.
School of Medicine. 
Activist and civil rights leader Charles Neblett will receive an honorary doctor of humane letters degree at the ceremony. 
The Cairo native, who graduated from high school in Mounds, attended SIU from 1959 to 1961 but left when he realized he could affect change on a greater level by being active in the Civil Rights Movement. As a freshman, Neblett raised concerns about the unfairness of segregated housing and other campus issues to President Delyte Morris, who responded by seeing that all housing on campus was desegregated. 
Long-time SIU supporters Jim and Vicki Blair of Energy will receive a Distinguished Service Award. The Blairs are fondly known as "the people with the Saluki dogs," and they and their dogs have been fixtures at SIU athletic events, recruitment, student orientation programs and other important events around campus since 2007. 
The couples' gift of time, energy and resources builds pride and enthusiasm for both Saluki athletics and the university. The couple received the SIU Alumni Association Achievement Award for Service last fall. 
1:30 p.m. – SIU Arena
College of Business.
College of Education and Human Services. 
Thanu Kulachol, president emeritus of Bangkok University and former senator of Thailand, will receive an honorary doctor of education leadership. 
An international leader in education, Kulachol earned his Ph.D. in higher education from SIU in 1977, before returning to serve at Thailand's oldest and largest private university, Bangkok University. In addition to his educational work, Kulachol also served on the Thai Senate and is currently on the boards of TPC Power Holding Public Co. and Thai Polycons PCL. 
5:30 p.m. – SIU Arena 
College of Applied Sciences and Arts.
College of Engineering.
College of Mass Communication and Media Arts. 
Actress Melissa McCarthy, an SIU alumna and Plainfield, Illinois, native who was in the fashion design and merchandising program for two years in the late 1980s, will receive an honorary doctor of performing arts degree. 
Richard Blaudow, a 1970 graduate of the College of Engineering, will receive a Distinguished Service Award. 
He co-founded Advanced Technology Services Inc., which provides managed services for production equipment maintenance, industrial parts repair and IT infrastructure support for manufacturers. 
In 2006, his substantial donation established the Leadership Development Program, which provided scholarships, internships, community service opportunities, leadership training and coaching for students. 
Blaudow has served on numerous corporate and civic board, and has been active in service to SIU Carbondale, including serving on the Department of Electrical Engineering's Industrial Advisory Council and the SIU Foundation Board. He is also an SIU Alumni Association Distinguished Alumni recipient. 
Medallions, honor cords and veteran's cords reflect academic achievement 
A total of 506 students who are participating in commencement exercises will wear special medallions and honor cords during the ceremonies that reflect significant academic achievement. 
Among the 506 students earning recognition: 
243 will receive Cum Laude distinction, signifying a cumulative GPA of 3.5 to 3.749.
147 will receive Magna Cum Laude distinction, signifying a cumulative GPA of 3.75 to 3.899.
100 students will receive Summa Cum Laude distinction, carrying a cumulative GPA of 3.9 to 4.0.
Four University Honors Program students will receive an honors diploma for completing 21 honors credit hours and a three-credit thesis while maintaining a minimum 3.3 GPA.
105 University Honors Program students will receive an Enhanced Certificate for completing 18 honors credit hours and an optional three-credit thesis while maintaining a minimum 3.3. GPA.
Four University Honors Program students will receive honors certificates for completing 15 honors credit hours and maintaining a minimum 3.3 GPA.
12 Saluki student-athletes will earn Latin honors, and one student athlete will receive an honors program enhanced certificate. 
In addition, graduating student military veterans will wear red, white and blue cords provided by the university in recognition of their sacrifice, commitment and service to our country.