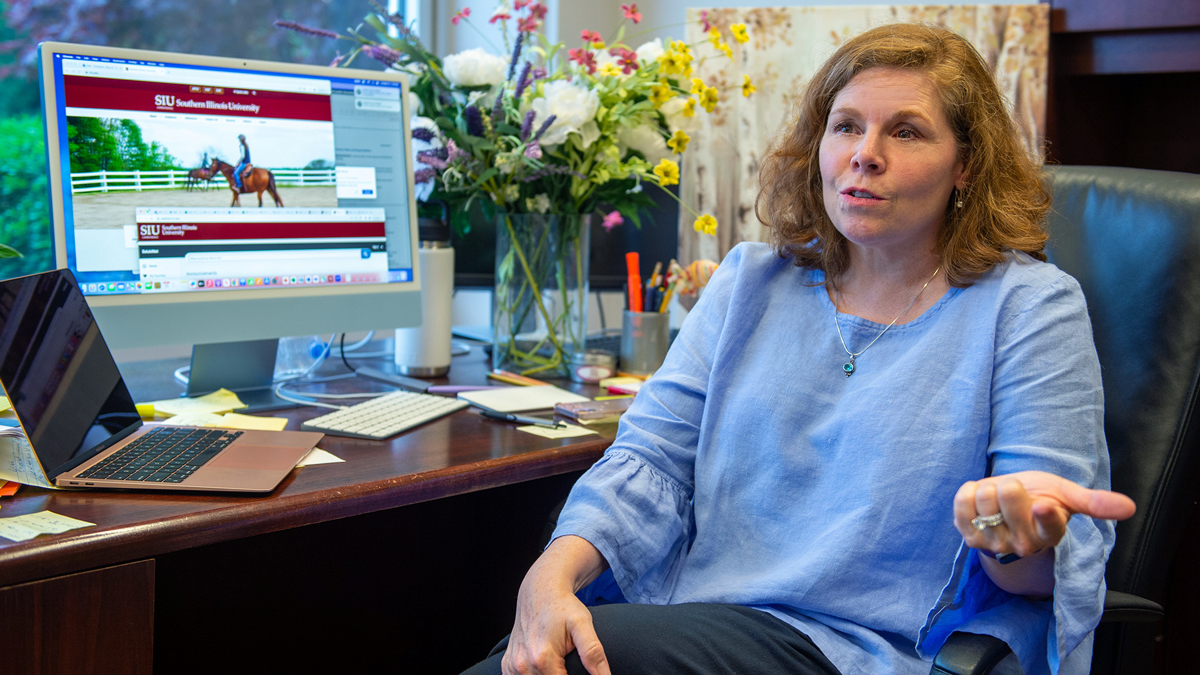 June 21, 2023
SIU adds new online teaching degree program and more to address teacher shortage
CARBONDALE, Ill. — Southern Illinois University Carbondale is launching a new online undergraduate program in elementary education this fall for working professionals, as part of its efforts to do everything possible to address teacher shortages. Also new this fall is an online teaching degree program in organizational learning, innovation and development (formerly workforce education and development.)
Online programs are among many SIU initiatives to get qualified teachers, including nontraditional college students, into classrooms. In recent years, the university also has established online teaching degree programs in:
Early childhood education (fall 2021).
Special education (fall 2022).
"We met with school superintendents from throughout the region on several occasions and asked them what we can do to help alleviate the teacher shortage. They kept telling us prospective teachers need easier access to classes," said Christie McIntyre, director of Teacher Education Programs. "These programs are designed for working professionals as the classes are taught primarily during the evenings, with some on weekends. To address the teacher shortages, we want to provide as much flexibility as possible while delivering a high-quality program. We try to make sure each of them has a pathway that works for them."
She said that while geared toward those planning to obtain teaching licenses in Illinois, the programs are open to anyone, and program officials have been contacted already by prospective students as far away as Texas.
How bad is the shortage?
McIntyre said the teacher shortage is a significant problem across the nation. For example, in the four-county Illinois State Board of Education Region 13 (including Washington, Marion, Jefferson and Clinton counties) eight early childhood and four high school teaching jobs could not be filled this spring, along with two social work positions, said Stacy Thompson, professor and coordinator of the early childhood programs and associate dean of undergraduate studies and curriculum in the the School of Education.
That's eight classrooms staffed by substitute teachers or in some other way. Many school districts throughout the state and beyond, particularly smaller ones, have had difficulty filling positions in recent years, according to Thompson and McIntyre.
Meanwhile, in school districts far and wide there are many paraprofessionals, including teacher aides, and health aides, as well as librarians, who would love to become teachers. Completing their teaching degrees in the traditional way while working to support their families may prove difficult.
To enter the teacher education program, students must have completed an associate degree or the equivalent, including required prerequisites. While the coursework is totally online after students complete their prerequisites, clinical/student teaching assignments are in person, which can be accomplished in participating school districts throughout the state. The vast majority of classes are synchronous, meaning all students log on at the same time.
"Student surveys indicate that participants actually prefer learning this way and do better," McIntyre said.
In addition, SIU is working with community colleges and other universities to streamline the degree process for students with a variety of majors, including early childhood and elementary education.  Saluki Step Ahead agreements with more than 40 community colleges in Illinois, Missouri and Texas allow a student to earn an associate degree at the community college and complete a bachelor's degree online through SIU.
The curriculum and transitions are streamlined to help aspiring educators enter classrooms as teachers as quickly as possible with the best preparation. The School of Education also provides navigators to assist early childhood students at the community college level and mentors at SIU, thanks to state funding.
"The agreements with community colleges are very clear to provide a clean pathway to an SIU teaching degree," Thompson said.
McIntyre said one of the curriculum changes being implemented at the request of SIU in numerous community colleges is the addition of an introduction to education class, offering students practical classroom experience early.
"If you have practical experience working in a preschool, school or similar setting, we can also give you credit toward your degree," Thompson added.
Other options
SIU has also implemented other options for aspiring teachers, including:
Dual credit programs: Students earn dual college and high school credits by taking classes while in high school, thereby getting a jumpstart on their teaching credentials and possibly completing their degrees in as little as 36 months.
Grow Your Own Teachers: Geared toward preparing nontraditional students for high-need positions in rural or minority classrooms, the program provides financial, academic and emotional support while allowing students to streamline their education and get college credit for experience working in paraprofessional or similar positions. Students typically complete this program in 2-2 ½ years while working full-time, usually in a school.
Saluki Teacher Residency Program: This condensed and more intensive pathway to a teaching degree places teacher candidates into the classroom sooner and allowing them to complete coursework online.
"We've listened to our students, and to the extent possible, are offering flexible options, customizable to some extent," Thompson said. "We want students to earn their degrees. Our students are doing very well on their content tests and exams for licensure, too."
In addition, McIntyre and Thompson noted that SIU and its School of Education offer numerous scholarships of up to $42,000 or even more, many of which are never claimed. For instance, the university received a $937,000 Early Childhood Access Consortium for Equity (ECACE) grant that includes scholarships of up to $31,000 annually for early childhood majors (birth through second grade).
"We are investing a lot into helping prepare the teachers of tomorrow," McIntyre said. "The earlier we invest, the better."
Another piece of the grant, McIntyre said, is adding online coursework for other teaching programs.
SIU's online graduate programs include:
Master of Education, which enables students to earn their degrees in as little as 12 months.
Doctorate in educational administration and higher education.
SIU also offers options for teachers to add various subject endorsements by completing 18 hours of classes. Many of the endorsement classes are online. In addition, SIU offers off-campus teacher bachelor's degree programs.
Beneficial career
Thompson and McIntyre said SIU's efforts to fulfil the need for good, qualified teachers is a win-win situation for all involved. Teaching positions are filled, and children benefit from having a well-trained, competent leader in their classroom.
And those teachers have the satisfaction of knowing they are making a positive difference in the lives of young people, and the teachers enjoy careers with "good benefits, summers off and regular raises for additional experience and education," McIntyre said.