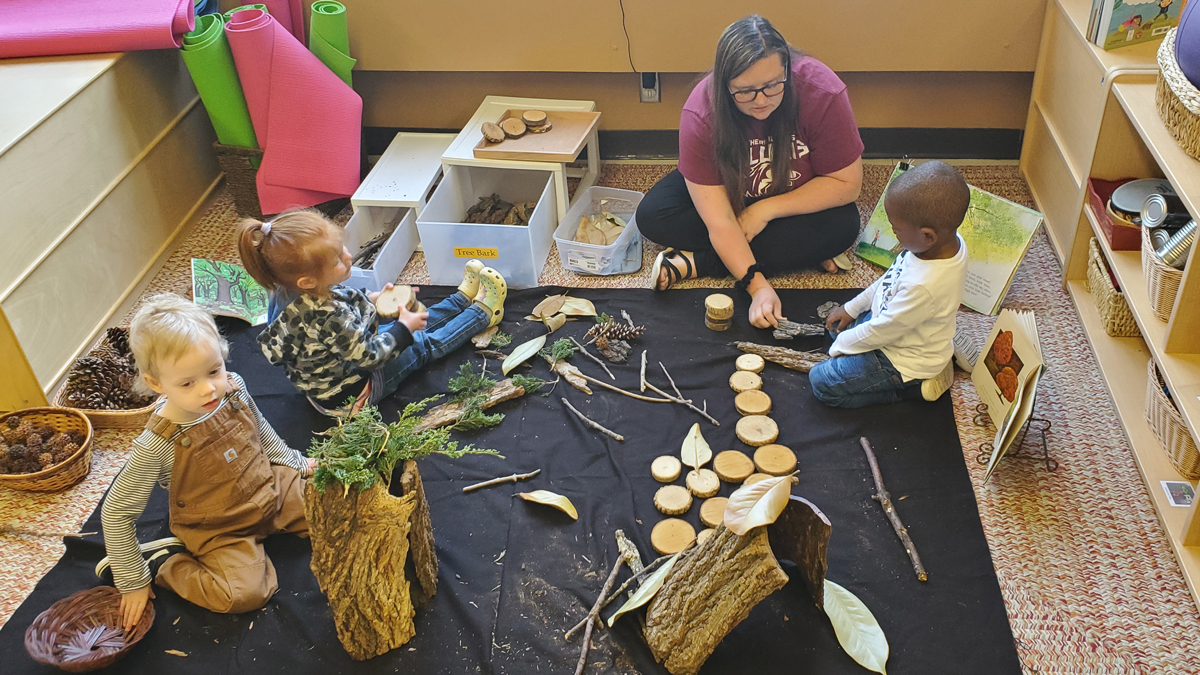 May 15, 2023
SIU uses $937K grant to enrich early childhood education, address teacher shortage
CARBONDALE, Ill. — Children learn and express themselves in myriad ways, but traditional education often stifles them, according to education professors at Southern Illinois University Carbondale. A grant-funded project at SIU aims to draw on children's natural curiosity while addressing the teacher shortage for the youngest learners.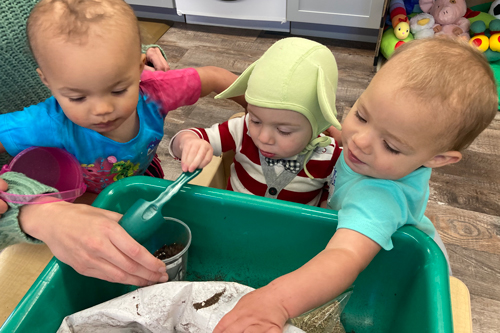 "We believe strongly that children can problem-solve, often with very little help from adults and have a creative ability to find the value in most anything," said Melissa Viernow, director of the Child Development Laboratories. "A pebble, piece of wire or chunk of clay can bring about the richest of dialogue and an opportunity to represent knowledge in a hundred different ways."
Viernow said her philosophy coincides with Loris Malaguzzi's theory that children learn in 100 languages.
Through scholarships, an upcoming conference, classroom grants and more, SIU's School of Education is introducing to the region a unique way of learning, said Christie McIntyre, director of Teacher Education Programs. The Reggio Emilia Approach, inspired by educators in Reggio Emilia, Italy, is all about giving children the opportunity to grow, explore, learn and tell their stories in ways that work for them.
The university received a two-year Early Childhood Access Consortium for Equity (ECACE) state grant for $937,000 to accomplish this mission by:
Providing scholarships of $31,000 per year to early childhood majors (birth through second grade).
Hosting a special 3-day Rooted in Play conference in June that early childhood educators or educators in training may attend for a nominal fee.
Offering grants of up to $6,000 for 20 conference attendees to use for early childhood classroom supplies.
"We want to help bring early childhood educators into the workforce to help ease the teacher shortage and provide educators with the information, tools and experience to effectively teach children in the ways they learn best," said McIntyre.
How does it work?
The Reggio Emilia Approach was conceived shortly after World War II as the rebuilding of Italy began and officials determined schools would be a top priority, McIntyre said. And more recent studies have shown that early childhood is a critical time for learning, including language skills and higher cognitive functions.
"This is a holistic method of education that encompasses all of those ways children learn and demonstrate what they know," McIntyre said. "The community invests in the children, and their education isn't bound by the walls of the school building. Learning is an extension of the children's inquiries."
This approach has been used at SIU's Child Development Lab for decades, but now the goal is to facilitate use by others. McIntyre recently nabbed the last spot at the Reggio Emilia international conference, joining 405 other educators from 27 countries in an immersive study of the concepts, contents and values used in the city's municipal infant, toddler and preschool educational program. She said arts and creativity figure strongly in the program, as it does in the SIU CDL.
"We have prided ourselves on encouraging and supporting child-led inquiry, while sharing the Reggio Emilia principle that all children are capable and competent," said Viernow, also coordinator for Southern Region Early Childhood programs and senior lecturer. "They are a valued part of the school and campus community."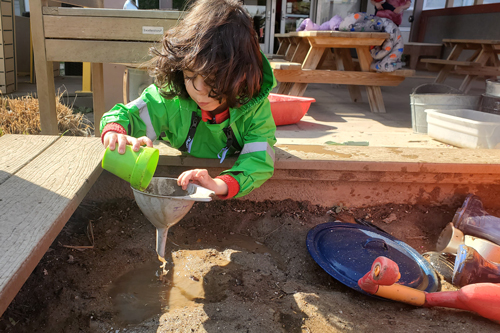 Following a heavy rain, for example, you might find children exploring the outdoor mud kitchen with cups and funnels to dig holes, scoop water as they learn about the effects of weather on their environment. In conjunction with a nature project, the children used the resources of their campus community and visited SIU campus greenhouses as they learned all about plants through diverse experiences, including touching a Mimosa pudica ("touch-me-not") plant to observe its response. They planted and harvested vegetables at the lab, too, experiencing soil between their fingers and the taste of tiny tomatoes fresh off the vine.
In addition, the children create art in special ways, whether painting on canvas with mud to replicating the reflections of trees on glass. Building concepts come alive as they use sections of tree bark, sticks, pinecones, gumballs, tree slices and a variety of leaves to construct their own trees. They use resources, such as books, to support their learning and apply real concepts to their work in early childhood classrooms. The children are able to construct their own learning when they are seen as competent, treated with respect, and give the opportunity to engage their bodies and brains in learning, according to their teachers.
 "The children have minds of researchers, and we encourage that," McIntyre said. "Their questions guide their explorations. They document their learning in all kinds of ways, including with cameras, journals and art."
McIntyre said a quote by Ayla Arseven, researcher and Sivas Cumhuriyet University faculty member, sums it up: "Children growing up according to the Reggio Emilia Approach become individuals with high self-confidence, improved personalities, improved production level who are acting in solidarity." 
Amanda Sullivan, CDL lead toddler teacher, agreed. "As a classroom teacher, I see real differences when we trust children to show us what they need. I strive to honor the children's interests and development and have found that when I follow their lead and tune in to what they are showing and telling me, there are fewer behavior challenges and stronger relationships."
Learn what it's all about
Anyone who is already working as an early childhood educator or anyone training to do so can discover what Rooted in Play is all about and how to implement it by joining the June 1-3 conference at Touch of Nature Outdoor Education Center, about 8 miles south of Carbondale off Giant City Road. Featuring numerous acclaimed guest speakers, the event cost is $30 for all three days or $10 for Saturday only.
"We're pleased to offer professional development support for early childhood educators," McIntyre said, noting that plans are to host the conference annually. "The conference is a wonderful opportunity for these educators to connect with us and one another and share with them best practices that are used in SIU's Child Development Laboratories, practices they can aspire to."
People can sign up to participate in the experiential Rooted in Play: The Power of Place conference through May 19. Find the complete program and details about the conference online.
"We are beyond excited about this conference," Viernow said. "The information that is going to be shared at the conference will inspire us all to remember why we chose this path, and how we, as early childhood educators are helping children to connect with themselves, each other and their environment."
There's a special bonus for those who attend all three days. They can apply for one of 20 competitive awards to help fund supplies to implement or enhance "place-based" classrooms. The awards are $6,000 each.
In addition, conference participants can receive continuing education units.
SIU scholarships available
Anyone who has previous or current experience in early childhood education can also apply for an ECACE scholarship through the Illinois Student Assistance Commission, good for up to $31,000 annually through June 2024.
SIU is also working with community colleges and other universities in the state to streamline the degree process for these students. That includes having navigators to assist students at the community college level and mentors at SIU. The curriculum and transitions are also streamlined to help aspiring educators enter early childhood classrooms as quickly as possible with the best preparation.
McIntyre noted that SIU's Teacher Education Programs offer a variety of pathways to degrees, including:
Dual credit programs allowing students to earn dual college/high school credits thereby completing their degrees sooner.
The Grow Your Own program to help nontraditional students train for high-need teaching positions serving rural and minority classrooms.
The Saluki Teacher Residency Partnership featuring a shorter but more intense teacher preparation experience including a yearlong teacher residency.
SIU and the School of Education also offer a variety of other scholarships, student organizations and programs, including working with area feeder high schools and their students.