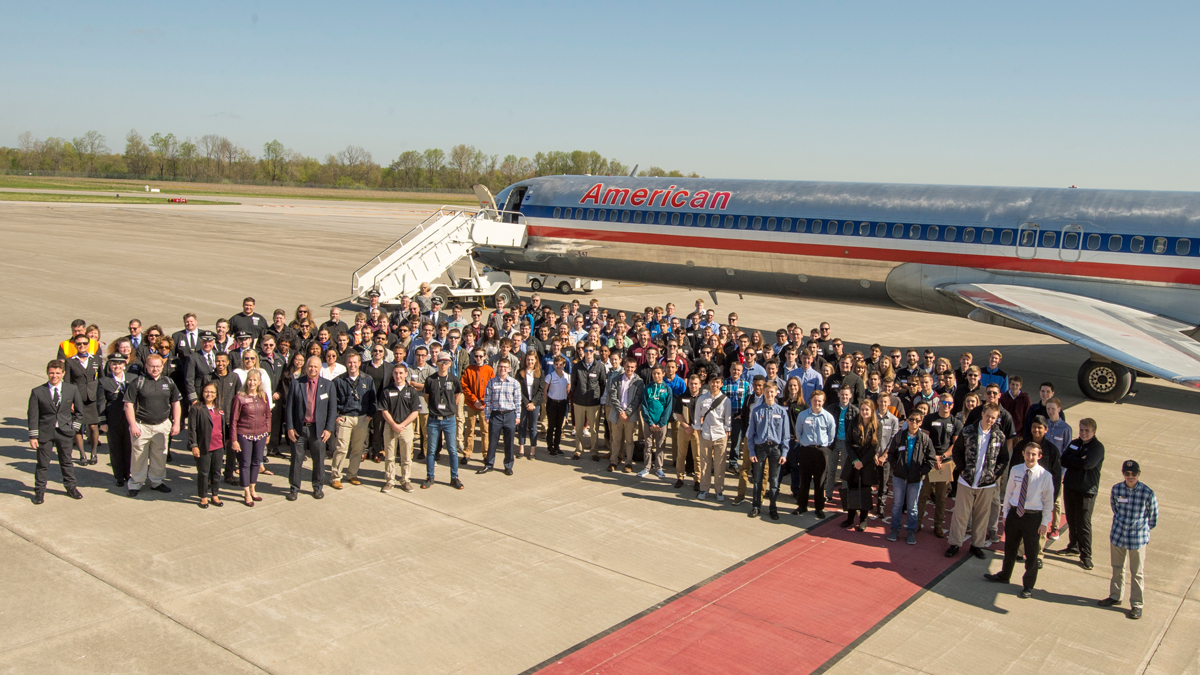 Members of the 2018 American Airlines-SIU Aviation Career Day. (SIU file photo)
April 12, 2023
American Airlines-SIU Aviation Career Day: Sharing a passion for flight
CARBONDALE, Ill. — A flood of memories will hit dozens of SIU Aviation alumni aboard an American Airlines' Boeing 737 on Saturday, April 15, as they fly over Southern Illinois University Carbondale and then land moments later at Southern Illinois Airport.
But there is also a purpose with this visit: showing about 140 junior high, high school and community college students from the Chicago area the many aviation career pathways and what SIU Aviation's nationally recognized programs offer.
"It is absolutely surreal to be participating in an American Airlines-SIU Aviation Career Day," said First Officer Erin Jackson, a 2002 aviation management and flight graduate who was a full-time flight instructor at SIU from 2005 to 2011.
"The last time I flew an airplane into MDH (Southern Illinois Airport), it was over 10 years ago, and I was flying a Cessna 172 with four people on board," said Jackson, who has been with American for nearly five years. "When I land at MDH on April 15, I'll have over 170 people on board my beloved Boeing 737, most of whom are high school students with a passion for aviation."
In Carbondale, visiting students will tour facilities in the Glenn Poshard Transportation Education Center (TEC) and meet with current SIU aviation students. The visitors will also tour the main campus.
---
Media Availability 
Reporters, photographers and camera crews are welcome to attend the American Airlines-SIU Aviation Career Day, and interview students, faculty and alumni. The optimum time for interviews will be shortly after the plane lands at the Southern Illinois Airport about 9 a.m. Saturday. Activities will continue until 3:20 p.m., with a break for lunch at 11:45 a.m. For more information, contact José Ruiz, director of the School of Aviation at 618-453-8898 or jruiz@siu.edu. For information from American, contact gianna.urgo@aa.com.
---
José Ruiz, professor and School of Aviation director, noted that the American Airlines-SIU Aviation Career Day has introduced "thousands of young people to careers and opportunities within the aviation industry" as pilots, aircraft maintenance technicians, flight attendants and support personnel for almost 18 years.
"The partnership that exists has played a significant role in the success of our students," he said. "Relationships with airlines are among our most treasured partnerships."
"Mentorship matters when it comes to inspiring the next generation of aviation professionals and our team members are thrilled to share their experience working at the world's largest airline," said American Airlines Vice President of ORD Operations Rich Ashlin. "We are proud to charter a flight to the career day, with the goal of exposing local students to the exciting careers available in the aviation industry."
Returning to 'where it all began'
This is the first career day with American for Captain Kirk Holte, First Officer Scott Malcolm and Jackson, and the first for the airline since 2018. The connection with SIU dates back with TWA prior to its 2003 merger with American Airlines. American resumed the career day in 2005.
Malcolm, a 2005 aviation management graduate, said the expression "You can't see how far you've come until you've seen where it all began" holds true. He's excited to see how SIU has transformed through the years.
"The opportunity to be a part of the American Airlines-SIU Career Day is something I'm very proud of ­— not just to be able to see how far I've come in my aviation career, but to also have an opportunity to talk to the young aviators of the future and hear their aspirations and tell them I was once in their shoes."
Malcolm has been with American Airlines for about five years. One of his fondest SIU memories is receiving his commercial pilot's license.
"They had this glass case where they kept everyone's commercial wings pin (the gold wings). I would walk by that case before every flight and see my name underneath the wings," Malcolm said. "It took a lot of hard work, but the day the day I passed my commercial check ride was the day they opened that case and handed me my wings. I walked out of the terminal with the biggest smile on my face and this beaming sense of pride that I had finally done it."
Holte, a 1984 graduate in what was then technical careers but included the aviation maintenance and aviation management, said it's "an exciting time to be entering the aviation field, and I know SIU Carbondale has the resources to educate and motivate the next generation of aviation professionals to meet and exceed the challenges ahead."
He had a pilot's certificate when he arrived on campus in fall 1982, but Holte said most of the lessons he learned in aviation at that time came from being a part of the Flying Salukis flight team, which included winning the school's then-sixth national title in 1984. He credited then-Flying Salukis coach Tom Young for imparting many lessons "that have stood the test of time."
"Having a supportive mentor was critical to success and brings back many memories of the great people both on the team and in the flight department," said Holte, who joined American in 1996.
Dual role
Flight attendant Steven Emmert has 33 years with the airline and is a lecturer in SIU's aviation program through SIU's Extended Campus and at the TEC. He earned his bachelor's degree in aviation management in 2001 while working for American and has volunteered for every career day since 2005, even while going through chemotherapy. It was during one of those events Emmert was asked of his interest in being a lecturer.
"Not only did completing my degree in aviation open opportunities for me, but it gave me a greater understanding of the industry I was already working in," he said. "As an aviation management graduate, I have further seen the considerable opportunities people can have with this degree."
Continuing the legacy
Emmert reminds students "that nobody in aviation gets to where they are without the help of others who came before them."
"We all have been trained or mentored or influenced by another in aviation, so this is part of my way of returning that favor. And hopefully, my efforts will be remembered, and in turn, that will eventually influence another," he said. "While it may be an act of benevolence or giving back, it is also an act of sharing a passion for the amazing and dynamic world of aviation."
Aviation opportunities are available
Aviation isn't just about pilots and maintenance technicians. Emmert said when he became flight attendant he had no intention of making it a lifetime career, but "as I tell my students and others, working for an airline is not a job or career, but it is a lifestyle." He's recently enjoyed lunch in a Paris, France café, a beach in Curacao, and skiing the slopes in Vail, Colorado. He's served world leaders, movie stars and sports legends.
"In what other career can you say that when you are going to work?" said Emmert, who is also qualified as a purser, which gives him an opportunity to work specialized trips in premium cabins on flights and carries additional responsibilities.
The Boeing Pilot and Technician Outlook for 2022-2041 shows that while the global commercial aviation industry rebounds from the pandemic, projections are for 2.1 million new aviation personnel over the next 20 years. That includes 602,000 pilots, 610,000 maintenance technicians and 899,000 cabin crew members, with worldwide fleets expected to nearly double. 
SIU Aviation camaraderie  
Emmert noted that without the great faculty members at SIU, the lives of many people "could not have been forever changed."
'The pilots, flight attendants, maintenance technicians and management representatives who join in this career day all have similar stories and gratitude to our former instructors from SIU," he said. "It is their influence that makes us want to give back and do this."
Jackson agreed, adding that she had an "amazing experience" as both a student and instructor. She has had an SIU aviation tag on her bag while halfway around the world and fellow Salukis will come up to her and strike up a conversation.
"The program has a rich history, and strong support and camaraderie," Jackson said. "I hope these visiting high school students will come away with the same infectious passion for aviation."