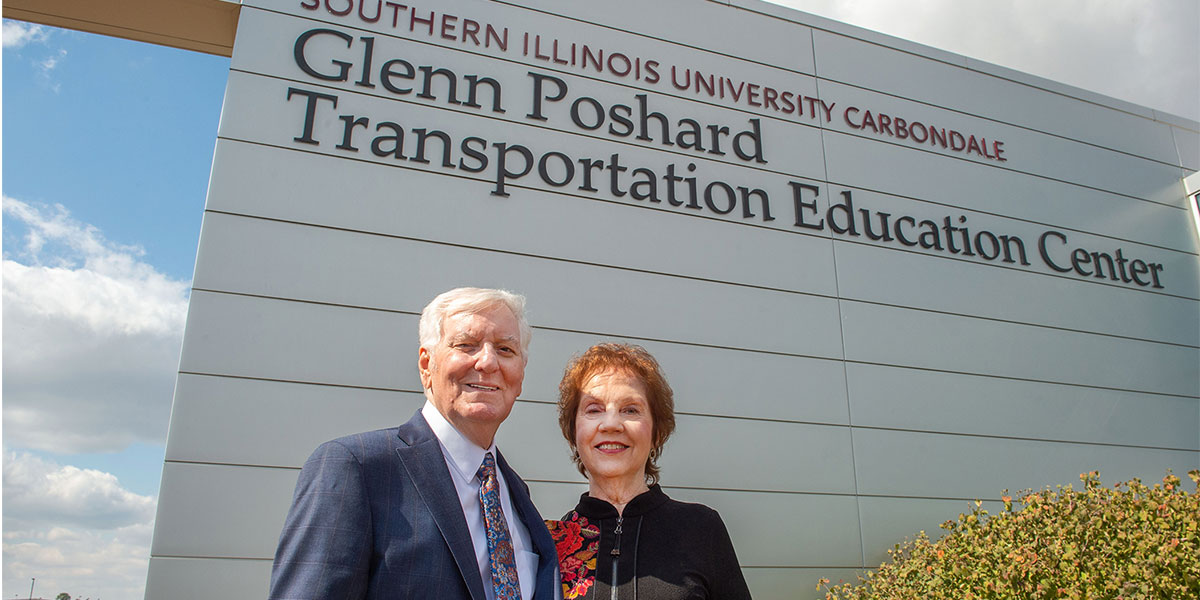 Glenn and Jo Poshard celebrate a premier facility for aviation and automotive programs being renamed the Glenn Poshard Transportation Education Center. Below, SIU leaders and state officials join Glenn and Jo Poshard as the building's new name is unveiled. (Photos by Russell Bailey)
October 07, 2022
SIU dedicates Glenn Poshard Transportation Education Center
CARBONDALE, Ill. — The Glenn Poshard Transportation Education Center was dedicated today (Oct. 7) to honor the former SIU System president, whose efforts are credited with helping secure funding for the state-of-the-industry facility that houses Southern Illinois University Carbondale's nationally recognized automotive and aviation programs.
The SIU Board of Trustees in July voted to rename the center, also called the TEC, after Poshard to recognize his lifelong engagement with SIU.  "Among his many notable achievements while serving as President of the SIU System is the fact that Dr. Poshard was instrumental in the building of the SIU Carbondale Transportation Education Center at Southern Illinois Airport," the board resolution to approve the renaming said. "Through Dr. Poshard's political savvy and long-term relationships in Springfield, he was able to secure the funding needed."
Opened in 2012, the 187,083-square-foot facility — considered the premier transportation education center in the Midwest and among the top such facilities in the country — also comprises a 31,965-gross-square-foot fleet storage area and an 11,855-square-foot aviation test cell structure.
"To have my name on a building that houses two of the finest job creation schools in America — and nearly every student has a good high paying job before they graduate — is something I can point to with pride to my grandchildren and their grandchildren," said Poshard, who served as SIU System president from 2006 to 2014.
Poshard was quick to credit other university and system officials who at that time were also instrumental, noting it "only gets there through the work of a team."
"I've been blessed to serve with a board that has always held the interests of this university to the highest standards," he said.
Chancellor Austin A. Lane said he was grateful to Poshard for his lifelong dedication and support of SIU Carbondale and the SIU System.
"Dr. Poshard has devoted his life to serving others," Lane said. "He exemplifies what it means to be an outstanding public servant and a generous benefactor. We are proud this premier facility bears the name of a model Saluki."
Illinois Gov. JB Pritzker agreed.
"Glenn Poshard has dedicated his life to lifting up southern Illinois," said Pritzker. "As a representative of the region he worked tirelessly to prioritize investments in education and helped build the world-class institutions that call southern Illinois home. Generations to come will benefit from his advocacy, and I am pleased to see his work honored by Southern Illinois University, and I congratulate Dr. Poshard on this honor."
Assistant House Majority Leader Jay Hoffman said Poshard made an impact well beyond SIU's Carbondale and Edwardsville campuses.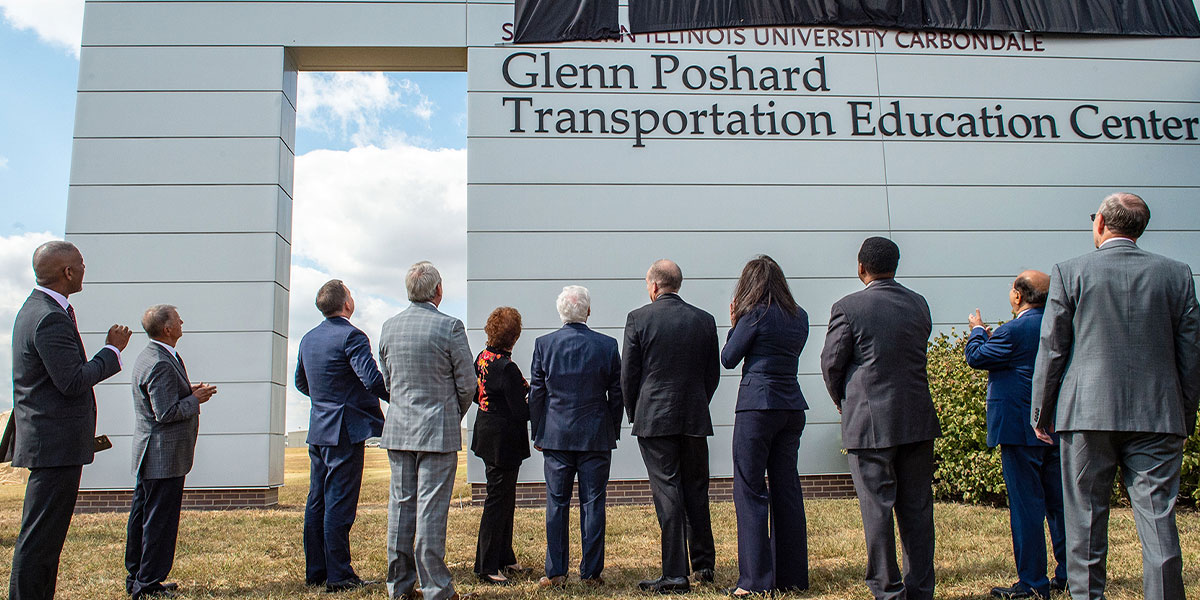 "Through many hours of meetings and many miles spent traveling across our state, President Poshard promoted the capital bill that was fundamental in bringing the Transportation Education Center here to Carbondale and the Science Building to SIUE. Thanks to your leadership in helping create these amazing facilities, students, not just at SIU's campuses, but across Illinois have been learning in new and improved environments that allow our universities to create world-class learning opportunities," said Hoffman.
Poshard is a three-degree SIU alumnus, earning his bachelor's (1970), master's (1974) and doctoral (1984) degrees in secondary education, educational administration and administration of higher education, respectively. After Poshard's legislative career ended, he served as vice chancellor of administration at SIU Carbondale and was later named to the SIU Board of Trustees before becoming system president.
"I believe every educator, including university presidents, wants to leave a legacy that is felt long past their time in that role," SIU System President Dan Mahony said. "President Poshard's diligence and commitment helped guide the creation of a statewide capital bill that impacted higher education institutions across Illinois and at SIU's campuses. Naming the Transportation Education Center, home to two of this university's signature programs, in his honor is fitting recognition of his legacy to leave not just this university and this region, but the entire state of Illinois in a better place."
J. Phil Gilbert, chair of the SIU Board of Trustees, noted Poshard's lifelong association with SIU and his important role "in taking us from a small teachers college to a great research university."
"But that's only a portion of his impact when you factor in his public service to the people of Illinois and to the children of this region," Gilbert said. "For those reasons and more, it is only fitting that this building, which stands today because of his dedication, will carry his name. President Poshard, we thank you, Jo and your family for an unending dedication to SIU, our students, faculty and staff."
Ed Hightower, vice chair of the SIU Board of Trustees, noted Poshard's commitment to higher education.
"If you've spent any time around Glenn Poshard, you've heard him talk about how a college degree is an important ticket to the middle class and greater success in life," Hightower said. "He's devoted himself to a cause we both care deeply about: education. As we come together today at the Glenn Poshard Transportation Education Center, home to two of the finest job creation programs in the nation, we celebrate what is best about this institution, its ability to cultivate great leaders and a devotion to ensuring every young person has the opportunity to succeed."
SIU Board of Trustees member Roger Tedrick recalled Poshard's efforts in securing TEC funding at a time when Illinois was without a capital bill for a decade, "which hurt both our state's economy as well as this university's ability to grow some of its most successful academic programs."
"That's when Glenn Poshard hit the road and traveled to the corners of this state creating the momentum that was needed to let state legislators work through their political differences. We have a great number of people to thank for this building, but it all starts with President Poshard, and that's why, as the SIU Board chair then and as a trustee now, I'm so very proud to be here as we recognize his legacy of service."
Oliver Keys earned his bachelor's degree from SIU in 2014 and is in his first year on the faculty as an assistant professor in automotive technology. He spent his first years as an undergraduate student in outdated facilities near Carterville originally built as temporary military buildings in the late 1930s prior to the program's start in 1952.
"I understood the impact that this facility would have on the program for many years to come. The TEC has more space, tools and up-to-date technology that fosters more study and research," he said. "I had confidence knowing that I earned a degree from the most renown and well-respected programs in the world. The TEC allowed students to push past expectations and prepare for the technological advancements in the industry."
Poshard remains heavily involved in education, civic and philanthropic activities. He is a member of the John A. Logan College Board of Trustees, and Poshard and his wife, Jo, established the Poshard Foundation for Abused Children, which has raised substantial amounts of support to care for abused children and victims of domestic abuse throughout southern Illinois. The Poshards are longtime benefactors of SIU and many local charities.