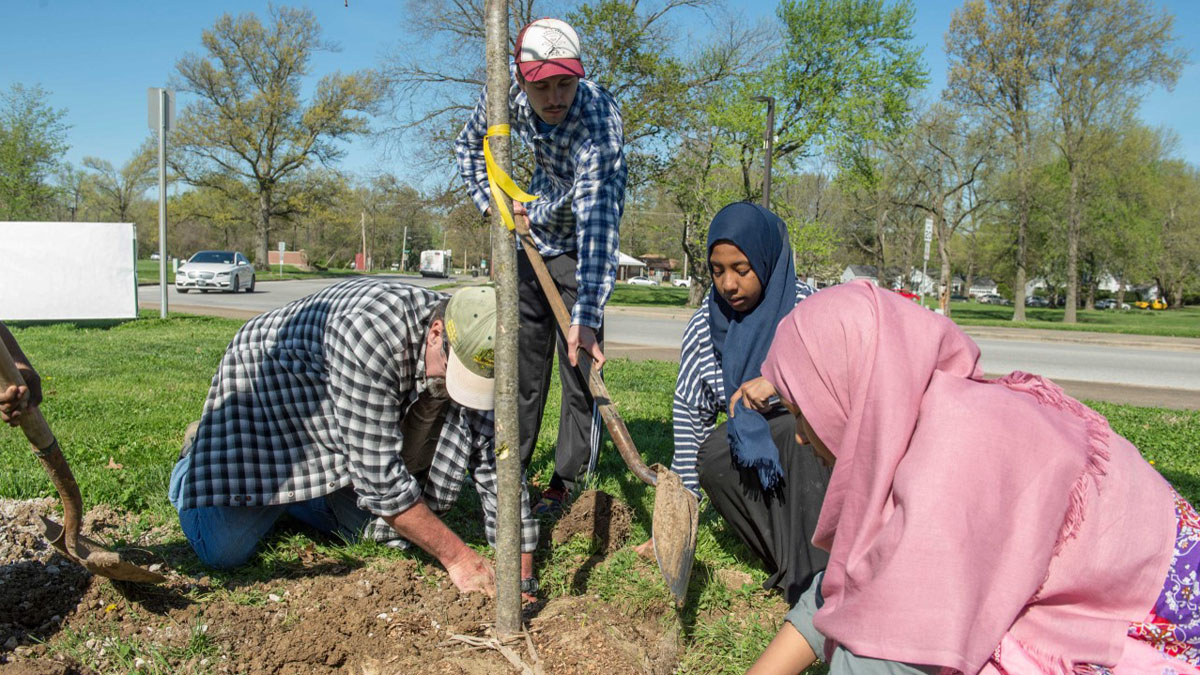 March 30, 2022
SIU celebrating Earth Month with many events in April
CARBONDALE, Ill. — Southern Illinois University Carbondale will celebrate Earth Month in April with a variety of special events, culminating in the annual Sustainability Awards Ceremony on Earth Day, April 22.
From clothing swaps, seed and plant giveaways to an Eco Art conference, a community cleanup and more, a diverse array of activities will showcase what is happening on campus and in the surrounding community and give people the opportunity to learn more and get involved.
"SIU continues to prioritize sustainability as evidenced by the university making sustainability one of the five pillars of our strategic plan, Imagine 2030, and by our commitment to climate action," said Karen Shauwecker, SIU's sustainability coordinator. "The first Earth Day in 1970 traces its origins to student energy and a growing public awareness about air and water pollution. In line with this spirit, we are kicking off the month with a high-energy Climate Solutions Teach-In, featuring faculty from across campus, and we will finish the month by announcing the 2022 Green Fund Grant recipients. We look forward to seeing how these projects will impact sustainability on campus in the future."
Eco Arts, community involvement and more
Among the Earth Month highlights are:
As part of the Visiting Artist Program, Hilary Inwood, a teacher editor, researcher and artist from the University of Toronto and coordinator for the Sustainability and Climate Action Network at the Ontario Institute of Studies in Education, will speak at 7 p.m. Thursday, April 7, at the John C. Guyon Auditorium at Morris Library. The public is welcome to attend.
On April 8, throughout the day, the Eco Art Conference and Symposium will take place at Morris Library, featuring a variety of workshops and presentations exploring the relationship between art and science. Pre-registration is required. Find complete details and registration at siu.edu/conferences/eco-art.php.
Plant and vegetable seed giveaways, hosted by the SIU Sustainable Vegetable Farm, while supplies last. Plants will be given away on April 11 and seeds on April 18; both will take place from 11 a.m. to 1 p.m. at the Marketplace on the first floor of the Student Center.
The Honors Faculty Cluster Showcase from 3 to 5 p.m. on April 13 in Room 180 at Morris Library will focus on "The State of Climate Emergency: The Earth and Us." Everyone is welcome. Light refreshments and a reception will follow.
Sustainability is highlighting a Career Services event on April 14 in the Student Services Building, Rooms 150/160. Join others for a clothing swap from 3 to 5 p.m., as people can bring like-new clothing to exchange with others.
Tree Planting, sponsored by the Tree Campus Higher Education committee from 9-11 a.m. and noon to 2 p.m. on April 19. The location will be announced soon. Each year trees are planted at locations across campus in conjunction with the university's commitment to effective urban forest management and sustainability and the university first earned the designation as Tree Campus Higher Education in 2015.
All Species Puppet Parade, April 22, 5 p.m., Attucks Park. Join in a fun event to celebrate the diverse populations that inhabit Planet Earth. Bring your puppet and be part of the parade or make one at one of the mask-making workshops offered by local partner organizations prior to the community celebration. Workshops are set for 10 a.m.-2 p.m. on April 2 at the Murphysboro Youth Center, 1818 Walnut St. in Murphysboro and 10 a.m. to 2 p.m. April 16 at Project Human X, 715 S. University Ave., Suite X in Carbondale.
Keep Carbondale Beautiful Spring Cleanup Day, April 23, 9 a.m. to noon, meeting at the Pavilion on the Square in downtown Carbondale. Everyone is welcome to join in the effort to spruce up their community. Groups are encouraged to pre-register by emailing keepcb1326@gmail.com.
Experience SIU sustainability now and tomorrow
Mark your calendars and plan to attend the 2022 Sustainability Awards Ceremony at 1 p.m. April 22 in the John C. Guyon Auditorium at Morris Library. This special event will feature several guest speakers highlighting their current research and its impact on sustainability.
The winners of the 2022 Green Fund Grant awards will be announced. Since the Green Fee's inception 13 years ago, more than $2.3 million has been allocated for 225 sustainability projects. The Sustainability Council, comprising students, faculty and staff, selects the grant recipients.
"The Student Green Fee was instituted in 2009 by a group of passionate students and continues to drive many green initiatives on campus today," Shauwecker said.
More events on tap
Numerous other activities are planned as well, and the calendar is being updated as sustainability events are added. Find the complete Earth Month schedule of events and additional details online. To learn more about SIU's extensive sustainability initiatives, visit the website, email sustainability@siu.edu or call 618-453-2846.