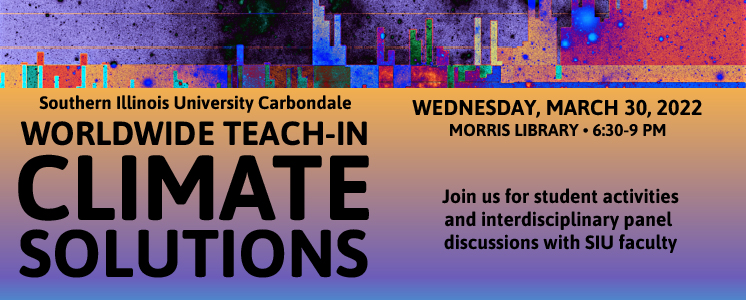 March 24, 2022
SIU joins Solve Climate by 2030 movement in hosting interdisciplinary Climate Solutions Teach-in
CARBONDALE, Ill. — Southern Illinois University Carbondale faculty, staff and students from over 20 departments will take an interdisciplinary approach to global climate change at a free, public Climate Solutions Teach-in at Morris Library from 6:30 p.m. to 9 p.m. March 30.
The event on campus is part of Solve Climate by 2030, in which over 1,000 schools, universities and communities will participate in a worldwide teach-in about solutions to climate change and justice for their local environments.
Leslie Duram, professor of geography and director of environmental studies, said many of our environmental problems are linked to climate change and the teach-in will help attendees find solutions and learn ways to minimize the effects.
"Climate change is the most important issue that our society now faces at the local, regional, national and global level," she said. "It is important for students, faculty, staff and the community to learn about these issues so that they can be part of the solution.
"We must all be part of the solution. This event will showcase how every discipline from A to Z, like aviation to zoology and everything in between, is related to climate solutions."  
Activities
Primarily the teach-in will include faculty experts who'll participate in interdisciplinary panel discussions. Topics include greener transportation, climate policies, arts and literature focusing on imagining climate throughout time, and more.
Welcome activities, including poetry, art, interactive displays and games, will take place in the library's Rotunda.
For example, a student minoring in environmental studies will explain how the price of chocolate will increase because of climate change, while his classmates will discuss the effect climate change has on wildlife, oceans and cities.
Learn more
All sessions will be recorded and posted after the event for those who can't attend in person.
For more information, including the complete itinerary and specific locations where discussions will occur within the library, visit the Climate Solutions Teach-In webpage or contact Leslie Duram at duram@siu.edu.