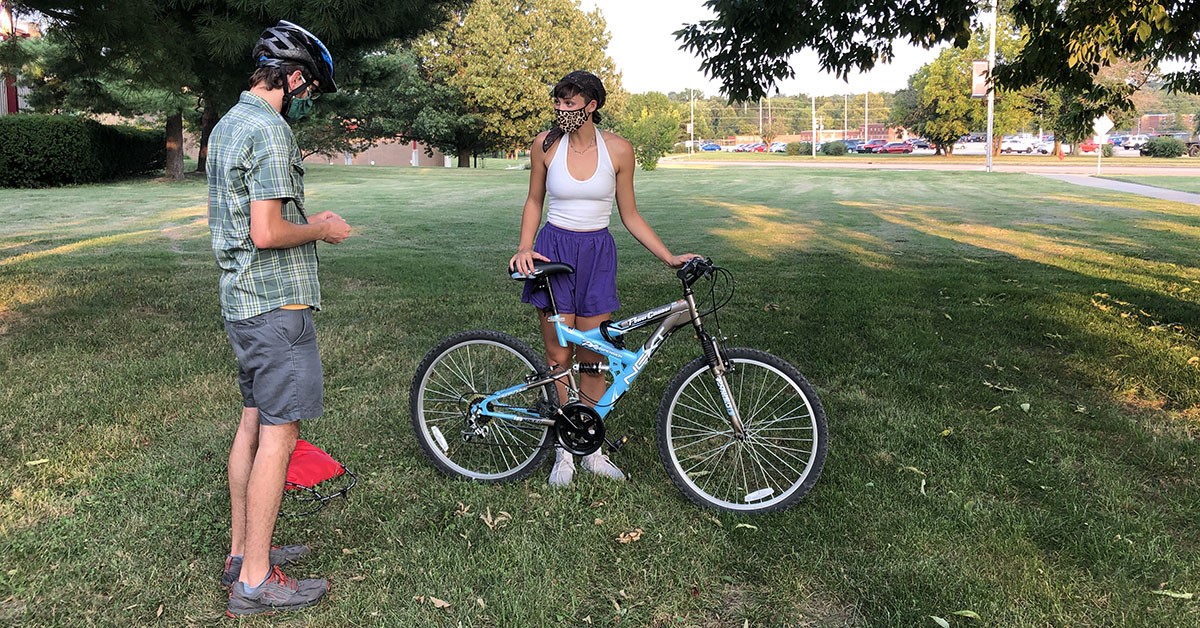 February 18, 2021
SIU earns improved silver Bicycle Friendly University designation
CARBONDALE, Ill. — Southern Illinois University Carbondale has earned recognition as a Bicycle Friendly University from the League of American Bicyclists for the second time – with a silver designation in 2021. When the university first earned the five-year honor in 2016, it won the bronze designation.
The League of American Cyclists measures progress based on engineering, education, encouragement, enforcement and evaluation/planning. The new silver award is the result of a collaborative, campuswide effort involving academic, extracurricular and other units and leaders from all across the university, according to Karen Schauwecker, sustainability program coordinator.
"Bicycling serves as an excellent sustainability solution that hits the triple bottom line: social health, environmental benefits and economic prosperity," Schauwecker said. "It's a healthy form of exercise, a great way to get to know your community and a form of transportation without associated carbon emissions, and it is cheaper in the long run for campus-town commutes."
Many reasons for improvement
Schauwecker said several factors contributed to SIU being silver-level Bicycle Friendly. They include:
The installation of some two miles of bike lanes and markings on Lincoln Drive as the result of a collaborative effort between campus stakeholders interested in increasing campus sustainable transportation. A Green Fund Grant partially funded the project

,

which was led by Plant Services and Operations, working with university engineers, campus architects and students.
Ongoing efforts to construct a premier mountain biking trail system at Touch of Nature Environmental Center in accordance with International Mountain Bike Association standards along with a Kids' Bike Pump track.
Free educational bicycling classes instituted by the Sustainability Office and Recreational Sports and Services for new bicycle riders that began in fall 2020 focusing on commuter cycling skills. They also offer popular indoor cycling classes.
The Recycle Your Bicycle Green Fund Grant project, in which students can donate used bicycles. Automotive technology students can fix them up for other students in need.
A strong commitment by the city of Carbondale as demonstrated by the city adding shared use bicycle paths and improving street conditions. The city has instituted a bicycle master plan, bicycle advisory committee and bikeway audit and worked with the sustainability office in its efforts.
Many buses now being equipped with bicycle racks.
More plans in the works
While SIU officials are very proud and pleased to have improved their standing as a Bicycle Friendly University, they're already looking toward the future and ways to become even more sustainable, Schauwecker said.
"We want to continue to identify ways that we can support our student cyclers and make it easier and safer for them," she said. "We also want to decrease any barriers that exist for students who are interested but haven't taken up cycling yet."
Goals for the coming year include:
Developing an educational campaign and support materials for motorists and cyclists.
Expanding the curriculum for bicycle commuter classes.
Encouraging a bicycling culture through new cycling events and by having regular group rides.
To get involved or for more information, email sustainability@siu.edu.