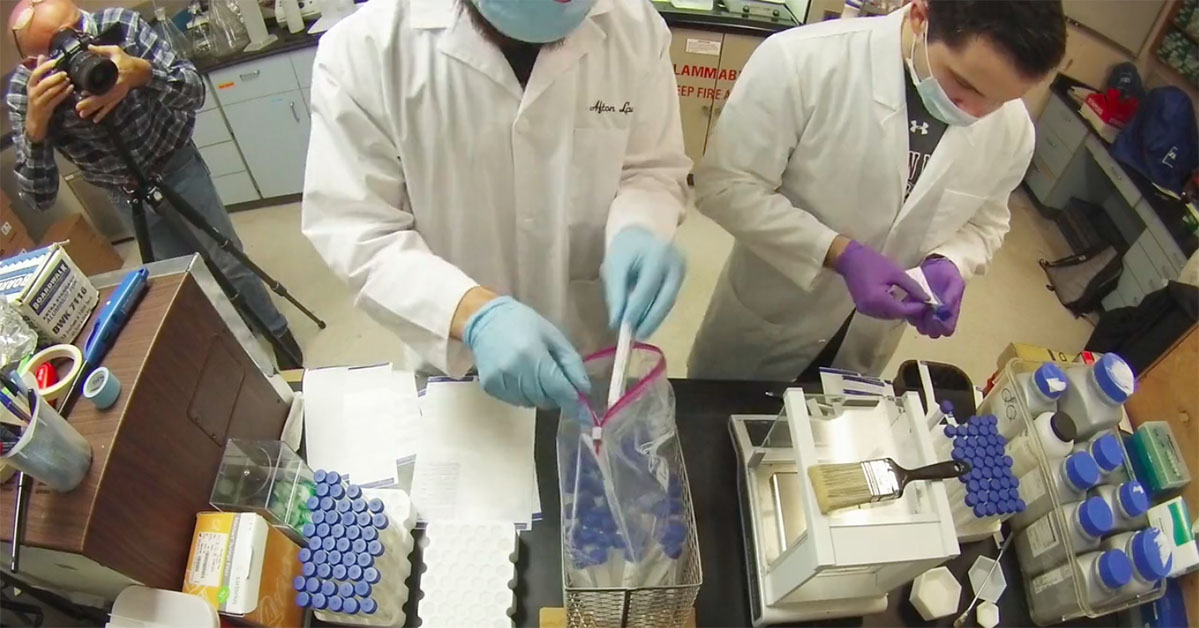 Gregory Wendt, left, a video producer and instructional technology specialist at Southern Illinois University Carbondale, shoots footage of SIU professor Scott Hamilton-Brehm earlier this year when he and others at SIU were called upon to produce massive quantities of viral transport medium, a critical component of COVID-19 tests. Wendt's documentary, "Going Viral," will premiere this month on Southern and Central Illinois public television stations. Photo provided
December 08, 2020
TV show documents SIU producing vital COVID-19 testing component
CARBONDALE, Ill. – A documentary that chronicles Southern Illinois University Carbondale's efforts to manufacture a critical component of COVID-19 tests earlier this year will air on public television this month. "Going Viral" will premiere at 8:30 p.m. Thursday on Southern Illinois stations WSIU-TV and WUSI-TV. Next week, it will be played on WSEC-TV, WMEC-TV and WQEC-TV in Central Illinois.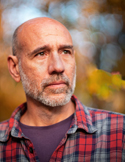 Gregory Wendt, a video producer and instructional technology specialist at SIU, got in on the ground floor of SIU's urgent bid to make large amounts of viral transport medium, also called VTM, a substance that maintains the genetic information of a virus until it can be tested. Relatively small amounts of VTM are commonly used in biology laboratories. It suddenly became in short supply, however, as the virus began hitting the country and health officials needed to test many thousands of people quickly.
SIU researchers, staff and students were among those tapped at state universities to manufacture the substance early last spring as the need for testing exploded. The SIU team, led by microbiology professor Scott Hamilton-Brehm, was the first in the state to begin shipping VTM to state health officials and ultimately provided 115,000 vials between April and June, working long hours in tough conditions.
As soon as he found out it was happening, Wendt saw the need to document the efforts.
"I literally ran over to the lab and asked Scott if I could document what they were doing," he said.
After getting the OK, Wendt jumped into action, visiting the labs several times per week, gathering footage, arranging interviews and trying to figure out ways to best tell the story.
"Eventually, I decided it made sense to aim for a 30-minute program for public television," he said. "I knew the heroic efforts by faculty, students, staff and volunteers had to be documented. COVID-19 is the biggest event of the 21st century, and SIU was doing something about it. The state, the country and the world should get to see how we helped fight the coronavirus."
Along with Wendt, SIU Edwardsville student Jakob Ruffner provided location sound and assisted with editing the piece. Alex Quinn, a recent SIU alumnus, created most of the graphics while Mark St. George of the WSIU-TV Broadcasting Service provided some creative consultation. Gary Mausey of SIU's Plant Service Operations also provided some drone cinematography.
"Audiences will learn a little bit of science, as it relates to the current pandemic," Wendt said. "But more importantly, they will see a group of diverse and dedicated scientists, students, teachers and technicians coming together for a common cause of overcoming numerous hurdles and succeeding in supplying the state of Illinois with the desperately needed viral transport medium in the early stages of the pandemic."
After the premiere this Thursday, the program also will air at the following times and locations:
5:30 p.m. Sunday, Dec. 13, on WSIU/WUSI-TV.
9:30 p.m. Saturday, Dec. 19, on WSIU/WUSI-TV.
8:30 p.m. Thursday, Dec. 17, on WSEC/WMEC/WQEC-TV.
9:30 p.m. Saturday, Dec. 26, on WSEC/WMEC/WQEC-TV.
Noon Sunday, Dec. 27, on WSEC/WMEC/WQEC-TV