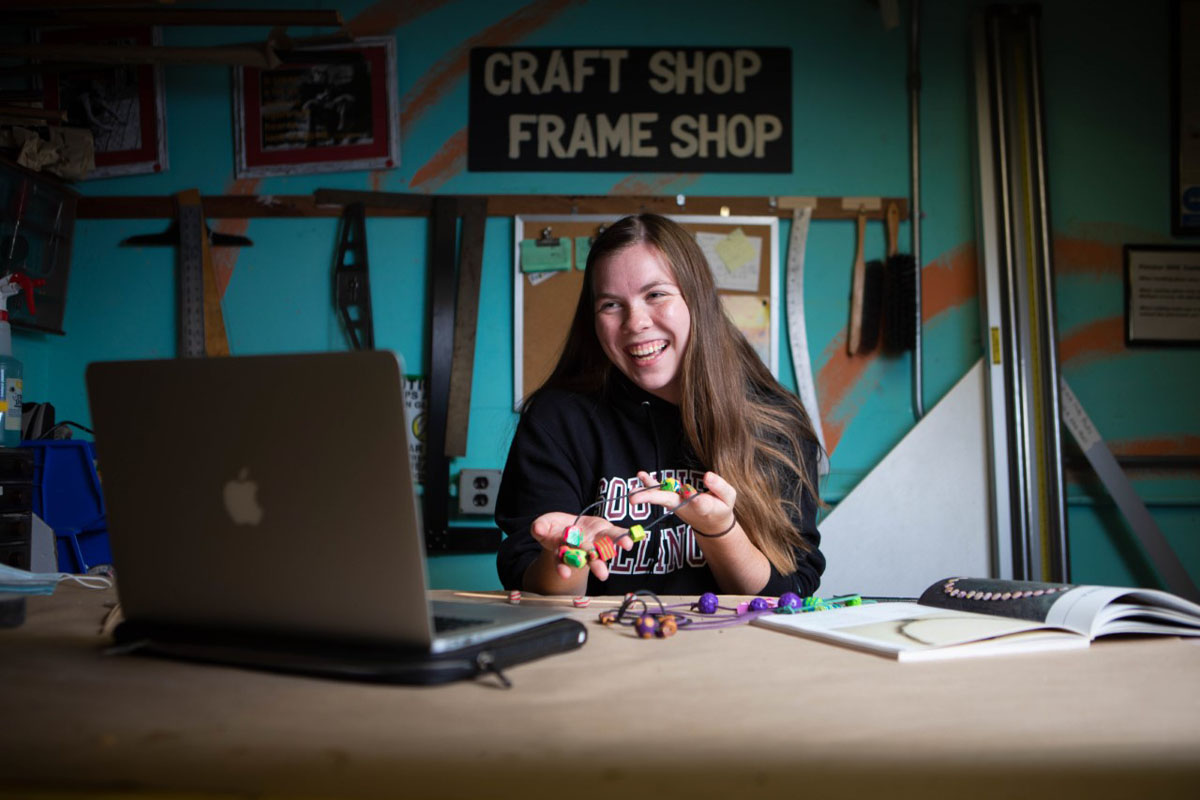 September 17, 2020
Explore SIU's selection of art, music and educational classes, workshops this fall
CARBONDALE, Ill. — Children and adults of all ages will find an array of fun, educational and enriching programs, courses and workshops this fall at Southern Illinois University Carbondale.
Conference and Scheduling Services' offerings include assorted virtual programs and workshops for children from first grade through senior adults along with music programs for youths and adults. In addition, there are continuing education courses for high school students, language courses for high school and adult ages, programs for community listeners and continuing education classes.
Fall programming will comply with state pandemic safety guidelines, but organizers have worked hard to ensure that there is a diverse assortment of offerings for all ages.
Making music
The SIU School of Music is hosting numerous opportunities for pre-college and community musicians to enhance their instrumental and vocal skills, either in individual or small group settings. Participants can choose private weekly lessons in a variety of formats:
Entirely online.
Alternating face-to-face and online.
In person with social distancing guidelines.
Lessons are available for cello, clarinet, flute, French horn, oboe, organ, percussion, piano, trombone/euphonium, trumpet, viola, violin and voice.
Find complete details and registration information online at conferenceservices.siu.edu/camps-youth-programs/siu-school-of-music-preparatory-programs.php.
High school learning enhancement options
A variety of continuing education courses are available for high school students to help them prepare for college, learn new skills and explore new possibilities. Some of the classes have multiple starting dates during the semester; some offer self-paced options.
Classes include:
SAT/ACT prep course (parts 1 and 2 and a prep series).
Introduction to journaling.
Ultimate resume building.
Individual excellence.
Everyday math.
Discover digital photography.
Leadership best practices.
Get your best grades ever online.
Begin to build Android apps within an hour; no coding required.
Check out all of the details and sign up online at conferenceservices.siu.edu/camps-youth-programs/continuing-education-for-high-school-students.php.
Learn a new language
Here is the opportunity to learn a new language, either for personal or professional reasons. Several non-credit courses are available for high school students and adults. Classes are as low as $115 and last up to six weeks; some are self-paced.
Options include:
Spanish writing to get things done toolkit.
Beginning conversational French.
Conversational Japanese.
Discover sign language.
Discover sign language II and Discover sign language series.
Instant Italian.
Speed Spanish.
Speed Spanish II and Spanish III.
Additional information and registration details are available on the website at conferenceservices.siu.edu/camps-youth-programs/learning-a-language.php.
Learning never need stop
Conference and Scheduling Services also offers two other types of programming for adults who are interested in personal and professional growth.
The Community Listeners program gives adults the opportunity to experience SIU courses. When space is available, they can join in regular online classes and learn along with Saluki students but take no tests, receive no grades or credit hours. The fee is $50.
In addition, SIU offers hundreds of online Continuing Education courses and certifications in a wide array of subjects. All are taught by expert instructors. This fall's course categories within specific fields include 10 business fundamentals courses, along with professional development options for teachers. Check out the options.
Art for kids, teens, adults and SIU students
The Student Center Craft Shop is offering a series of activities for people of all ages.
There will be virtual afterschool youth art programs for children in grades 1-8. All will be held via Zoom.
Anyone age 16 and older is welcome to participate in a full slate of virtual teen and adult art workshops. And the Craft Shop is offering various hybrid workshops for SIU students as well. The details on these workshops along with other Craft Shop happenings are at news.siu.edu/2020/09/090220-SIUs-Craft-Shop-offers-assorted-virtual-or-in-person-activities-this-fall.php.
Sign up several ways
Sign up now for any of the classes either online, by email, fax or by calling. Register online at conferenceservices.siu.edu, by faxing 618/453-5680 or by calling 618/536-7751. Email conferenceservices@siu.edu for additional information.