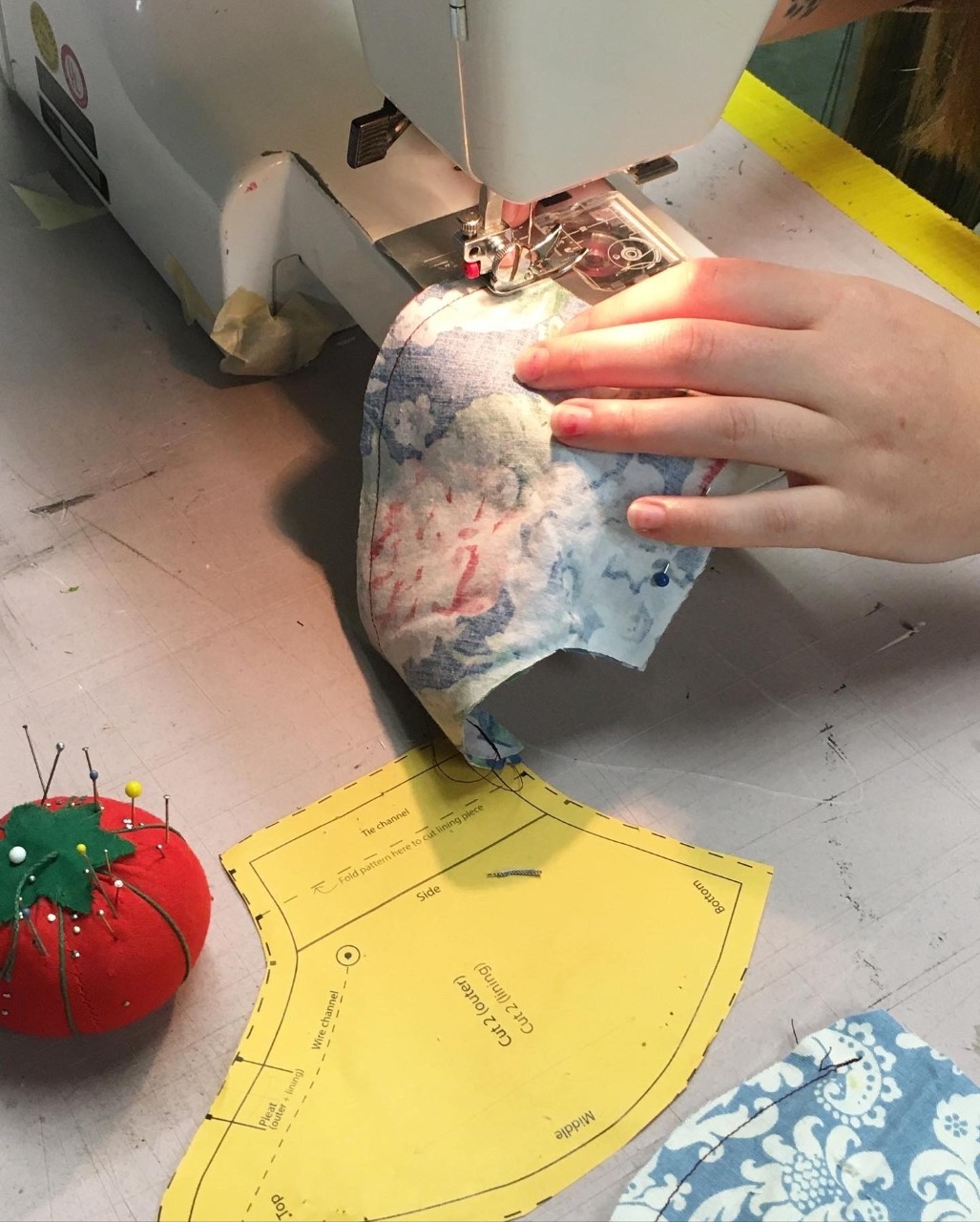 A wide variety of activities and workshops for all ages, including virtual workshops, are set at SIU's Student Center Craft Shop this fall. Students may also volunteer and make face masks for other students to wear. (Photo provided)
September 02, 2020
SIU's Craft Shop offers assorted virtual or in-person activities this fall
CARBONDALE, Ill. — The Craft Shop, a popular spot in the Southern Illinois University Carbondale Student Center, is offering a variety of virtual or in-person workshops and events this fall.
Several events set in the Student Center
A variety of events, including the college poster sale, bicycle repair, and volunteer facemask assembly, are scheduled.
The college poster sale is from 9 a.m. to 6 p.m., Sept. 16-18, on the first floor of the Art Gallery.
Saluki Spokes Bike Repair will have a bike technician available on Monday, Wednesday and Friday from noon to 1:30 p.m. Students can drop off their bikes during those times for repair and the staff will call when repairs are complete.
Students can volunteer at the craft shop to make reusable facemasks for the campus community. Regardless of experience or skill level, students can assist in this new program. Craft shop staff will provide instruction, as needed, in using the sewing machine and making mask patterns. Students can use supplies provided by the Craft Shop or are welcome to bring their own. Email craftshop@siu.edu to make an appointment to volunteer. The masks will be given to students through the Craft Shop and the Saluki Food Pantry. Donations of materials and supplies are also welcome.
Youth, teen and adult workshops galore
The fall schedule includes an assortment of virtual art workshops for youths in grades 1-8, along with a variety of teen and adult workshops through ZOOM for those ages 16 and older. Registration closes one week before the class begins. Participants can pick up their supply kits at the Craft Shop or the kits can be mailed for an additional $12 fee.
The workshop schedule and pricing are:
Polymer clay jewelry – Sept. 22, 6-8 p.m. Create polymer clay jewelry; $12 fee plus $30 supply kit.
Saluki paint night – Sept. 30, 6-8 p.m. Make a Saluki-themed painting with acrylics on canvas; $12 fee plus $20 supply kit.
Clay jewelry dishes – Oct. 6, 6-8 p.m. Learn to make a clay ceramics jewelry dish or tray project which participants can air-dry or return to the Craft Shop for firing and glazing; $12 fee plus $25 supply kit.
Mosaic picture frames – Oct. 13 and Oct. 15, 6-8 p.m. Create a colorful mosaic picture frame; $20 fee plus $20 supply kit.
Hand-built clay mugs – Oct. 17 and 24, 1-3 p.m. Create pinched, coiled and embellished ceramic mugs that participants can return to the Craft Shop for glazing and firing if it is to be safe for food; $24 for the workshop and $25 for supplies.
Art of Collage – Oct. 22 and 29, 6-8 p.m. Take the opportunity to create collages with newspaper and magazine images; $24 fee plus $25 supply kit.
Paint night: techniques in watercolor – Nov. 4, 6-8 p.m. Use recycled book and magazine paper to make beads and turn it into jewelry; $12 fee with a $25 supply kit.
Soft sculpture – Nov. 16, 6-8 p.m. Create a soft sculpture with felt and tapestry thread using hand-sewing techniques; $12 workshop fee and $30 supply kit.
Foam stamp greeting cards – Dec. 3, 6-8 p.m. Make a series of custom greeting cards with printmaking techniques utilizing foam on cardstock; $12 for the workshop with a $25 supply kit.
After-school programs for youths
The programs will be online for children in first through eighth grades this fall.  There is an eclectic selection of classes, with the registration deadline one week before each class begins. Supply kits are available for pickup at the Craft Shop or mailed for an additional $12.
Here's the schedule for the youth programs:
Sketch book club – 3:30-4:30 p.m. on Sept. 14 and 28, Oct. 12 and 26 and Nov. 9. The club will provide a fun, drawing lesson in different styles using supplies that children have on hand at home. The fee is $50.
Paper bead necklaces – Sept. 24, 6-7 p.m. Make jewelry with beads crafted from recycled magazines and newspapers; $12 for the workshop fee with a $15 supply kit.
Watercolor scratch art – Oct. 3, 1-3 p.m. Discover the unique possibilities available when combining scratch art paper and watercolor; $12 workshop fee and supply kits are $20.
Clay Pokémon – Oct. 7 and 9, 4-5 p.m. Learn to make Pokémon sculptures from clay and add details with acrylic paint; workshop fee is $20 with a $25 supply kit.
Polymer clay ornaments – Dec. 1, 4-6:30 p.m. Learn to mix and layer colored polymer clay to create handmade ornaments; workshop fee is $12 plus $30 for supplies.
Hybrid workshops for SIU students
SIU students can also enjoy unique hybrid workshops involving water landscape painting and art in nature this fall. 
The three-week watercolor landscape workshop will focus on how to paint outdoor landscapes with watercolors. Each participant will receive a personal art supply kit. The session begins via Zoom with subsequent sessions outside around campus woods.
The workshop dates are Oct. 1, 4-5 p.m., Oct. 8, 3-5 p.m., and Oct. 15, 3-5 p.m. The cost for the workshop and kit is $70.
The art in nature workshop will focus on using materials found in nature to create works of art. The first session at 4 p.m. Nov. 5 via Zoom will concentrate on the artwork of Andy Goldsworthy and other environmental artists. The other sessions, set for 3-5 p.m. Nov. 12 and 20, will begin at the south patio of the Student Center and move to Campus Lake and woods area. Students will create outside site-specific sculptures and record them on social media. The cost is $20.
For more information
The Craft Shop's fall hours are noon to 5 p.m. Monday through Saturday. The woodshop is open from 2 to 5 p.m., Tuesday through Friday, and noon-4 p.m. on Saturday.
Keep an eye on the Craft Shop webpage or follow on Facebook or other social media for schedule updates and new events.
For more information about the Craft Shop or any of its programming, email craftshop@siu.edu or call 618/453-3636.