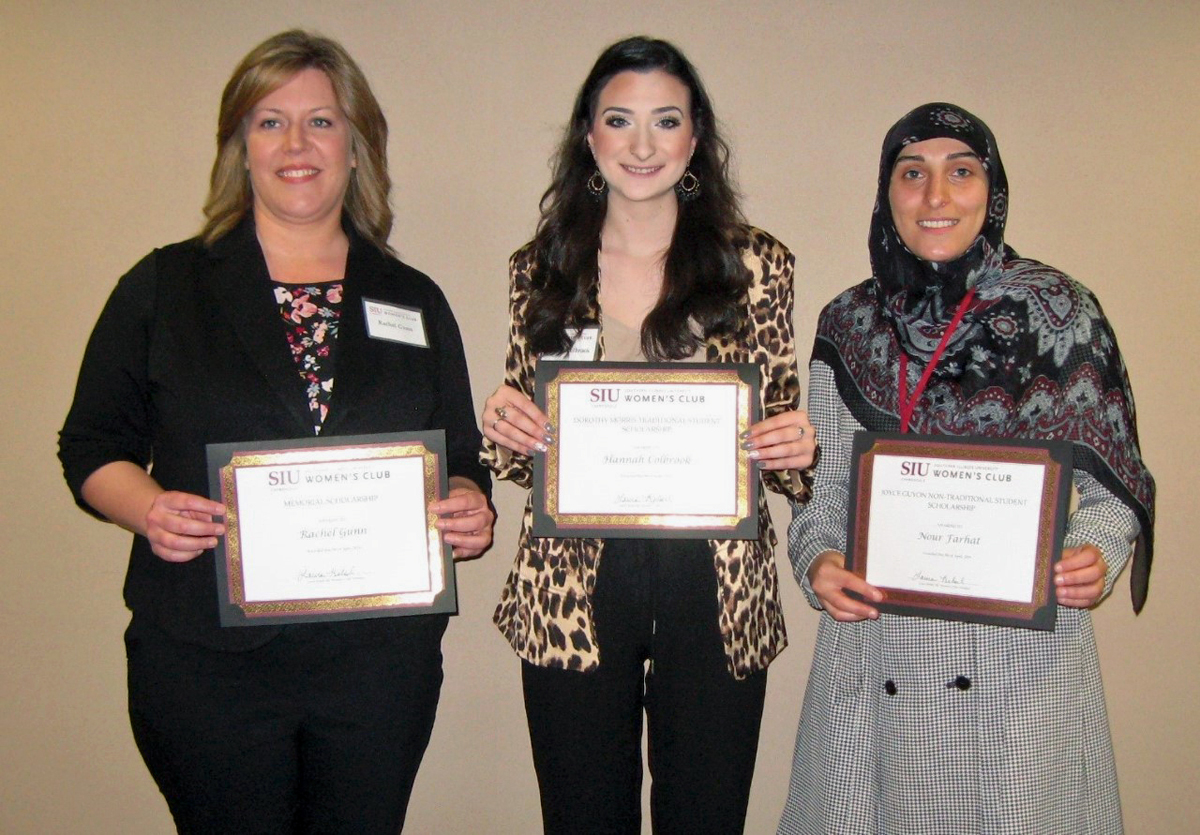 Scholarship winners – Winners of the 2019 SIU Women's Club scholarships, left to right, are: Rachel Gunn, Hannah Colbrook and Nour Farhat.  (Photo provided)
June 03, 2019
SIU Women's Club awards three scholarships
CARBONDALE, Ill. — Southern Illinois University Carbondale students Hannah Colbrook, Nour Farhat and Rachel Gunn are the recipients of the 2019 SIU Women's Club scholarships.
The organization presents the scholarships annually in honor of Dorothy Morris and Joyce Guyon, two former SIU "first ladies" who strongly supported women in academics. The awards, totaling $6,000, were presented recently at a special ceremony.
Colbrook wins Dorothy Morris scholarship
Colbrook, of Palatine, won the Dorothy Morris Traditional Student Scholarship in the amount of $2,500. Colbrook plans to graduate in December with a bachelor's degree in public relations/communications studies and a minor in marketing.
She recently earned Student Employee of the Year recognition for both SIU and the state of Illinois. After graduation, Colbrook will seek employment in the donor communications field where she plans to work to building professional connections and increase fundraising efforts for a non-profit organization, alumni group or foundation.
Farhat wins Joyce Guyon scholarship
Farhat, of Carbondale, is the recipient of the Joyce Guyon Non-Traditional Student Scholarship, worth $2,500. Farhat is a senior computer science major.
A mother of two children, Farhat is dedicated to helping today's children become prepared to work with computers, rather than be replaced by them.
Gunn is club memorial scholarship winner
Gunn, of Marion, received the SIU Women's Club Memorial Scholarship for $1,000. She is a transfer student who just completed her  junior year as a social work major. After completing her bachelor's degree, Gunn anticipates she will continue her education in SIU's social work master's degree program, with an emphasis on mental health. 
Record donations boost scholarships
The scholarships are funded exclusively through donations from SIU Women's Club members who donated a record amount. The funds allowed the scholarship awards to increase by $1,000 over the previous year. 
"Thanks to the generous donations of our members, we are pleased to be helping these deserving young women achieve their academic goals with less debt," Laura Helsel, SIU Women's Club president, said. "The scholarships are our investment in the future."
Scholarship recipients are selected on the basis of academic achievement, career goals and aspirations, leadership experience, references and financial need.
Applications for the 2020 round of scholarships will be available in August.
Club is open to all women with an SIU connection
Any woman who has a personal or family affiliation with SIU Carbondale is welcome to join the SIU Women's Club, a social organization founded in 1937. The group gives members opportunities to connect with one another, build friendships, participate in a variety of activities and serve the university.
For more information, visit the website or contact Helsel at siuwomensclub@siu.edu or by calling 618/559-4541.