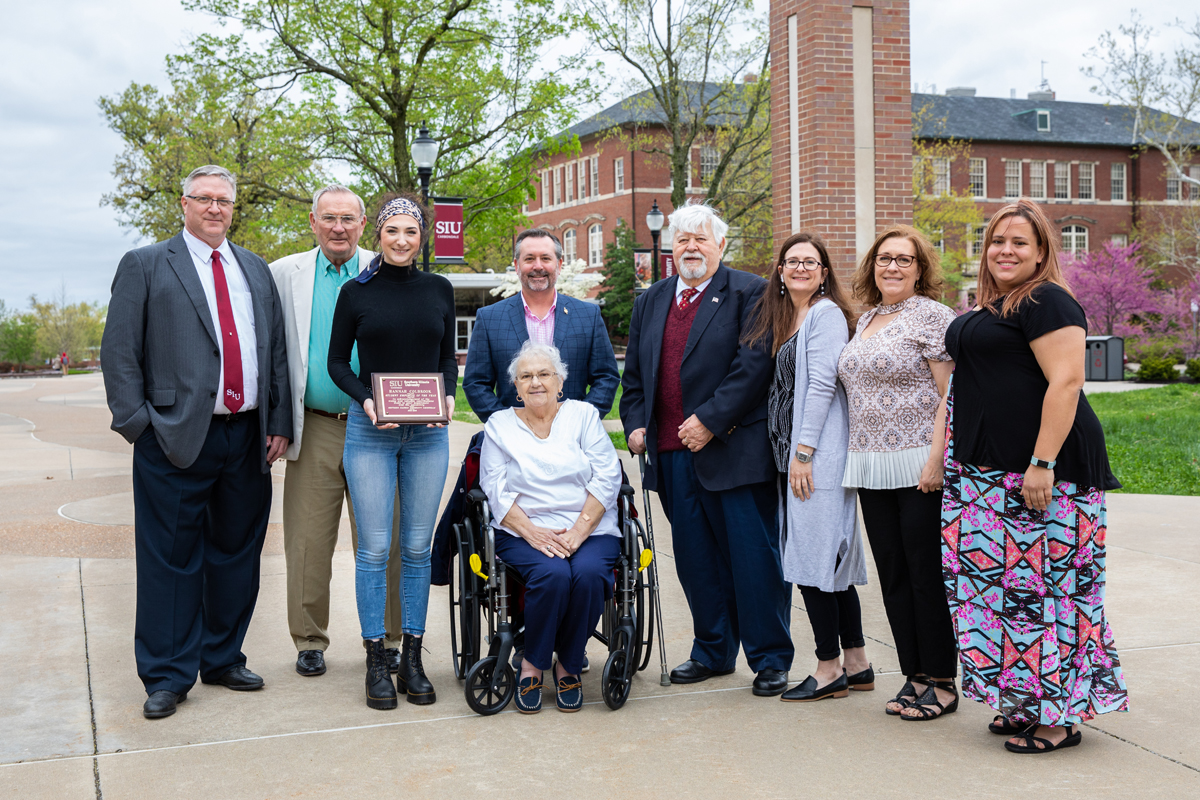 May 09, 2019
SIU's Hannah Colbrook is the Illinois Student Employee of the Year
CARBONDALE, Ill. — It was a day just like any other as Hannah Colbrook walked down the hallway of Southern Illinois University Carbondale's Student Center. After all, the December 2019 communication studies graduate from Palatine, Illinois, has been a student employee there for several years.
But on this spring day, she saw someone she recognized standing in the hallway – actually, lots of people she recognized. And they weren't all fellow students or co-workers.
"I realized almost all of my family was there and I got really confused," she recalls.
Her bewilderment didn't last long because Colbrook's supervisor, Vamsi Manne, quickly made an announcement. The Student Center associate director told Colbrook she had been selected as SIU's 2019 Student Employee of the Year.
And that's not all. Colbrook also won statewide Student Employee of the Year honors.
"I'm completely shocked," she said. "I didn't even know I was nominated. It's such a humbling experience to be honored by SIU and the state of Illinois. It was even more wonderful to be surrounded by my family, friends and co-workers when I found out."
Far-reaching impact
Supervisors nominate student employees they believe are especially deserving for recognition through the Student Employee of the Year Recognition Program, administered by the Midwest Association of Student Employment Administrators. Manne said he and his staff are thrilled that they discovered and hired Colbrook early in her time at SIU, giving her several years to work her magic at the Student Center.
"Hannah's impact in our office is immeasurable," Manne said. "She has helped numerous visitors, assisted me with countless tasks, promoted the services and programs that our office offers, been an example to all of our students and been a positive asset to the office."
Working at the front desk for nearly four years, Colbrook is often the face and voice of the Office of Student Engagement.
During the academic year, the office welcomes an average of 150-200 visitors each week, with needs ranging from simple questions to very specialized requests. She fields customer service calls as well, and helps registered student organizations with a variety of tasks.
"Hannah makes each visitor or caller feel welcomed, heard and supported," Manne said.
He said Colbrook remains calm, professional and helpful regardless of the attitude displayed by the people she's assisting. Moreover, he said she has an "exemplary attendance record" and can always be counted on not only to be at work, committed and following through on her obligations but also to show initiative, figuring out how to resolve issues and lend a hand to others whenever possible.
"When we hired Hannah, I felt like we hit the jackpot," Manne said.
Saluki family legacy
Colbrook's family has a strong Saluki legacy, and indeed one of those there to celebrate her spotlight moment was her uncle, Danny Tarr, the 1998 SIU Student Employee of the Year. Tarr earned his bachelor's degree in aviation management at Carbondale and also claimed the student employee honor his senior year.
Numerous other family members have attended SIU as well, amassing a diverse collection of degrees, beginning with grandparents on both sides of Colbrook's family. The Saluki legacy lineage includes:
William Colbrook, Hannah's paternal grandfather, studied agriculture 1959-1960 before returning to Stonington to work on the family farm. He and wife Ellen Morgan Colbrook raised five children and their middle child, Robert, also made his way to SIU.
James Tarr, Hannah's maternal grandfather, earned a bachelor's degree in education in 1983 with emphasis in secondary business education and his wife, Susan, completed her degree in education and library science in 1964. They had four children, including Colbrook's mother, Christine Tarr. James later returned to college to complete his master's degree in education in 1978 while teaching at Carbondale Community High School. After retiring, he came again to SIU, completing his doctorate in education in 2002. He then spent the next four years at SIU teaching in the Department of Workforce Education and Development.
Robert Colbrook, Hannah's father, completed his bachelor's degree in aviation management in 1988.
Christine Tarr, Hannah's mother, earned an associate's degree in office systems and specialties in 1992.
Bridget Tarr Gallagher, Hannah's aunt, who earned her bachelor's degree in German education with a minor in English in 1986.
Rachel Gallagher, a cousin, graduated cum laude in 2013 with a bachelor's degree in mechanical engineering with a mathematics minor.
Stephen Tarr, an uncle, completed his associate's degree and then in 2000 his bachelor's degree in radiological sciences (ultrasound).
Three generations strong on both sides of the family, the entire Saluki lineage, except Stephen, were on hand to see Colbook receive her award from Meera Komarraju, provost and vice chancellor for academic affairs.
The epitome of a good employee
Colbrook is "a great ambassador for the programs and services we offer," gives presentations to students at New Student Programs and Open House events, and played an instrumental role establishing the marketing plan and rules for the Bowling and Billiards new RSO Night program and promoting it.
He noted that her impact has extended beyond her job as well, as she was instrumental in helping her roommates get campus jobs, where they have also proven to be very valued employees. Her influence and excellence is evident in other ways, too, according to Manne.
"Hannah is not only the epitome of the ideal student employee, she's also a poster-child for the ultimate student leader, because she has maximized her opportunities on campus," he said. "Beyond student employment, Hannah is a successful student with a 3.2 GPA."
Very involved
To say Colbrook has been busy during her time at SIU is a huge understatement. She worked at the front desk in the Office of Student Engagement and worked for Jerry Kill when he was hired as the special assistant to the Chancellor.
She's also been involved in extra-curricular activities, including serving in leadership roles.  Colbrook served as vice president of operations for the Public Relations Student Society of America, was a student planner on the SIU 150th Committee, and was a student voice on the 2018 "Culture of Respect Committee," a Division of Student Affairs campaign group working on campus Title IX issues.
It's all proven a comprehensive, enjoyable experience for Colbrook.
"SIU has been very influential on my life," Colbrook said. "I've learned so much here, not just in the classroom but outside of the classroom. I started out as a STEM major and then I changed my major to communication studies. I've learned to persevere, I've learned the importance of hard work and a good work ethic. I've learned to be a better person."
She's currently excitedly planning to study abroad in Dublin this fall.
Overcoming obstacles
College life hasn't necessarily been easy for Colbrook. For financial reasons, she took nine months off of school in 2017, working as many as four jobs at a time in order to earn money and get back in school. She resumed her academic career that fall.
Here, too, she parlayed her experience into something positive, sharing her story with other students facing similar hardships and challenges in order to inspire them to persist and succeed.
"I have complete faith that Hannah will be an ambassador for the university after graduation and that the ripple effects of her impact will be felt far and wide beyond SIU," Manne said.
Paying it forward
Colbrook will graduate in December and is looking forward to the next chapter in her life, where she's determined to continue helping other people. She'll be seeking employment with a health-related or other non-profit organization, alumni group, or similar organization to help raise funds for people or groups in need.
She said she's been able to succeed thanks to hard work combined with loans and scholarships and she wants to help others meet their needs and succeed, too.
"I want to work in donor communications, building connections, professional relationships and increasing donations," she said. "I don't care where I end up as long as I can pay it forward and help people."