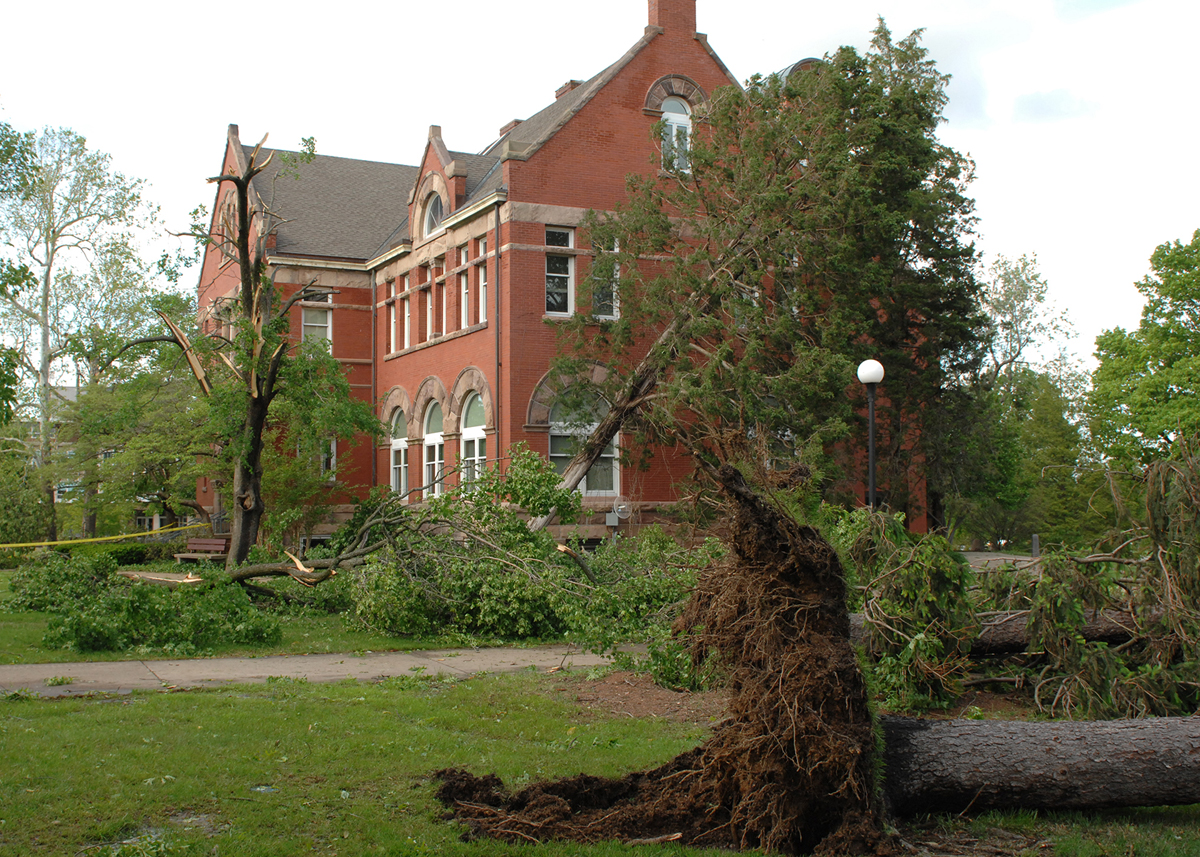 Prepared for storms, emergencies – SIU Carbondale has earned StormReady designation from the National Weather Service for its proactive response to emergency storm preparedness. A vivid preparedness reminder the May 2009 derecho that caused nearly $9 million in damage to facilities, research and grounds and uprooted and destroying more than 1,000 trees in the campus lake and Thompson Woods areas, and hundreds more across the rest of campus, such as these near Wheeler Hall. Part of the emergency upgrade included the installation of eight strategically placed speakers throughout campus. The speakers can also function as a public address system. (Photo by Russell Bailey)
April 01, 2019
SIU Carbondale earns National Weather Service 'StormReady' designation
CARBONDALE, Ill. – With the May 2009 derecho that caused nearly $9 million in damage to facilities, research and grounds on campus still a vivid memory for many, the National Weather Service on Wednesday will recognize Southern Illinois University Carbondale for its proactive response to emergency management storm preparedness.
The university will receive recognition by the agency as a StormReady university in a ceremony at 9 a.m. on campus. The event will be at the intersection of Saluki Drive and Douglas Drive, southwest of the SIU Arena, in a grassy area adjacent to one of the university's eight emergency warning speakers. In the event of inclement weather, the event will be in the SIU Arena Stadium Club.
Designation shows campus safety is a "top priority"
The StormReady designation shows SIU Carbondale has taken "much initiative" toward the safety of students, faculty and staff, said Rick Shanklin, acting meteorologist in charge with the National Weather Service in Paducah, Kentucky.
"SIU already met most of the StormReady requirements from having multiple ways of monitoring severe weather to alerting everyone on campus for impending severe weather, as well as having robust plans in place for sheltering," Shanklin said. "The May 8, 2009 derecho certainly provided some impetus and experience in working toward the StormReady requirements." 
---
Media Advisory
Reporters, photographers and camera crews are welcome to cover the ceremony. Among the speakers will be Judy Marshall, vice chancellor for administration and finance; Rick Shanklin, acting meteorologist in charge, National Weather Service, Paducah, Kentucky; Chris Pulley, Illinois Emergency Management Agency Region 11 coordinator; Benjamin Newman, director, SIU Department of Public Safety, and Capt. Jay Crippen, Carbondale Fire Department. For more information, contact Brad Dillard, director, SIU Plant and Service Operations, at 618/453-8170 or bradd@pso.siu.edu.
---
Along an elite group of higher institutions
Brad Dillard, director of SIU's Plant and Service Operations, noted that just 255 universities and colleges nationwide, including 18 in Illinois, are StormReady. The designation is for three years and is renewable.
"We have the appropriate processes and procedures in place to warn the community and respond to any storm emergency that would occur," he said.
The designation means the university has met or exceeded all requirements for StormReady, from receiving alerts for severe weather to distributing emergency weather alerts to everyone on campus, Shanklin said. In addition, there are five other requirements from planning to training and preparedness, he said.
Over the last six months, university officials, in combination with Department of Public Safety and PSO, worked with the National Weather Service, to comply with requirements for storm ready community designation, Dillard said.
The review included looking at:
University emergency procedure manuals and response processes for severe weather and other situations, including active shooter incidents.

Facilities Operations Center.

Department of Public Safety Dispatch Center.
Housing and academic areas.
Strategically placed speaker system installed in 2014
Dillard notes much of the university's coordinated emergency preparedness was in place prior to the derecho. The outdoor emergency notification system received a significant upgrade in 2014 when eight strategically placed speakers on pods replaced existing sirens and provided complete campus coverage. The solar-powered speakers allow for wireless communication equipped with batteries so that they are protected against power outages. The project cost about $500,000.
The speakers also function as a public address system. There are 13 prerecorded messages that alert the campus to a threat or dangerous situation, along with the capability to broadcast live messages to any combination of speakers or an individual location.
"In the old days of the civil defense sirens it was all or nothing," Dillard said.
SIU's emergency notification system can be activated from three locations:
Department of Public Safety.
Facilities Operations Center.
Carbondale Fire Department.
"That overlap was very important to getting this certification," Dillard said. "You don't want to have one point of contact and the power goes out and you can't get the word out to the campus community."
Coordinated process involves university and city
Every time there is a potential for severe weather in the area, Dillard has discussions with Benjamin Newman, DPS director, and the Carbondale Fire Department. The fire department is responsible for activating and overseeing storm spotters. In the event severe weather watches or warnings are issued, the city proactively reaches out to the university to find out what events are underway or planned on campus, Dillard said.
SIU also has a coordinated effort for providing emergency notifications and alerts to students, faculty and staff through text messages, email, radio scanners and university social media accounts.
Emergency planning proved vital when disaster struck
The derecho struck campus and parts of the region before scheduled commencement exercises that afternoon and main commencement exercises on May 9. Winds were clocked on campus at a sustained 84 mph for 20 minutes.
Dillard, who was associate director at the time and led the university's response, recalls the success dealing with the storm's aftermath, including holding commencement outdoors at McAndrew Stadium the next day, was due to the hard work by people on campus. That came through previous years of tabletop exercises and disaster drills.
"We found out after the derecho absolutely that these table top exercises and drills are very realistic," he said. Dillard recalled university officials were able during the first 72 hours after the storm to resolve numerous problems in a more timely fashion due to working through similar issues during drills in previous years.
"Everybody did their part"
The storm also reinforced the belief that as a university SIU was much more prepared than other entities and the value of yearly drills and exercises, Dillard said. That continuing preparation also paid off in gaining the designation.
"Because we have been proactive as a university, we don't have to sit here and say 'here is where we were lagging significantly,'" he said. "You can always do something better but we weren't lagging significantly during the derecho because we had spent a lot time and energy on this."
Severe weather season is upon us
While severe weather can happen at any time during the year, about half of all tornados in Southern Illinois occur over a 10-week period from late March through early June, Shanklin said.
The Paducah NWS covers parts of four states; Southern Illinois, southeast Missouri, southwest Indiana and western Kentucky. There are 37 full StormReady designations with that four-state coverage area, consisting mostly of county and city designations, Shanklin said. Murray State University is the other university with full StormReady designation and West Kentucky Community and Technical College recently earned the StormReady Supporter designation.