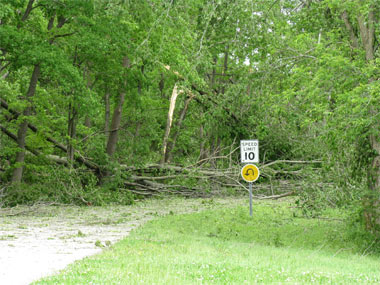 May 15, 2009
SIUC community responds to devastating storm
CARBONDALE, Ill. -- Julie Payne Kirchmeier grew up in Houston, so she knows a thing or two about major storms.
"I have never seen anything like this, and I grew up in a hurricane zone," said Kirchmeier, director of University Housing at Southern Illinois University Carbondale, of the May 8 storm that devastated campus and parts of the region.
Power was restored to the majority of campus on Monday, May 11, although several areas remained without electricity throughout this week. Restoration of electricity to Evergreen Terrace began late today (May 15). The apartment complex at the south edge of campus provides housing to students with families.
The winds -- clocked on campus at a sustained 84 mph for 20 minutes -- had barely died down before the Department of Public Safety, Plant and Service Operations, University Housing and other departments across campus mobilized.
From 12:01 a.m. to midnight on May 8, the Department of Public Safety's telecommunications center received 1,300 calls. By way of comparison, the previous day, May 7, the center received 500 calls.
Campus police officers conducted a building-by-building search to ensure no employees or students were trapped. Those searches included residence halls, which still housed 3,000 students who were preparing to leave campus for the summer. University Housing and physical plant employees worked throughout the evening to board up the 91 windows in high-rise residence halls blown out by the winds.
Building Services staff, part of Plant and Service Operations, also began emergency clean-up in the campus' more than 100 buildings once the storm subsided. The effort included removing tree limbs and other debris from entrances, walkways, and paths leading to and from the buildings. Grounds crews also immediately began the massive task of clearing the campus' sidewalks and streets of debris, as well as removing trees that had fallen on buildings. Crews worked throughout the weekend and this week, and they are continuing the debris removal effort.
SIUC employed its layered emergency communications system to provide updates on the campus situation. Staff posted emergency messages to the University's main Web site and made them available on the University's toll-free telephone line, while also communicating to area news media. In addition, between May 8 and Wednesday, May 13, the University delivered more than 165,000 text messages to approximately 8,000 subscribers through the WENS text-messaging system.
The massive storm forced the cancellation of two commencement ceremonies on Friday, and those students are welcome to participate in summer commencement. After the decision was reached Friday evening to move the rest of the weekend's ceremonies to McAndrew Stadium, employees from Plant and Service Operations worked throughout the night -- mostly by flashlight -- setting up generators, 300 chairs, podium and sound equipment, along with cleaning, to have the stadium ready in time for the first of the day's four ceremonies on Saturday, at 8:30 a.m.
"The housekeeping staff worked with an outstanding commitment to our University, as all of them had significant damage to their homes as well as being without electricity," noted Jay Brooks, superintendent of Building Services. He added that many of the employees worked 18-20 hours following the storm.
With the threat of more rain looming on Sunday, May 10, employees from several departments spent a harried two hours making the necessary preparations -- including hooking up a massive emergency generator -- to hold the final 5 p.m. commencement ceremony in the Student Center ballrooms.
During each of the four days following the storm, University Housing's Residence Hall Dining offered a free hot meal at lunchtime in Trueblood Hall for students, faculty, staff, and members of the community at large. By the time serving wrapped up on Tuesday, May 12, more than 6,600 meals had been served, including to city of Carbondale and Ameren workers. In addition, Residence Hall Dining provided bottled water to grounds crews and fed staff working on the recovery effort during the evenings.
The lack of power to the residence halls also disabled the fire alarm system. In addition to their other responsibilities. full-time University Housing staff and student employees conducted "fire walks" in the buildings every hour, literally working around the clock. Those fire walks began on Saturday and ended on Wednesday, May 13, when power was restored to Wall and Grand Apartments.
The day after the storm, Saturday, May 9, Ameren Utilities Illinois asked the University about the possibility of housing workers coming into the area to assist with clean-up and recovery efforts. They began arriving between 9 p.m. and midnight on Saturday, May 9, and Neely Hall has been home to as many as 450 workers.
Once power was restored to the main campus on Monday, University Housing began offering temporary housing at Allen Hall for Evergreen Terrace residents. For those who chose to remain at Evergreen Terrace, University Housing offered showers at Schneider Hall in Brush Towers. Families have been taking advantage of both options. Laundry facilities, powered by a generator, re-opened at Evergreen Terrace on Tuesday. Both the Student Recreation Center and Student Center offered special activities for residents. A special bus service provided residents with rides to and from Trueblood Hall for the daily lunches. In addition, residents took advantage of a special bus service that ran for four hours on Sunday, May 10, between Evergreen Terrace and Wal-Mart so they could buy food and other necessities.
Chancellor Samuel Goldman said that the response to the entire situation by employees and students will always be one of the University's shining moments.
"Our campus community responded to this crisis as just that -- a community," he said. "Our employees and students have been courageous, resilient and tireless. The only question I have heard, beginning immediately after the storm, has been 'How can I help?' In my nearly 30 years with SIUC, I have never been more proud to be a Saluki."
Other campus facts and figures:
-- Only three people sustained minor injuries on campus during the May 8 storm. None required hospitalization.
-- The Department of Public Safety provided two officers for two nights during the weekend to assist with patrols in Marion.
-- Police officers took reports of damage to 30 vehicles.