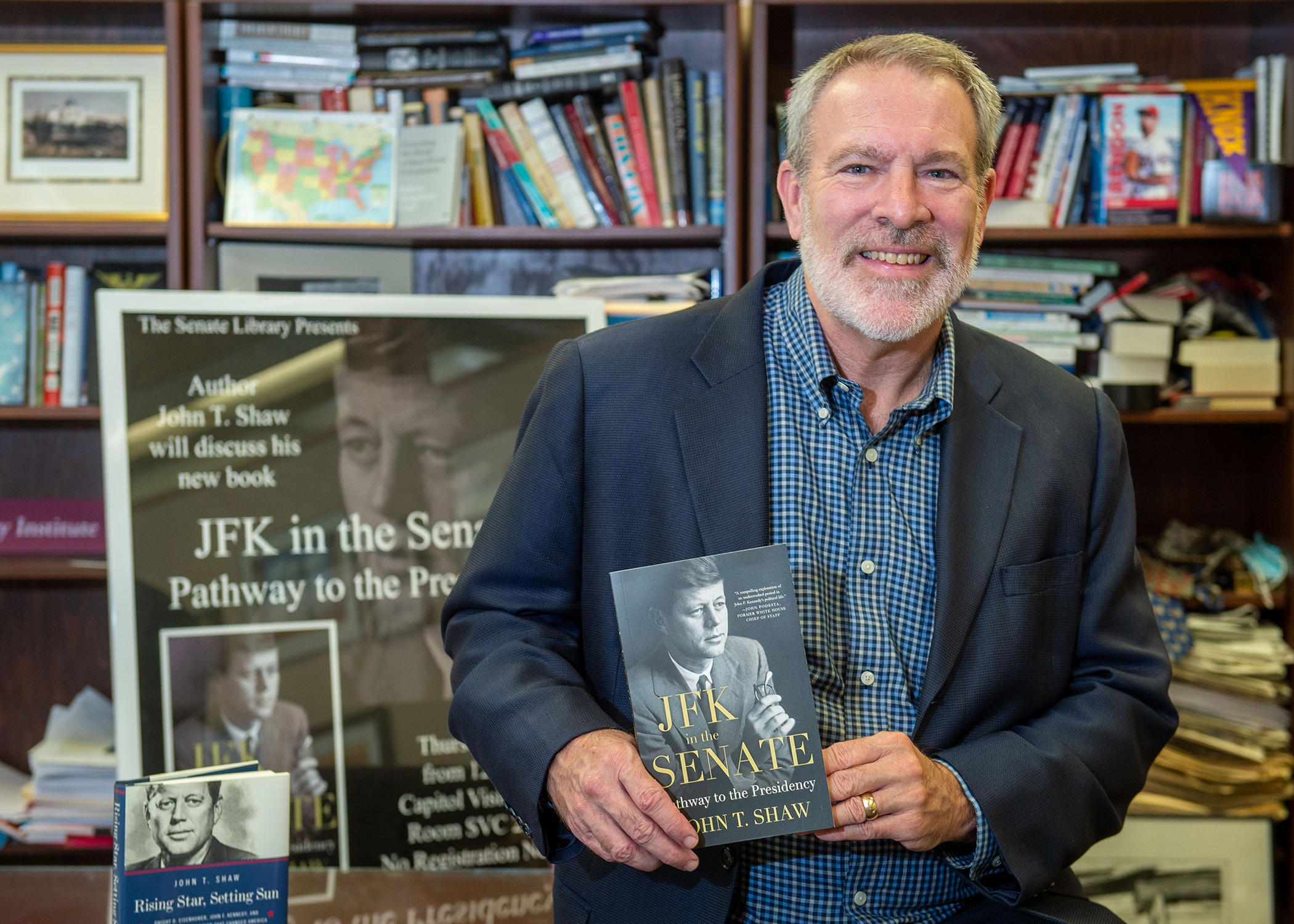 JFK expert: John Shaw, director, Paul Simon Public Policy Institute, has written two books on John F. Kennedy, and is an expert commentator for an upcoming documentary on Kennedy that premieres on The History Channel, just days ahead of the 60th anniversary of Kennedy's assassination. (Photo by Russell Bailey)
November 14, 2023
SIU expert: JFK remains 'one of the most compelling figures' in history 60 years after death
CARBONDALE, Ill. — Six decades after an assassination that altered the course of American history, former President John F. Kennedy has an "enduring appeal," says John Shaw, a JFK expert and director of Southern Illinois University Carbondale's Paul Simon Public Policy Institute.
"John F. Kennedy is one of the most compelling figures in American political history," he said. "Few political leaders have possessed the combination of intelligence, wit, bravery and powers of expression that JFK demonstrated. His stunning assassination as a young man, and at the peak of his powers, is a signal event in American history. His tragic death has only added to his mystique."
Shaw has written two books on Kennedy and is an expert commentator on two documentaries about the former president. That includes "Kennedy," which premieres on The History Channel, starting Saturday, Nov. 18. The eight, one-hour episodes will air in primetime Nov. 18-20, just days ahead of the 60th anniversary of Kennedy's death on Nov. 22, 1963. Six years ago, Shaw lent his expertise to the PBS documentary "This is the House That Jack Built."
---
Media availability
John Shaw, director, Paul Simon Public Policy Institute, is available for interviews about John F. Kennedy's life and legacy. He can be reached at 618-453-4009 or john.shaw@siu.edu.
---
Comprehensive study of Kennedy
Shaw has studied Kennedy in-depth throughout his career, which includes 26 years in Washington D.C. covering Congress and economic issues for Market News International before his arrival at SIU in 2018.
Shaw's 2013 book, "JFK in the Senate: Pathway to the Presidency," describes how Kennedy used the Senate as a training ground and launching pad for the presidency. Shaw appeared twice on C-SPAN in November 2013 to discuss his book; first as part of the network's "BookTV" and later as part of the National Press Club Book Fair.
Shaw wrote "Rising Star, Setting Sun: Dwight D. Eisenhower, John F. Kennedy, and the Presidential Transition that Changed America" in 2018. The book chronicles the 10 weeks between Kennedy's election on Nov. 8, 1960, and his inauguration on Jan. 20, 1961, and depicts the end of the Eisenhower era and the beginning of the Kennedy administration. Shaw appeared on C-SPAN to discuss that book in October 2018.
He has spoken about JFK at many libraries, universities and other institutions, including the John F. Kennedy Presidential Library and National Archives, and has written essays about Kennedy for numerous publications, including "The American Interest."
In 2020, the Paul Simon Public Policy Institute hosted "Lincoln and Kennedy: Two Iconic Presidents," in which Shaw discussed Kennedy and Sam Wheeler, then-Illinois state historian, described Lincoln.
"It's intriguing to speculate on how America and the world would have been different had Kennedy not been murdered in Dallas 60 years ago," Shaw said. "We all wonder if he would have ended America's involvement in the Vietnam War and how he would have handled civil rights. Political leaders from both parties are still influenced by Kennedy and try to conjure the charm and charisma that he so naturally displayed."