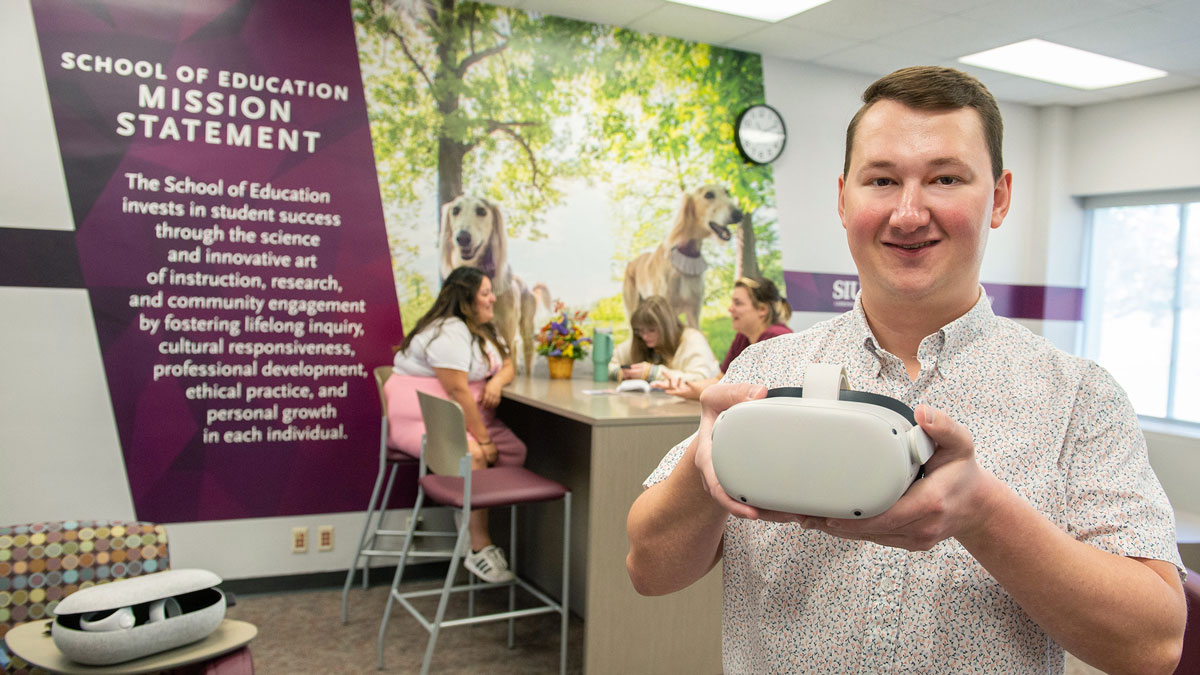 November 08, 2023
SIU researchers explore virtual training to foster faster, better decisions in sports and more
CARBONDALE, Ill. — Split-second decisions frequently determine the outcome of a game, a medical procedure, a military battle or a law enforcement situation. Scott Boatright, a doctoral candidate at Southern Illinois University Carbondale, is conducting research to see if people can train with simulation and extended reality to make judgments more quickly and effectively. His work has already garnered national recognition along with a $10,000 scholarship from the National Training and Simulation Association (NTSA).
Boatright, of Tampa, Florida, has been working on the project in the School of Education's Organizational Learning, Innovation and Development (OLID) program with Peter Fadde, OLID professor of learning systems design and technology.
"The goal is to systemize and speed up the training and learning experience," Fadde said. "We asked ourselves, how we could take the seemingly intuitive decision-making process used by experts and capture their methodology and expertise and train others to use it faster and faster."
Boatright said getting to work on this innovative research using video-occlusion technology, a form of virtual reality, with Fadde and other SIU faculty is what drew him to SIU.
"I developed a keen interest in applying my classroom knowledge to the real world. Specifically, the application of innovative training methods and technologies, such as extended reality, to improve human performance in dynamic, high-pressure environments," Boatright said.
Better calls in sports
Boatright's research began in sports officiating.
For his master's research project he developed, implemented and analyzed programs that incorporated the use of 360-degree video to train baseball umpires to better call strikes, balls and fouls. His doctoral research ramps it up to the next level, moving to the basketball court, where there's a faster pace and many more decisions to be made by officials, and he is specifically focusing on what type of feedback best aids in learning.
There's more to it than meets the eye, though, Boatright and Fadde are quick to note. For instance, if a referee literally called every foul, every traveling violation and every other offense, a game could go on seemingly forever, Fadde said. Instead, referees make split-second decisions, anticipate action and make judgments as they officiate, trying to do so in a way that applies fairly to both teams.
"If you talk to the best, the most experienced officials, they will often tell you that their expertise comes with experience," Fadde said. "What Scott is doing is working to find ways to help people get that knowledge and instinct, that experience, if you will, much faster."
Honing the training and decision-making processes in sports officiating has other implications and applications, according to Boatright and Fadde, including uses for Transportation Security Administration (TSA) airport safety, crowd control, law enforcement, military and even in the medical field.
Training with videos, altered reality
Fadde has conducted extensive research involving the techniques for more than two decades, and it's been honed to improve the batting average of various professional baseball organizations as well as minor league and lower-level teams.
Now, Boatright, with assistance from Fadde, is looking to boost the skills of sports officials via the technology. The referees view videos, but unlike typical virtual reality that captures an entire experience, the video occlusion focuses only on "what you see" separate from "what you do." The participant views a video, but it will stop perhaps a half-second before a foul or other offense occurs, giving them the opportunity to "make the call," then play proceeds and they can see what happens and receive input from experts. This method trains participants to anticipate actions and make proper calls. It's about timing and good decisions, Boatright said.
Boatright wrote his master's thesis while completing his degree in applied experimental psychology in 2019 at the University of West Florida in West Pensacola and took classes in cognitive psychology and decision-making where he developed an interest in this area of research. Training baseball umpires, he used 360-degree video and above-real-time training to improve the accuracy of strike zone calls and tested participants' accuracy before, during and after training administered in video and virtual reality at different speeds.
People trained with every method except video at normal speed showed significant improvement in their skill levels, resulting in improved accuracy, reaction time, confidence, lowered stress and enhanced training experience. He said that's an interesting side finding because many training programs simply use video.
On the court training
Now, his challenge is creating a much more complex research and training project for the basketball court.
"There is so much expertise needed there," he said. "Refereeing is a good way to practice decision-making skills."
He's working with the intramural sports referees at SIU's Recreational Sports and Services, filming participants during three different sessions each week for a month using 360-degree and over-the court video, evaluating their decision-making skills each time, providing them with video-occlusion reality training at normal and above-normal speed and giving feedback along the way.
At the conclusion, he will spend a considerable amount of time fully evaluating all the results.
"His research has great promise," said Fadde. "Sports are rules-based, and a high level of expertise is needed, but players and officials must make split-second decisions. In the same way, other occupations have the same standards and can benefit the same way from this type of technologically advanced training. Scott's goal is to improve the physical aspects, make virtual training more realistic and speed up the learning process to enable people to learn to make effective split-second decisions better and faster."
Boatright, who earned his bachelor's degree in psychology with a minor in business from Florida State University in Tallahassee, has been involved with several faculty research laboratories, including SIU's eXtended Reality Development Academy (XRDA), a virtual reality application and development training program. He holds a 3.96 GPA, has presented his work professionally and been published, and worked as a teaching/research assistant for Fadde and Grant Miller, associate professor and coordinator of curriculum, instruction and assessment in the School of Education.
National award winner
Boatright's research has already earned him the NTSA scholarship, presented to future leaders in the modeling, simulation, training and education communities. Boatright will be an honored guest at the 2023 Inter-service/Industry Training, Simulation and Education Conference (I/ITSEC) in late November in Orlando, Florida, and will attend a future conference to present his research.
Fadde said Boatright is the first SIU student to receive the award, presented on the basis of his past and current research as well as his statement of interest and proposal for upcoming research.
He noted that the OLID Program, formerly the Workforce Education and Development Program, has a long tradition of serving the military and currently offers eight off-campus locations, with seven on military bases.
After completing his master's degree but before beginning his doctoral studies, Boatright began working as an applied cognitive researcher in an Oak Ridge Institute for Science and Education (ORISE) program with Department of Defense organizations, the U.S. Army Medical Research and Material Command and the Naval Air Warfare Center Training Systems Division. He assisted in the development of a training system for practicing advanced situational awareness and resiliency skills, field medical techniques and tactical decision-making and found the work fascinating and rewarding.
"The experience was truly formative for me," he said. "After I complete my doctorate in spring 2024, I really want to get back into that type of research and incorporate some of the innovative research I'm doing at SIU. My goal is to continue to research, educate and develop innovative training methods in a defense organization to serve our nation. Hopefully I can make a difference."