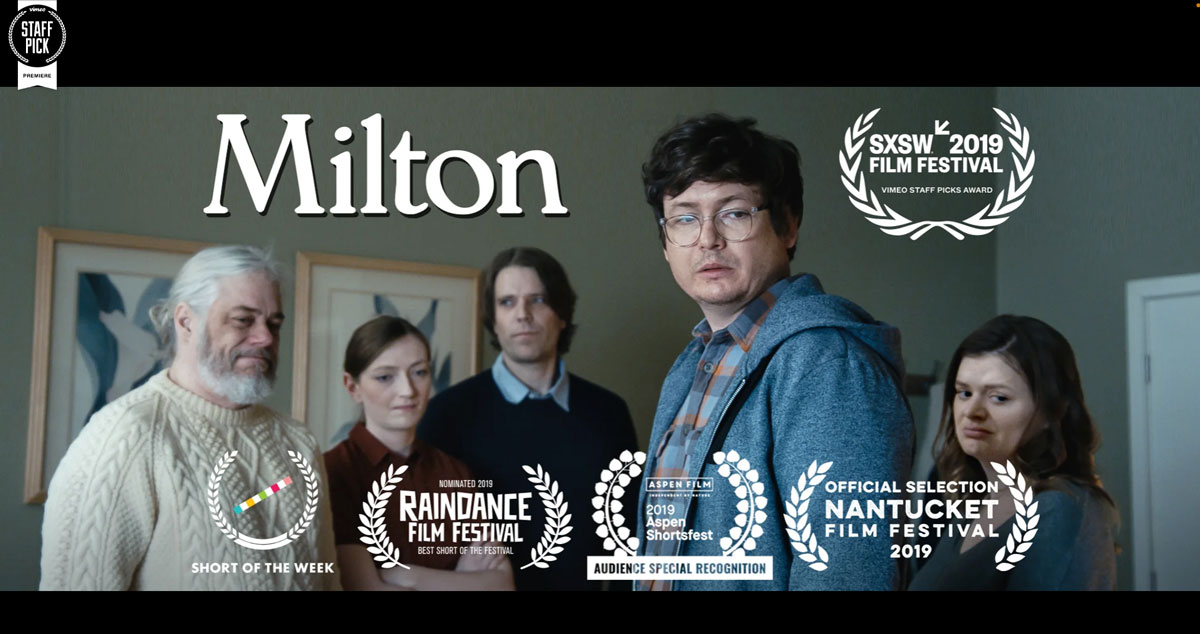 Big Muddy Film Festival returns: "Milton," an award-winning short by SIU Carbondale alumnus and filmmaker Tim Wilkime, is one of the films that will be part of the 2023 Big Muddy Film Festival on Nov. 11 at The Varsity Theater in Carbondale. (Image provided)
November 03, 2023
SIU's Big Muddy Film Festival returns Nov. 11 to highlight student, alumni work
CARBONDALE, Ill. — With a pivot that this year will focus on the works of Southern Illinois University Carbondale cinema students and alumni, the iconic Big Muddy Film Festival returns to the region for a 45th consecutive year on Nov. 11.
The one-night festival is from 6-9:30 p.m. at The Varsity Theater, 418 S. Illinois Ave., Carbondale.
The event will feature the works of recent alumni, including the award-winning short film "Milton" by director Tim Wilkime, a 2009 radio-television graduate. There will also be works from two registered student organizations within the College of Arts and Media — an upcoming episode of the alternative magazine-style award-winning program "Alt.News 26:46" and student work from "Movie Camera Movement."
Additional festival information, including the lineup, are on the festival's officialbigmuddyfilmfest on Instagram page.
The festival is free and open to the public. Doors will open at 5 p.m. and as part of the preshow, organizers plan to have actors from the School of Theater and Dance participate with prepared monologues of the selected films utilizing a logline — or an enticing one-sentence summary or description of the film — to entertain the crowd.
Different festival direction
The event will help the primarily student-led festival continue a storied run that dates back to 1979 and featured the best in independent filmmaking, including documentaries international films. The past two years, however, the festival worked through a 2021 virtual event due to the COVID-19 pandemic and then adjustments in the February 2022 event due to inclement weather. Maintaining one of the nation's oldest festivals affiliated with a university is important, said A.J. Rice, a senior in cinema with a double major in theater from Du Quoin.
"It's a sense of responsibility. It's an incredible history tied to the town and tied to the school," said Rice, who will graduate in May 2025. "It's something to be proud of for it to be around as long as it has. The Big Muddy was a formidable festival at one point to where more people got rejected than got into it."
Rice also noted one of the festival's drawing points through the mid-2000s was the limited access to international films and the ability to "engross yourself into many different cultures." That led him to his focus on showing student films, including those of alumni.
"I just focused on what I felt was missing, which is trying to build a stronger connection between the school and the community," he said.
Karla Berry, an associate professor in the School of Media Arts, notes that the festival is a registered student organization that relies on student volunteers "to carry out the demanding activities of the long-running film festival," and said Rice "has done a great deal of work to curate and organize the festival for 2023."
"We chose to showcase alumni and student media as a way to celebrate creative work that is not often available to the local audience," said Berry, noting the festival provides an avenue to applaud Wilkime's film, which won the Vimeo Staff Pick Award at the 2019 SXSW Film Festival. "We're very proud of the work of our alumni and are eager to share it with the SIU and Carbondale audience."
Berry also hopes the screening will generate more interest from students who will want to take over coordination of a more traditional festival.
Other films set to be shown 
A pre-event film, "Jeremy's Obsession," by Sam Salinas, a May 2023 cinema graduate, will be shown at 5:30 p.m., Rice said. The works of "Alt.News 26:46," where Rice is executive producer this year, and "Movie Camera Movement" follow at 6 p.m. At 7 p.m., viewers will see Wilkime's film "Milton," "S--- Show" by 2013 graduates Evan Halleck and Savannah Steiner, "Forgive and Forget" by 2022 graduate Jacob Boehme and "Tower Theater" by 2013 graduate Austin Wood.
The Q&A will follow the alumni films with several of the evening's filmmakers present. Justin Hankinson, a 2016 alumnus and independent filmmaker, will also be participating. Wilkime will not be available for the Q&A but will provide a recorded video to preface his film.