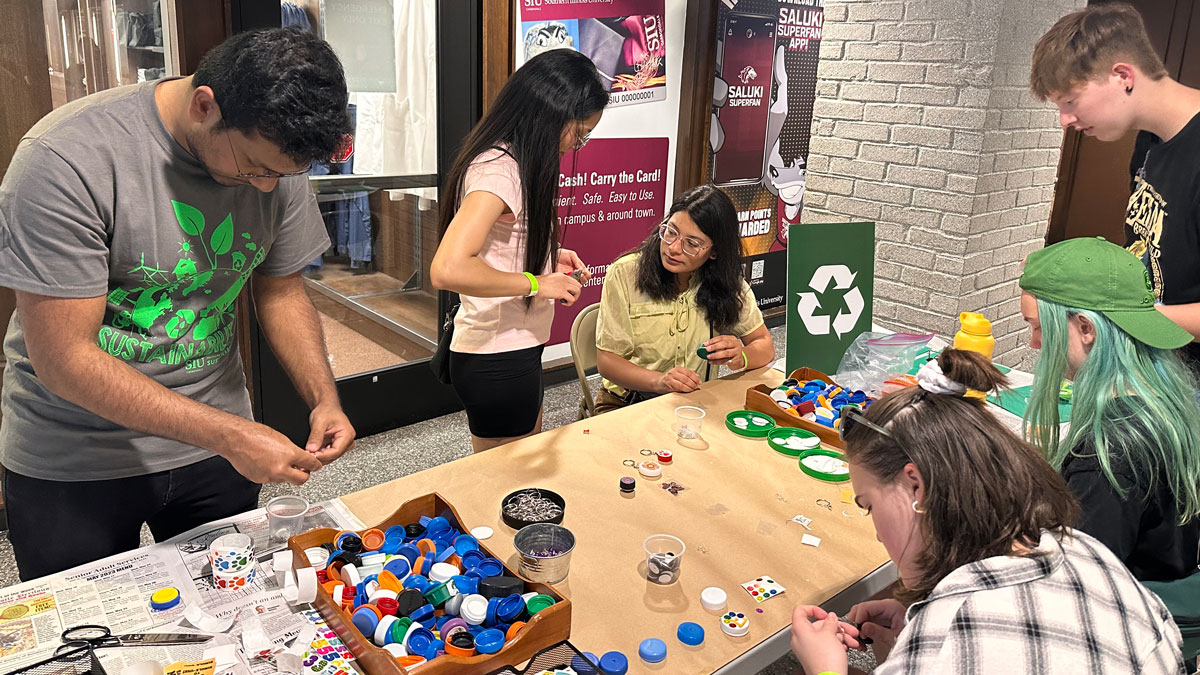 October 06, 2023
SIU celebrating Campus Sustainability Month in October
CARBONDALE, Ill. — In the tradition of Southern Illinois University Carbondale's longstanding commitment to sustainability and being "green," the university is planning a variety of special events this month in recognition of October as Campus Sustainability Month.
"The climate crisis is impacting all of us but unfortunately, it disproportionally affects the poorest countries and people," said Aimee Lemrise, sustainability director. "They are more exposed and vulnerable to the impacts. Education is a key force for climate resilience and we must take the lead, beginning on the SIU campus. Together as a team, we can make an incredible impact. In the coming weeks, we have a series of events planned to provide valuable information, get people involved, and help us all work together toward the common goal of creating a sustainable world."
Begins with brownbag lunch
The kickoff event is a brownbag luncheon featuring a discussion led by Lemrise and Lea Gilbertson, geology associate lecturer, from noon to 1 p.m. Oct. 12 in Parkinson Laboratory, Room 103. Her presentation will focus on sustainability and energy, and everyone is welcome to attend. Participants may bring their lunches.
Planning is also underway for an event on Oct. 24 to mark United Nations Day. Details are still being finalized, but plans call for a variety of interactive activities in front of the Sustainability Hub in the Student Center from 11 a.m. to 1 p.m. 
Also on that day, the Tree Campus Higher Education Advisory Committee, the SIU Forestry Club and the Society of American Foresters will be hosting about 170 area children from Carruthers Elementary School in Murphysboro for a tree walk on campus and demonstrations of various outdoor hands-on learning activities.
Workshops, chats
A pair of Sustainability Chats is planned as well, with the first set for 10:30 a.m.-12:30 p.m. Oct. 27 in the Hub at the Student Center. A second will follow at the same time on Dec. 1. These chats will be used to help re-establish the campus' Sustainability Working Groups, which make recommendations to address various areas of sustainability. Anyone who is interested in SIU sustainability is encouraged to attend.
Throughout the year, the Sustainability Office is also sponsoring a series of free eco-friendly craft workshops for students, offering fun ways to upcycle. In September, Salukis created "glamour from garbage" by making upcycled jewelry from recycled materials. On Oct. 26 from 5 to 7 p.m. at the Student Center Craft Shop, Aaliyah Lewis, a sophomore fashion studies student, will present "Scrunchies from Scraps," showing them how to transform old Saluki tote bags and T-shirts into stylish hair scrunchies. At the same time on Nov. 30, students can learn to make reusable, eco-friendly beeswax food wraps. Advance registration is required.
Pumpkin Smash finale
The grand finale takes place in November, and it's a pumpkin smash, a creative and fun way to compost jack-o-lanterns. The Great Southern Illinois Pumpkin Smash is set for 9 a.m. to noon Nov. 4 at the SIU Farms Service Center, 2704 Union Hill Road in Carbondale.
It's a family friendly event featuring pumpkin smashing activities for all ages. Participants will want to dress for the fun as they make tower drops or catapult, T-ball, mallet smash or otherwise destruct their pumpkins. The smashed pumpkin remains will all be taken to the university's Forced Air Composting Facility on Pleasant Hill Road and thus kept out of landfills. Please note that pumpkins must be free of candles, stickers, glitter, yarn or other synthetic decorations.
Lemrise notes that more than 1 billion pounds of pumpkins are grown in the United States annually, primarily for fall festivities, and millions of the fruits, which are 90% water, end up in landfills. Indeed, as much as 40% of the food in America ends up in landfills, contributing to 14% of the country's methane emissions every year, she notes.
That's why the SIU Sustainability Office, SIU Student Sustainable Farm, Jackson County Health Department and Green Earth Inc. are partnering to host the inaugural Southern Illinois pumpkin smash, which organizers believe to be the first such event outside of the greater Chicago region.
Advance registration is appreciated, although not required. Sign up online. Volunteers are also needed and can sign up online.
For those who don't have time to stay, there will be a drop and go spot.
Active year planned
Lemrise said she is busy planning a wide variety of activities throughout the coming year and rejuvenating and updating various sustainability programs. The Saluki Green Action Team, comprising students, faculty, staff, alumni and friends of SIU who are committed to making the community more sustainable, is active again.
Learn more about the many sustainability initiatives on the website. Or email sustainability@siu.edu or call 618-453-2846 for additional details.