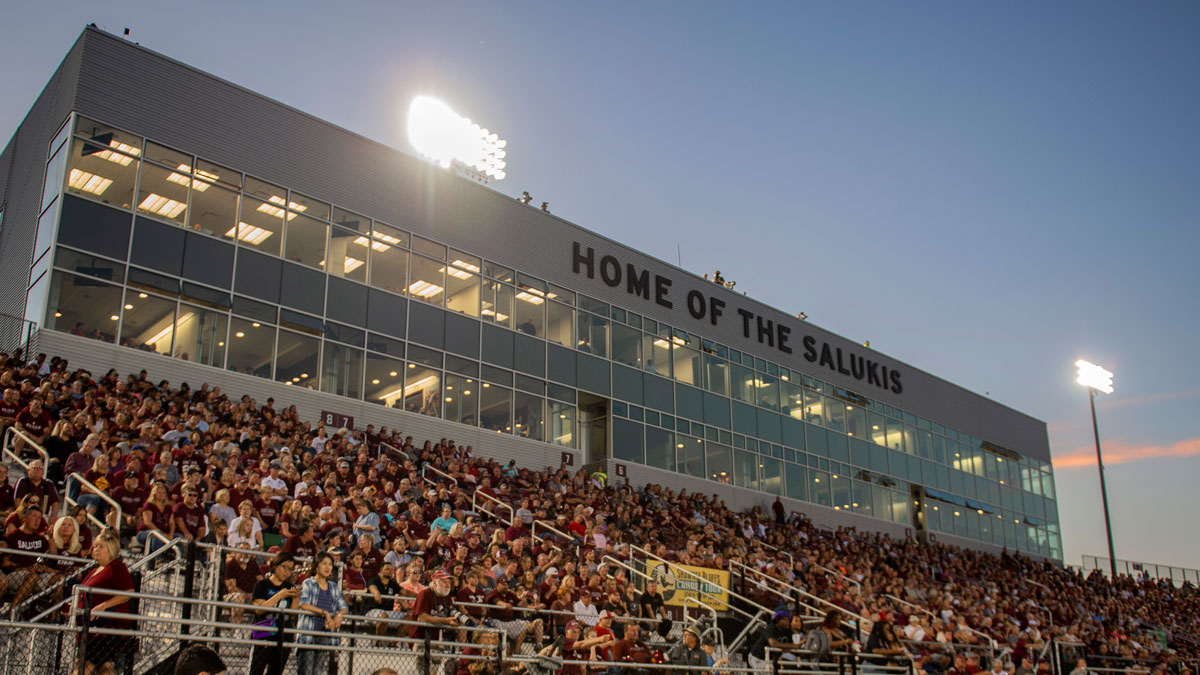 Fans cheer on the Salukis during a previous Family Weekend. Among this year's fans will be the 2023 Saluki Families of the Year. Second photo: Members of the "legacy" family include front row (from left): Evan Cheek, Linda Biby, Steve Biby and Grant Biby; and back row: Eli Cheek, Ryan Cheek, Elizabeth Cheek, Ethan Cheek, Kevin Biby, Garrett Biby and Richel Biby. Third photo: Members of the "non-legacy" family include front row (from left): Jonathan and Tashona; back row: Jessica, Jakayla and Courtney. (Photos provided)
September 28, 2023
SIU honors 2023 Families of the Year
CARBONDALE, Ill. — Southern Illinois University Carbondale is honoring two families as the 2023 Saluki Family of the Year winners during Family Weekend Celebration (Sept. 29-Oct. 1).  
The Ethan Cheek family of Pinckneyville, Illinois, is the "legacy" Saluki Family of the Year and the Jakayla Sherrod family of Dolton, Illinois, is the "non-legacy" Saluki Family of the Year.
Organizers said more than 50 students submitted entries from which they had the difficult task of choosing six finalists; the winners were selected on the basis of videos submitted by the finalists.
Cheek's multi-generational legacy
Cheek, a senior automotive technology major with a minor in automotive, truck and equipment management, is a graduate of Pinckneyville High School. He said his family's love for SIU spans three generations, tracing back to his grandfather, John Steven Biby, who transferred to SIU from Eastern Illinois University in 1970 as a first-generation college student to pursue a bachelor's degree in business administrative sciences.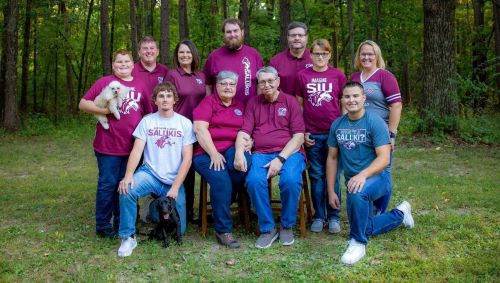 "From there, you can pretty much say we all bleed Saluki maroon," Cheek wrote in his application. "Our grandpa is in his second year of battling parotid gland and kidney cancer, but that hasn't stopped him from fulfilling his goal of watching his children, their spouses and his grandchildren follow in his footsteps."
Since 1972, the family has amassed six SIU degrees with three more in the works and two who plan to become Salukis, Cheek said. In addition to his grandfather, Cheek's Saluki legacy includes: Linda Biby (grandmother) – attended 1971-72 for child care development; Kevin Biby (uncle) – bachelor's degree in management with specialization in information systems, 1998; Ryan Cheek (father) – associate in tool and manufacturing technology, 1998; Elizabeth Biby-Cheek (mother) – associate in radiologic technology, 1999, and bachelor's degree in university studies, 2020; Richel Biby (aunt) – bachelor's in accounting, 2000; Grant Biby (cousin) junior sport administration major; Evan Cheek (brother) – sophomore forestry major with a specialization in wildlife habitat management and conservation with conservation law enforcement certificate. Cousin Garrett Biby plans to be part of the Class of 2029 and brother Eli Cheek anticipates being part of the Class of 2035.
In addition, three family members currently work at SIU with a combined 53 years of service. Elizabeth Cheek is an administrative assistant with undergraduate admissions, Richel Biby is an accountant for student engagement and Ryan Cheek is a building service foreman with University Housing.
Ethan Cheek said one evening when he was considering his college plans and major, he stopped by the "state-of-the-art Glenn Poshard Transportation Education Center" where his father was working at the time and was quite impressed. After an individual tour of the facility with Mike Behrmann, who was then the program director, "I knew automotive technology at SIU Carbondale was the program for me. I have enjoyed the hand-on experience the program has provided."
He noted that the program has a high job placement rate, and he's already secured a position with Mevert Automotive while still in school.
His brother, Evan, said he knew he wanted a career that let him work outdoors, and when visiting in his mother's office, he met Cade Cockburn, a student who shared information about the forestry program, and Evan was hooked. He can't wait for the hands-on experiences the program offers and said SIU's beautiful campus "serves as a living learning laboratory for forestry students." Evan has already secured a position with the Illinois Department of Natural Resources in the region and plans to continue working there after graduation.
Their cousin, Grant Biby, played baseball at Lincoln Christian University before transferring and was looking for a program that would allow him to utilize his knowledge and experience and found it in SIU's sport administration program.
"With family ties to SIU on both sides of my family, I knew SIU would provide me a quality education," Biby said. He plans to pursue a career as a sports agent after graduation.
View Ethan Cheek's video, which also features Evan Cheek and Grant Biby.
Creating a new legacy
Sherrod, a senior business management major and Thornton Township High School graduate, said she is proud to be a Saluki.
"This is a legacy I wish to start, and I want my children to be aware of and hopefully follow the footsteps I've made," Sherrod said.
Her family includes her mother, Tashona, her father, Courtney, and her siblings, Jessica and Jonathan, along with their special "fur babies: Simba and Mandy." Sherrod said her family enjoys making memories together and are spontaneous travelers, often thinking nothing of getting up and driving to Cedar Point or other locales to spend the day having fun together. Since her freshman year, that's involved many family trips from the Chicago area to Carbondale for football games and other adventures. So, when she heard about Family Weekend, she knew she wanted her family to be part of it.
"This year is special because I'm in my senior year, and I want to make as many memories as possible," Sherrod said. "My family has a special place in my heart. I cherish the memories we create together."
Sherrod said there were many things that drew her to SIU, and she's definitely found her place as a Saluki. She said she was first drawn to campus by the College of Business and Analytics.
"They have a great business program that I aspired to participate in, and I am still accomplishing the goals I have set for myself in this program," Sherrod said. "The nature of SIU is special to me, too.  The sunsets, Campus Lake – SIU has a beautiful campus! The distance is what also brought me to SIU; it is not too far from home and not too close. I also enjoy the different events that take place on campus. I love bingo and outdoor movie nights!" 
After graduation, Sherrod plans to pursue a career in sales, and her future goals include establishing her own vegan baking company. She said she's excited to have the opportunity to change her life and the lives of others while making her family and herself proud.
Special recognition for families
New Student Programs will honor the Cheek and Sherrod families with a very special prize package. Each will receive tickets to the SIU vs. Missouri State game on Saturday, Sept. 30, Saluki swag and a voucher for a complimentary night at Drury Inn. The families will be recognized Saturday during the Saluki Family Tailgate and during halftime of the football game, and they'll enjoy the game in the Chancellor's Suite at Saluki Stadium.
Organizers say Family Weekend promises to be one of the biggest and best ever. Already about 3,000 students and parents have registered for the tailgate – 1,000 more than this time last year – and the parents' section is a sell-out for the game.
The Family of the Year contest is one of the numerous special events set for this weekend. Festivities also include the Craft Fair, a presentation by television star Josh Peck, rock climbing, free bowling and billiards, movies, 5K/10K races, Greek Sing and much more, including a return of the Saluki Family Association Brunch on Sunday. Find the complete schedule of activities and details online.