September 13, 2023
SIU's Constitution Day events include discussion on abortion rights
CARBONDALE, Ill. — An examination of debates on whether the Constitution protects abortion rights is part of Southern Illinois University Carbondale's observance of Constitution Day next week.
Constitution Day is Sunday, Sept. 17. Brittany Leach, an assistant professor of political science and sociology in the School of Anthropology, Political Science, and Sociology, will present "Beyond Constitutional Rights: The Jane Collective and Reproductive Autonomy" from noon to 1 p.m. Monday, Sept. 18, in the University Museum Auditorium, Faner Hall, Room 1526.  The lecture is free and open to the university community and the public, and those attending are encouraged to bring lunch. There will be time for Q&A after the presentation.
A look at differing court decisions
Leach will use the U.S. Supreme Court's June 2022 Dobbs decision and 1992 Casey decision to illustrate competing perspectives. She said the bulk of her talk will focus on the "Jane Collective," an underground Chicago-based organization in the late 1960s and early 1970s that provided abortion services along with counseling prior to the 1973 Roe v. Wade Supreme Court decision.
"Their vision of reproductive freedom included more than just a privacy right to have an abortion without government interference," Leach said. "For instance, Jane effectively invented abortion counseling and sought to transform the way that women were treated by medical professionals."
Leach said she will share some archival evidence from her research, which includes quotes from Jane participants. The main argument is that "Jane illustrates the complex and ambiguous relationship between freedom and the law, as well as providing a more nuanced picture of illegal abortions in the pre-Roe era. Learning more about pre-Roe feminist abortion activism can help shed light on the post-Dobbs situation in states that have banned abortion."
Delivering the Constitution personally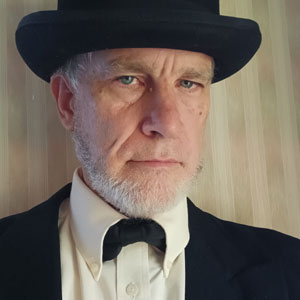 In addition to the lecture, Walter Ray, Morris Library's political papers archivist with the Special Collections Research Center, will provide free pocket Constitutions to students from 1-3 p.m. Sept. 18 at Delyte's in Morris Library. Ray will be dressed as President Abraham Lincoln and be available to discuss various topics, including the state of the Civil War and habeas corpus — a Constitutional right protecting people from unlawful and indefinite imprisonment — which Lincoln suspended in September 1862.
Constitution Day marks the anniversary of delegates to the Philadelphia Convention completing and signing the U.S. Constitution in 1787. All educational institutions that receive federal funding must annually deliver programs on the U.S. Constitution.