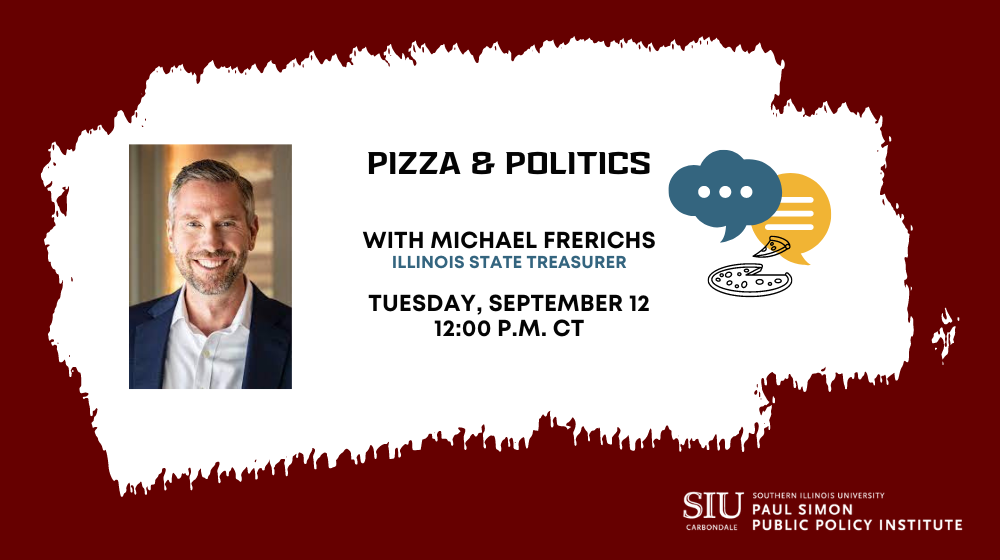 September 05, 2023
SIU's Paul Simon Institute to host state Treasurer Michael Frerichs Sept. 12
CARBONDALE, Ill. — Illinois State Treasurer Michael Frerichs will join Southern Illinois University Carbondale's Paul Simon Public Policy Institute on Tuesday, Sept. 12, for a discussion with SIU students and the public.
Frerichs will discuss his career in politics and the work of the treasurer's office with John Shaw, institute director. The conversation, which is part of the institute's Pizza and Politics series, is at noon at the institute, 1231 Lincoln Drive, Carbondale.
While primarily aimed for students to engage in a free-flowing discussion on topics focused on policy issues and careers in politics, public service or advocacy, the series is open to all. Registration is required.
"Treasurer Frerichs has been a visible and accessible constitutional officer. He works hard to explain our state's finances to the people of Illinois. He has also been creative in helping us learn how to better manage our personal finances," Shaw said.
Frerichs was first elected Illinois' treasurer in 2014 and re-elected in 2018 and 2022. In Illinois, the treasurer is the state's chief investment and banking officer. The office invests money on behalf of the state and local units of government and manages more than $50 billion. 
Frerichs has been active in providing Illinoisans with financial skills so they can invest for themselves. He has encouraged saving plans for postsecondary education, promoted financial education and has reunited Illinois residents with their unclaimed property. 
A native of Gifford, Illinois, Frerichs graduated from Rantoul High School and Yale University. After spending two years in Taiwan, where he taught English to young students and learned to speak Chinese, Frerichs returned to Champaign County and launched his own technology business and served as a volunteer firefighter. He was elected to the Champaign County Board in 2000 and later elected Champaign County auditor.
In 2006, Frerichs was elected Illinois state senator representing east central Illinois, where as chairman of the Higher Education Committee, he championed efforts to make college more affordable.
Attendees are encouraged to submit questions for Frerichs on the registration form or email questions to paulsimoninstitute@siu.edu.
Lists of the institute's upcoming events and past speakers and events are available.