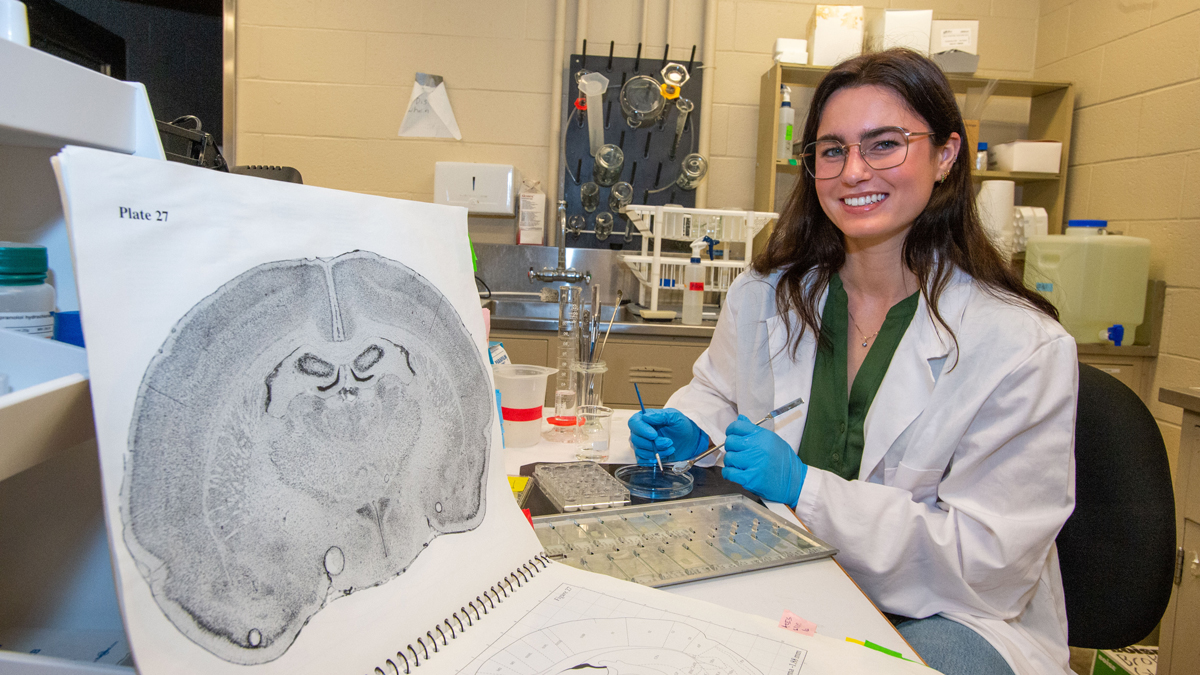 Ella Kerr examines rat brain specimens, comparing them to standards and choosing the best to mount on slides for imaging, further examination and study. Kerr, a senior psychology student with a minor in neuroscience, is on SIU's swim team and has maintained a 3.9 GPA. (Photo by Russell Bailey)
August 29, 2023
'Truly exceptional' SIU psychology major and swimmer dives into neuroscientific research
CARBONDALE, Ill. — For many college students, being co-captain of the swim team while racking up academic and athletic accolades would be good enough, but Southern Illinois University Carbondale student Ella Kerr was fascinated with getting involved in research too. So the senior psychology student with a minor in neuroscience from Ajax, Ontario, Canada, has immersed herself in not one, not two, but three intriguing research labs.
"It's really rare for a student, especially an undergraduate, to be involved in so many research labs, but Ella is truly exceptional," said Robert Morgan, dean of the College of Health and Human Sciences, which houses the three psychology research labs where she's involved in studies that run the gamut from sleep habits of children with autism to the effects of stress on the brain.
Standout swimmer
Kerr, 21, said she was first drawn to SIU for the swimming as she received a scholarship but became enamored with the academics as well as the athletics. She's excelled at both.
A transfer student in 2021 from Youngstown State, she specializes in the 100-yard and 200-yard breaststroke and the 200-yard individual medley (IM) on the Saluki swim team. Kerr's honors include all Missouri Valley Conference scholar-athlete the last two years and a 2019 Canadian Olympian Trial qualifier. In addition, she recently qualified for the Canadian Senior Nationals at the Missouri Speedo Summer Sectionals.
While churning up the water in the natatorium, she has maintained a 3.9 GPA and is exploring different academic areas. Kerr got involved with the Africana studies program her sophomore year at SIU and studied under Joseph Smith, assistant professor.
Getting started in the lab
"I was always curious about research and really getting into the world of academia as much as possible," Kerr said. "Since the beginning of my undergrad years, I wanted to pursue a master's in counseling psychology, but then as I began to expand my knowledge and take classes with amazing SIU professors such as Dr. Joseph Smith, they encouraged my curiosity and suggested that I get involved in research and look at graduate school."
She anticipates graduating in May and will be attending graduate school to obtain her doctorate in clinical psychology in preparation for a career as a clinical psychologist.
While she truly loves her sport, she said, she knew that to be attractive to graduate schools, she needed to prove that she loves learning as much as swimming.
"I looked for labs that matched my values in the field of psychology – mainly accessibility, individualized treatment and innovation in the field," she said. "I came across Dr. Eric Lee's clinical psychology lab and was offered a chance to join the OCD (obsessive compulsive disorders) and ACT (acceptance and commitment therapy) meta-analysis lab over the summer for class credit. I'm very grateful to Dr. Lee and his amazing team of graduate students."
She spent countless hours helping Lee and graduate students with data collection. It helped her learn about research, and she was excited to be included as a co-author on the research study paper.
That meta-analysis is just the first research project Kerr has worked on with Lee, assistant professor of psychology, in his Personalized Mental Health Lab.
She's starting another this semester. Kerr has received a REACH (Research-Enriched Academic Challenge) award and will be working with graduate student Hannah Johnson and Lee on a research project to examine potential individual differences in body-focused repetitive behaviors such as hair-pulling and skin picking that create significant distress and cause impairment in people's lives.
"Ella has been an absolute delight to have in the lab," Lee said. "She is eager to learn, outgoing and has meaningfully contributed to a number of different projects. I'm eager to see how her new research project goes and excited to continue working with her."
Studying stress and the brain
Throughout her college experience, Kerr has sought ways to expand her horizons. She was fascinated by class discussions in a psychology class taught by Michael Hylin, psychology program director and associate professor of brain and cognitive sciences.
"Dr. Hylin saw I enjoyed the class, and we chatted about some of the lessons about the effects of recreational drugs on the mind and body and other things, and I asked more questions and discussed his work in the Neurotrauma and Rehabilitation Lab," she said.
Soon, Kerr was working with Hylin's doctoral student, Claudia Ford, in a hands-on research project as a volunteer two days a week during the fall 2022 semester.
"I learned so much and got comfortable with all the equipment that was used – everything from instruments for slicing tissue to mounting it in on slides to staining it and imaging it to measuring it," she said.
The research is fascinating as well, she said. Essentially, it involves young rats that have been stressed by in some way such as limiting their time with their mother or their bedding and then later examining the brain tissue to see the physical effects, specifically the size of the hippocampus. The researchers are also studying if such stress causes aggression in rats. The study is still in its early stages but Kerr said preliminary indications are that stress is apparent in the brain just as it would be from a traumatic injury or disease.
Taking a different turn
The following semester Kerr took another of Hylin's classes, introduction to neuroscience, and that piqued her interest. She changed her minor to neuroscience and took Hylin's lab for credit in spring 2023. Then, she got acquainted with graduate assistant Jessica Hinojosa in classes.
"I loved her perspective and conversations that we had in classes and after class," Kerr said. "She offered office hours, and we discussed grad schools and my career goals. She introduced me to her doctoral thesis, integrating psychology, pediatrics and health. Health psychology is something I'm interested in, but up until that point, hadn't had much exposure to. Jessica asked if I'd be interested in helping in her lab, and I jumped at the chance. This summer, I'm taking her lab for credit, working on recruitment calling and learning more about how to set up a research study."
This Memory and Cognition Lab sleep study research project is with Reza Habib, associate professor and director of the School of Psychological and Behavioral Sciences, Hinojosa, and Karla Fehr, associate professor at the University of North Dakota.
Children and adolescents with autism often experience sleep difficulties that may be challenging for families to navigate, Kerr said. The project seeks to recruit Illinois children and adolescents and provide their parents and caregivers with information and strategies to improve their children's sleep habits.
"I'm excited to see the results," Kerr said.