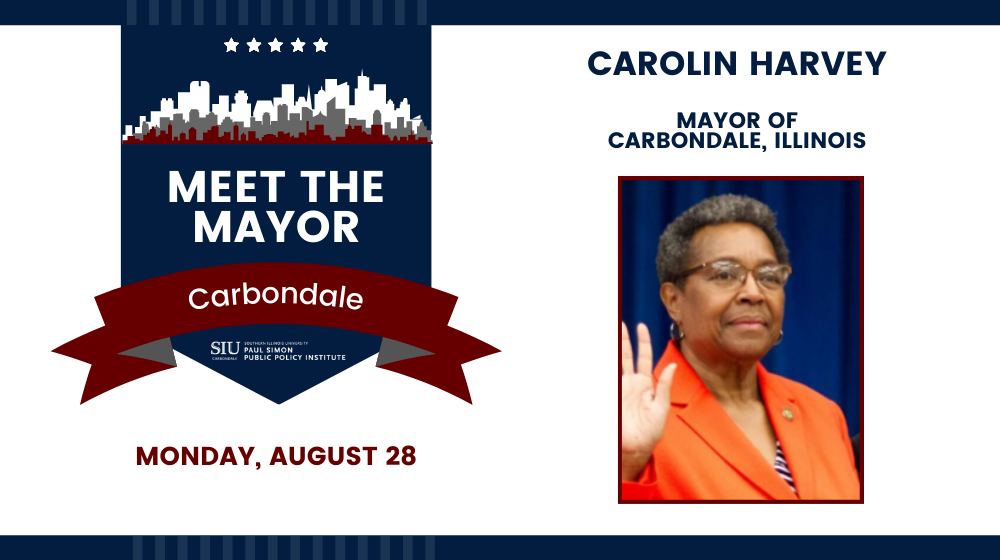 August 15, 2023
SIU's Paul Simon Institute to host Carbondale Mayor Carolin Harvey on Aug. 28
CARBONDALE, Ill. — Carolin Harvey, a veteran on the Carbondale City Council who became the city's first Black mayor earlier this year, will discuss her vision for the community later this month at Southern Illinois University Carbondale's Student Center.
Harvey and John Shaw, director of the Paul Simon Public Policy Institute, will also discuss Harvey's agenda for the city in the areas of economic development, public safety, housing and community relations with SIU.
The discussion is at 5 p.m. Aug. 28 in the student center's Ballroom B. Admission is free, and the event is open to the public but registration for the event is recommended.
The event is part of the institute's Meet the Mayor series. The discussion will include Harvey's half-century residence in Carbondale; her professional career, which included working at SIU Carbondale for 38 years before retiring from the bursar's office; her service on the city council and recent election as mayor.
After serving on the city council since 2013, Harvey became mayor pro tempore, or acting mayor, in August 2022, when then mayor John "Mike" Henry took a leave of absence. Harvey earned a four-year term as mayor after winning the city's general municipal election in April.
"Mayor Harvey's record of community activity and public service is deeply inspiring. We are all eager to learn more about her assessment of Carbondale's current challenges and her vision for the city's future," Shaw said. 
Those attending are encouraged to submit questions for Harvey on their registration form or email them to paulsimoninstitute@siu.edu.
Meet the Mayor is a series of conversations in which the institute hosts interviews with Illinois' municipal leaders, and they discuss the challenges and opportunities they face. The institute also has a list of past speakers and events available for review.