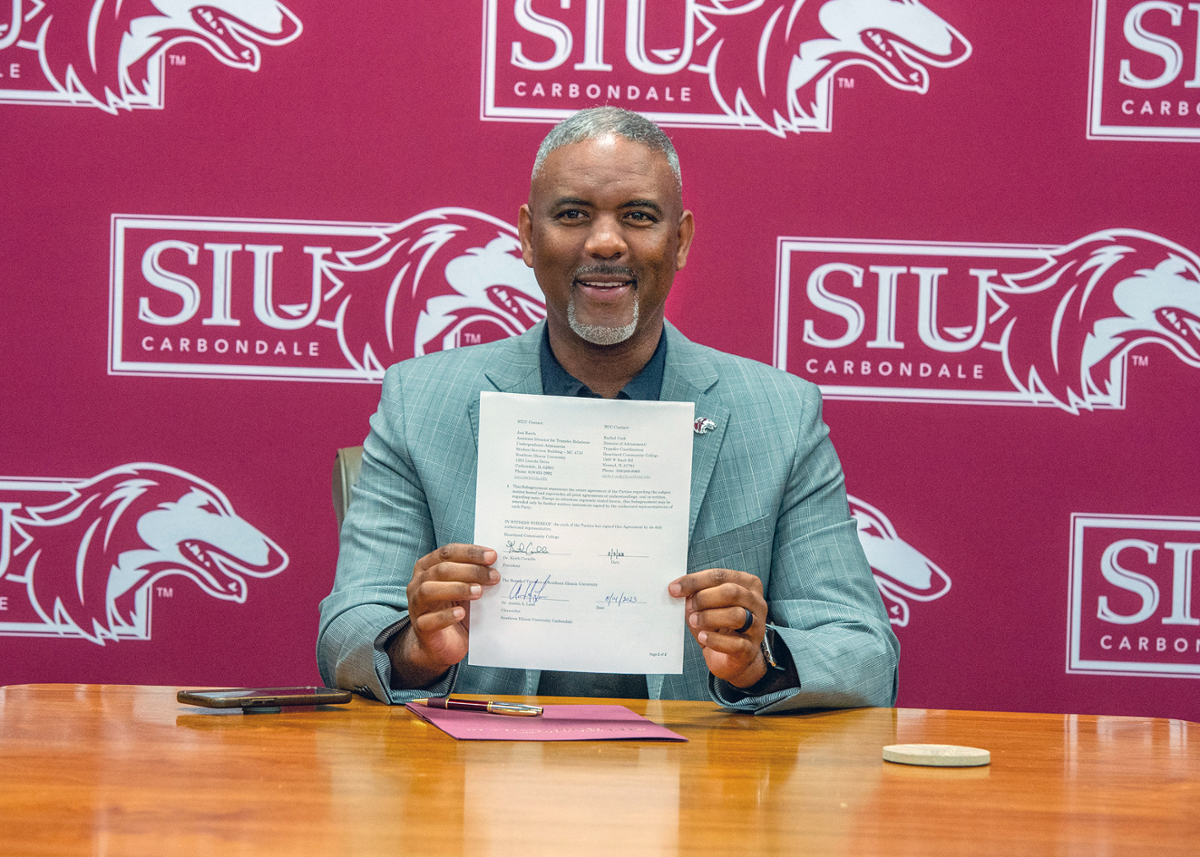 Southern Illinois University Carbondale Chancellor Austin Lane (above) and Heartland Community College President Keith Cornille sign a Saluki Step Ahead agreement on Monday, Aug. 14. (SIU photo by Russell Bailey)
August 15, 2023
SIU Carbondale inks agreement to improve access for Heartland Community College students
CARBONDALE, Ill. — Southern Illinois University Carbondale strengthened its commitment to students in central Illinois on Aug. 14 with an agreement to bring the expertise of a doctoral research university to qualified community college students by providing the option to earn their bachelor's degrees remotely and at a lower cost in 12 academic programs.
SIU Chancellor Austin A. Lane and Heartland Community College President Keith Cornille signed an agreement for the Saluki Step Ahead program. Established in 2021, the program enables students who graduate with an associate degree from partnering community colleges to complete their SIU bachelor's degrees online in accounting, business administration, criminology and criminal justice, early childhood, elementary education, health care management, history, industrial management and applied engineering, information technology, nursing (RN to BSN), psychology and radiologic sciences.
"We are pleased to collaborate with Heartland Community College to provide another option for place-bound students in this region," Lane said. "If these students cannot come to Carbondale to complete their education, we will bring the experience and resources of a doctoral research university to them."
Lane added this Saluki Step Ahead agreement fits well with the university's strategic plan, Imagine 2030, and its pillars of student success and partnerships.
Established in 1990, Heartland Community College serves a district population of more than 230,000 that includes parts of McLean, Livingston, Logan, DeWitt and Tazewell counties — a geographic corridor that extends along Interstate 55, roughly from Pontiac to Lincoln. The college's main campus is in Normal, with regional centers in Pontiac and Lincoln, and Heartland serves approximately 5,000 credit students annually.  Home to the first electric vehicle technology program in Illinois, the college offers 15 degrees and 57 certificate programs.
"Strong partnerships are key to the mission of serving our students, and working with SIU, we have expanded the options Heartland students have to pursue their academic goals," Cornille said. "This partnership will expand and strengthen our transfer pathways and gives Heartland students another accessible option to earn a bachelor's degree in several high-demand programs. With this remote learning option, Heartland transfer students can continue their pursuit of a bachelor's degree without having to relocate outside our community."
The Heartland Community College agreement brings SIU Carbondale to more than 40 Saluki Step Ahead pacts that the university has with community college campuses in Illinois, Missouri and Texas so far.
Students in the Saluki Step Ahead program pay the community college rate for their first two years. In the third and fourth years, they receive an annual $4,000 scholarship. For more about Saluki Step Ahead, read the press release announcing the initiative.