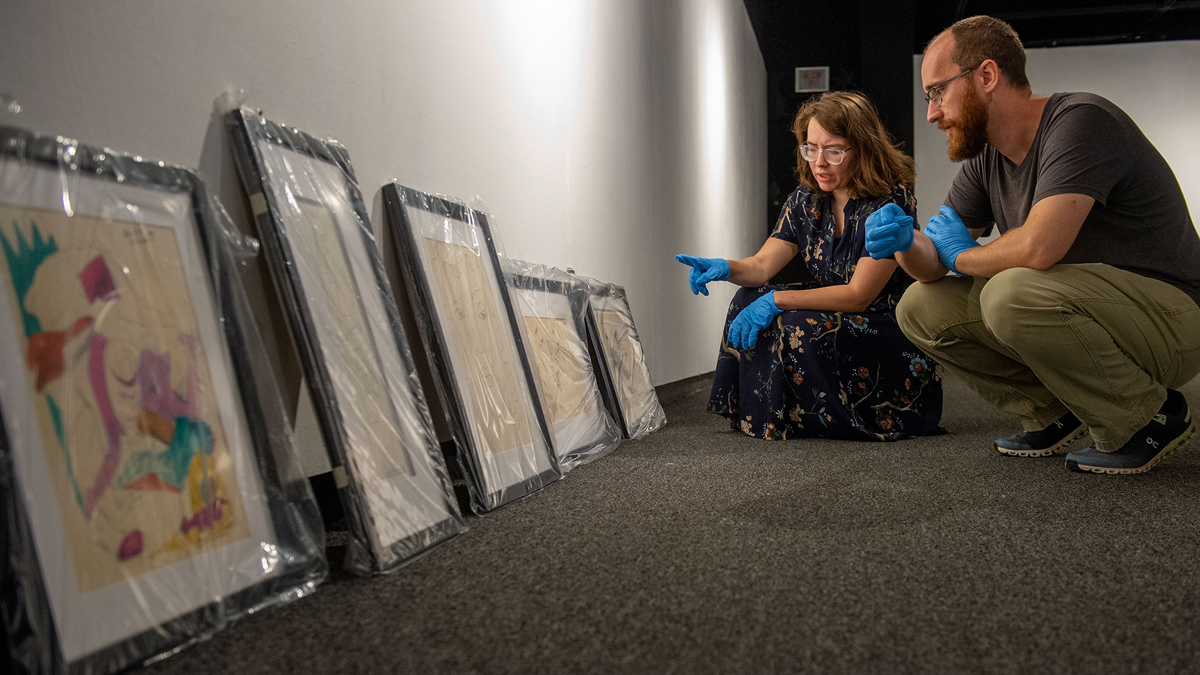 Sarah-Anne Winchester, left, a graduate art major and research assistant with SIU Carbondale's University Museum along with WM Weston Stoerger, museum curator of exhibits, discuss several of the eclectic art pieces collected by Caresse Crosby that will be featured this fall. Most of the pieces have never been displayed before, including Romare Bearden's "Nailing on the Cross," being held by Winchester. Other works among the nearly 40 pieces include Polia Chentoff's "Portrait of Caresse" and Bearden's "The Nativity." (Photos by Russell Bailey and images courtesy of Morris Library's Special Collections Research Center.) 
August 14, 2023
SIU exhibit to showcase prominent artists and writers in Caresse Crosby's diverse collection
CARBONDALE, Ill. — An exhibit highlighting art collected by socialite, publisher and early feminist Caresse Crosby — most of which has never been displayed — opens Aug. 22 at Southern Illinois University Carbondale's University Museum.
"Chère Caresse: Art in the Crosby Papers" features nearly 40 pieces, including works by noted artists Salvador Dalí, Romare Bearden and Dorothea Tanning and writers-turned-artists Henry Miller and Charles Bukowski. The exhibit, a collaboration between the museum and Morris Library, runs through the fall 2023 semester.
Noteworthy collection
Anne Marie Hamilton-Brehm, associate dean of library affairs, noted that Crosby, who died in 1970, was an important publisher and patron of the arts. Her first venture, in 1920s Paris with her husband Harry, was the Black Sun Press, known for beautifully printed editions of early modernist writers. Crosby began collecting art "when she cultivated artists to illustrate volumes of the Black Sun Press." In the 1940s, alone and back in the United States, Crosby started Portfolio, an arts and literary journal which "nurtured the careers of young writers and artists cast adrift" by World War II.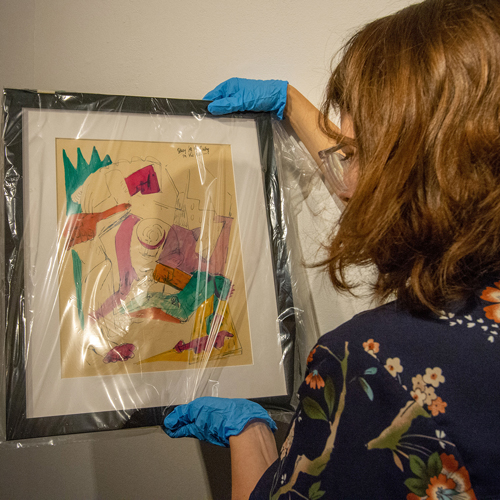 "Throughout her life Caresse Crosby was always ahead of her time," said WM Weston Stoerger, curator of exhibits. "Whether it was reinventing herself, designing new inventions (as a young woman she patented an early version of the brassiere) or establishing her own publication, Caresse was never one to sit idly by. Our 'Chère Caresse' celebrates this amazing woman's contributions to and support of the arts and literature."
Collection arrived at SIU in 1969
Harry T. Moore, a research professor in English at SIU from 1957 to 1976, was a close friend who had previously served as an editor for Portfolio and "played a pivotal role in convincing Caresse to donate her materials to SIU, reassuring her that African Americans would have access to her collection," Hamilton-Brehm said.
Crosby's papers, housed in the library's Special Collections Research Center, include manuscripts, business records and extensive correspondence with writers and artists. The art in the collection includes five early paintings by Bearden, who later became well-known for his collages depicting Black communities and religious themes, Hamilton-Brehm shared.
"Although we were aware of art in her papers, when we began to examine the collection in more detail, we were excited by what we found: works by prominent surrealists, artists who became known later and even authors," she added.
Reception set for September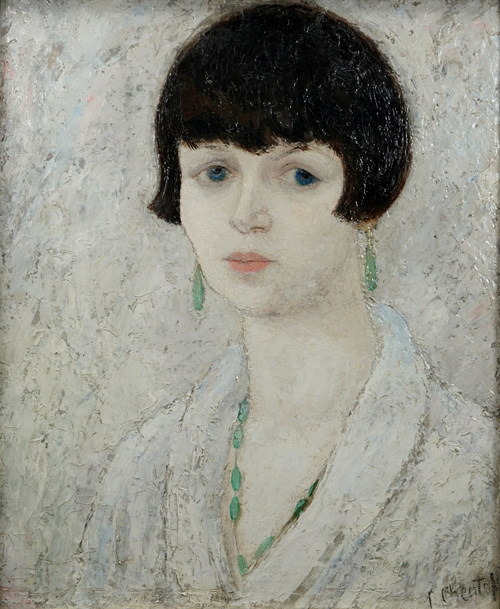 A free reception from 4:30 to 8 p.m. Sept. 9 will feature several speakers, including John H. Pollitz, dean of Library Affairs, and exhibit curator Aaron M. Lisec, research specialist in manuscripts at the Special Collections Research Center.
"The Cramoisy Queen: A Life of Caresse Crosby" by Linda Hamalian, published in 2009 by SIU Press, is available for purchase online.
Bringing artists' stories to light
Hamilton-Brehm explained archives used to primarily restrict collections from public view, but "archivists around the world are increasingly interested in making their collections accessible and uncovering and amplifying hidden stories," she said. "The surge of interest in the work of diverse artists of the 20th century and our commitment to justice, equity, and inclusion make it imperative to bring their stories to light and recognize their courage and those who bravely promoted them."
Morris Library is considering loaning portions of the art collection to interested institutions so that people across the country can view it in person. After the exhibition ends in December, the library will lend Polia Chentoff's portrait of Crosby to the National Portrait Gallery for its exhibition "Brilliant Exiles: American Women in Paris, 1900-1939," and it will also travel to two other institutions as part of that exhibition.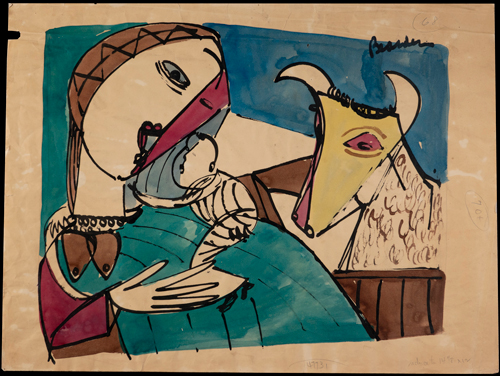 "We also anticipate interest in the Bearden works as a traveling exhibit," she said. "Any decision to loan the materials must be made conscientiously, weighing the benefits of increased visibility and educational opportunity against our obligation to preserve one-of-a-kind primary sources and art for many generations of researchers to come."
For more information, contact Hamilton-Brehm at 618-453-1452 or annemarie.hamiltonbrehm@siu.edu or contact Stoerger at 618-453-5388 or stoerger@siu.edu, or visit museum.siu.edu. University Museum hours are noon to 4 p.m. Tuesday through Friday and 1-4 p.m. Saturday. The museum is closed Sunday and Monday, and during all SIU breaks and holidays.
As with all exhibitions, the artwork represents the viewpoints of its creators, not SIU. SIU complies with the Illinois Governmental Ethics Act and State Officials and Employees Ethics Act.
(Editors note: Crosby's first name is pronounced ca-RESS)