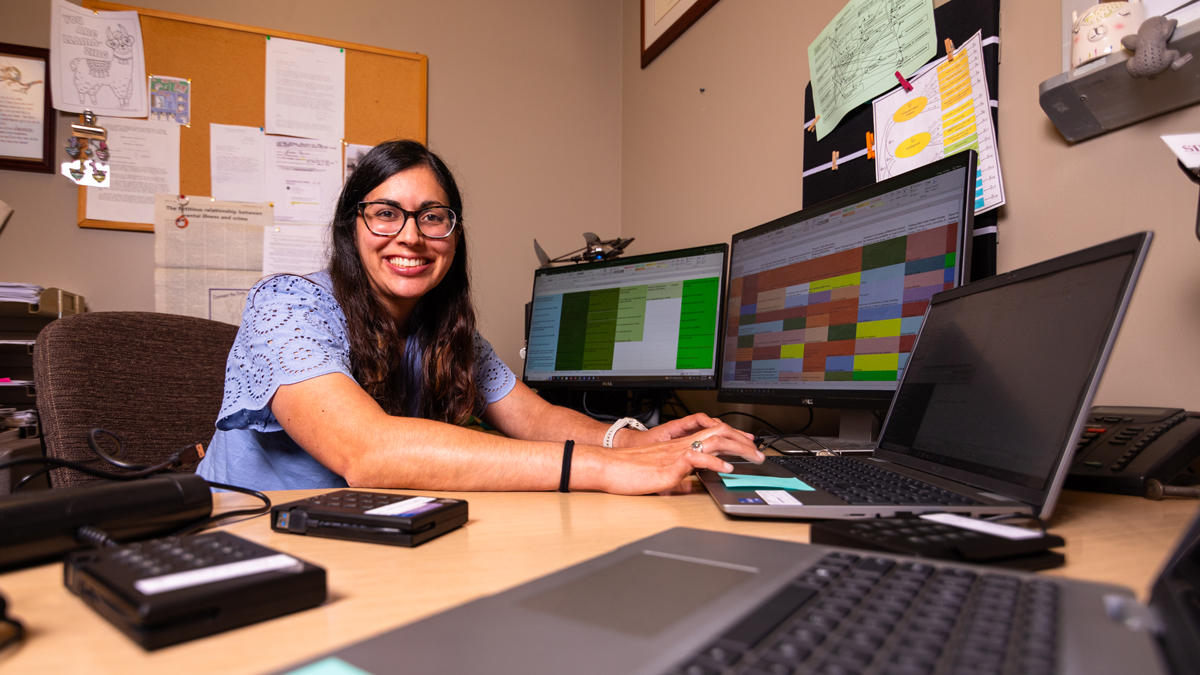 Tamara Kang, assistant professor in SIU Carbondale's School of Psychological and Behavioral Sciences, and her colleagues worked on a federally funded project to improve assessment and treatment for juvenile sex offenders. (Photo by Carson VanBuskirk)
July 06, 2023
SIU researcher's team advocates for new assessment, treatment approach for juvenile sex offenders
CARBONDALE, Ill. — Tamara Kang, assistant professor in Southern Illinois University Carbondale's School of Psychological and Behavioral Sciences, and her colleagues have created a new research-based assessment for juvenile sex offenders, which they say is more accurate, effective and beneficial for the young offenders and society as a whole than current systems. And since 95-97% of juveniles won't reoffend, the team recommends treatment over incarceration.
"A lot of times the public views juveniles with sex offenses as really dangerous, but the vast majority of them aren't different from other juveniles," Kang said. "Their brains aren't fully formed, and they often don't understand the consequences of their choices and of acting impetuously. They are often controlled by feelings and impulses. They make bad decisions, and their actions are wrong. But they are not necessarily bad people."
With a multi-year study funded by a $1 million federal grant, Kang and her colleagues have created the Youth Needs and Progress Scale (YNPS), which takes into account the dynamic nature of adolescent development and the other related factors. Numerous states have adopted the YNPS in part or in whole, including Kentucky, Oregon, Georgia and Texas, and it's in use in British Columbia as well, she said. In addition, it has already been translated into Japanese, Swedish and Polish for use in those countries.
---
Media availability
Tamara Kang, assistant professor in SIU Carbondale's School of Psychological and Behavioral Sciences, is available for interviews. Contact her at tamara.kang@siu.edu.
---
The costs of incarceration
Through time, Kang said, unique rules and laws, unlike those applied to most juvenile offenses, have been enacted in the United States to deal with juveniles with sexual offenses (JSOs), often resulting in costly incarceration. The juvenile court system has become criminalized, indeed becoming a mirror image of adult criminal court.
"Our country spends $80 billion annually for adult corrections. That's a lot of money," Kang said, noting that in some cases, incarceration of juveniles increases the likelihood they will go on to become adult offenders.
"When we lock up JSOs into the system and make them hardened and expose them to worse when they are truly just kids, it is not helpful to them or the public," Kang said.
"Instead of locking them up with hardened criminals based on what they did once, for a very short time, when they have so much more life to live, help and be productive, is there a better way? If you treat them as a special class, we are wasting a lot of money and potential. These kids need guidance, role models, help, instruction. They need to learn to control their impulses, including sexual impulses. The Eighth Amendment precludes cruel and unusual punishment, and what is happening to some of these young people today falls into that category."
Many juveniles get in legal trouble for actions that they don't realize are wrong or that they don't comprehend the consequences for, she said. Songs, television, movies and much of today's world is very sexualized.
"These kids grow up seeing things and think they can do what they want," Kang said. "We're making kids as young as 10 or 11 register as sexual offenders. Many have not had a stable environment, and they may just be doing something they saw on television or in a video game."
For instance, a couple of young teens form a relationship and exchange explicit selfies. If one of them shares those pictures with a friend, the justice system classifies that act as circulating child pornography.
"We need to retool our thinking and how we classify these offenders," Kang said. "We need to offer pro-social support and help them learn to make good decisions and associations, to be more culturally relevant and proper."
What's been happening
Due to the very nature of sexual offenses and society's reactions, punishments tend to be especially severe for juveniles with sex offenses, Kang said. It's not uncommon for a first-time juvenile sex offender to spend a long period of time in juvenile (or even adult) incarceration.
"Of course, they did something wrong and should be punished, but research has shown just 3-5% of JSOs will ever reoffend," Kang said. "Juveniles who sexually offend do so for many reasons, and as they grow up, the vast majority change and mature and learn appropriate behavior. They did a bad thing, and we want to keep the public safe, but many times the JSOs won't ever do it again. These kids are very capable of change. They just have to learn you can't just do things because you want to at the moment."
Hundreds of youths studied
The research by Kang and her team began several years ago, thanks to a $1 million grant in 2016 from the Office of Sex Offender Sentencing, Monitoring, Apprehending, Registering and Tracking (SMART). A unit of the U.S. Department of Justice, SMART awarded the funding to a team that, along with Kang, included Robert Prentky (principal investigator for the grant and professor of forensic psychology at Fairleigh Dickinson University (FDU) in Teaneck, New Jersey), Sue Righthand (project co-PI and associate research professor at the University of Maine), James Worling (a clinical and forensic psychologist in Toronto), Amanda Beltrani (lead graduate research assistant and clinical doctoral student at FDU), and Austin Lee (a professor at UMass Chan Medical School in Worchester, Massachusetts, who served as project statistician). The grant was given to further the mission of SMART's Sex Offender Management Assessment and Planning Initiative (SOMAPI).
Their aim was to study the JSO evaluation system commonly used and propose a new holistic treatment needs and progress scale to help treatment providers identify risks, develop responsive, individualized treatment plans, and monitor progress for the interventions.
"Our goal was to develop an instrument that can actually measure inevitable change," Kang said.
Their 3-year research project, which took place from 2017-2020, involved more than 600 JSOs in five states across the country. Participating sites included state or private juvenile justice agencies in Kentucky, Georgia, Oregon, Texas, and Ohio. Data were also collected from treatment workers and facilities.
What they learned
Kang said the data shows that treatment of JSOs needs to begin and end by focusing on three categories:
Family and community support.
Individual behaviors, beliefs and social networks.
Sexual and delinquent thoughts, interests and needs, including impulse issues, and the ability to control thoughts.
Other things that factor into the evaluation and treatment process include if the JSOs had been abused themselves, if they have moved frequently, the number of their victims, the number of offenses and if they were non-contact or contact offenses against victims. Other demographics collected were suicide attempts or self-harm behavior, ages, disciplinary reports, use of drugs, alcohol, etc. and if the offender was a runaway or lacked a supportive home environment. The youngsters were then categorized as high, moderate or low risk.
"The biggest take away is that we looked at these juveniles with sex offenses and found that even without treatment, the vast majority of them won't reoffend," Kang said. "They really are just kids and with sexual maturity, behavioral maturity, and impulse control issues; most won't ever commit another offense. When we teach them, their behavior and attitudes change. Yes, they are sexual offenders, but they are kids who are very capable of change. Our research showed that with a variety of interventions, even high-risk kids were capable of change in a 12-month period."
The YNPS assesses numerous things, including the JSOs':
Relationships with family and peers.
Attitudes and beliefs.
Impulse control.
Commitment to school, extra-curricular activities, hobbies and so forth.
The second part of YNPS involves creating effective interventions such as assuring there is adequate caregiver support and living stability. Developing individualized, responsive care plans is instrumental as is taking a holistic approach to treatment needs and monitoring progress.
Kang said the first juvenile court in the country was created in Illinois, and the goal was providing resources to help young people, so they don't reoffend and became mired, perhaps forever, in the legal system. Now, she is hopeful the state will adopt YNPS with that goal in mind.
Research being published
An article titled "Tracking Dynamic Intervention Needs as a Vehicle for Mitigating Risk Among Juveniles with Sex Offenses," co-authored by Kang and her fellow researchers, was published in the May issue of the APA journal Psychology, Public Policy, and Law and selected as the "Editor's Choice" article for the American Psychological Association's scientific director newsletter, PsycNet.
"A Classification System to Guide Treatment Needs for Juvenile Who Have Engaged in Abusive Sexual Behavior" has also been accepted for publication and will be published within the next couple of months by the journal Criminal Justice and Behavior. Kang and her fellow co-authors, also joined by Robert McGrath, professor of psychology at Fairleigh Dickinson, note that many times all juveniles with sex offenses are lumped together when it comes to planning interventions.
"The one-size-fits-all approach is not helpful because they had such different histories and needs," Kang said.
The article discusses tailoring interventions to enhance the chances of successfully rehabilitating for juvenile sexual offenders with differing histories and treatment needs.
Kang, Prentky, and Lee are continuing to analyze and review the extensive data they collected, and she said it's likely additional insights will be gained and other research papers published in peer-reviewed journals.
The researchers are currently exploring whether traditional risk assessments or the YNPS accurately predict which youthful offenders housed in treatment facilities engage in more problematic incidents, including self-harm, staff assaults, youth-on-youth assaults, suicide attempts, nuisance behaviors and having contraband.