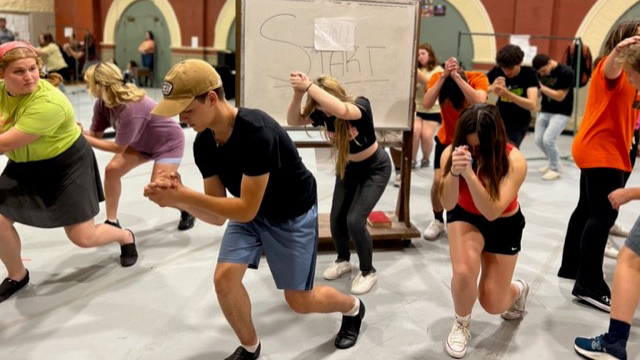 (Top) The 'Footloose' cast rehearses a dance for the first act. (Below) Director Matthew Williams checks the script during rehearsal.
July 25, 2023
SIU's McLeod Theater is the place to lose your blues and get 'Footloose' Aug. 3-6
CARBONDALE, Ill. — It's time to get with Ren and his classmates as the All Southern High School Theater Project (ASHSTP) visits Southern Illinois University Carbondale's McLeod Theater stage next month and gets "Footloose."
The McLeod Summer Playhouse (MSP) musical  is co-sponsored by Artspace 304 and features 24 student actors and four interns from nine area high schools and homeschooled students. Each intern is assigned to a supervisor in one of the following areas: costumes, sets, music direction and stage management.
­Performances are at 7:30 p.m. Thursday through Saturday, Aug. 3-5, and a 2 p.m. matinee on Sunday, Aug. 6. "Footloose" is the final production of MSP's 2023 season.
Director Matthew Williams, an assistant professor of performance and movement in the School of Theater and Dance, "absolutely loves" working with high school-age performers.
"They have such amazing energy, enthusiasm, fearlessness, ambition and stamina," he said. "Since we choose the best of the best in Southern Illinois for this production, we often get young performers who are just discovering and implementing, for the first time, their virtuosic talents."
The production serves as a "wonderful opportunity to introduce SIU Theater and Dance to our local population who might become part of our Saluki community in the following years," Williams said.
Musical production a 'monster'
The stage adaptation is similar to the 1984 and 2011 "Footloose" films, detailing the yearnings of a high school student who moves from Chicago to a small town where he learns tragedy led to a decision that prohibited dancing, along with the teen's efforts to not only adjust to rural life but help change a community mindset.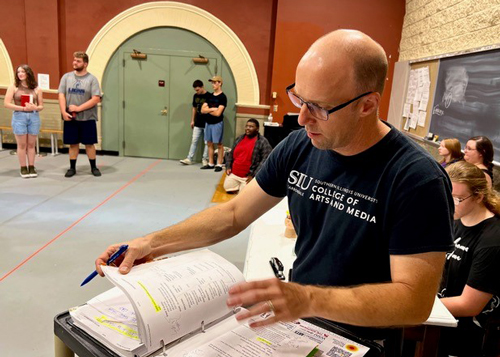 Rehearsals began July 5. The amount of material for the performers to learn and polish — including choreography, acting, music and scenic transitions — in that time is "huge," Williams said. Each act is staged in seven days, and then there is one week to "clean it" before performances.
There also were the months of design planning of scenic, sound, costumes and lighting. The scenic design by Joe Johnson has been in process since March and is "sweepingly gorgeous." Costume designer Stephi Jorandby is working on upward of 70 outfits, each tailored to the character and functionality for the cast. The production will also feature more than 400 lighting cues from nationally acclaimed lighting designer Jaemin Park, assistant professor of practice in the School of Theater and Dance.
Williams is splitting choreography duties with local choreographer Samantha Bursich, who is creating the dances and staging "for three of the biggest and most iconic numbers in this musical." Bursich is making her creative debut with MSP and "Footloose" and is one of the region's "most talented choreographers and directors," Williams said.
Multigenerational appeal
"'Footloose' is one of those rare shows that teenagers will love because the music is fun, and there's a great message," said Angela C. Shultz, MSP's artistic director and assistant professor of practice in the School of Music. "But it also appeals to the parents, grandparents and loved ones of the students who remember the movie from the '80s. Who didn't love Kevin Bacon?"
The musical keeps all of those incredible hits – "Let's Hear it for the Boy," "Holding Out for a Hero" and "Almost Paradise" — along with the title number but adds new songs to give characters even more depth, Shultz said.
"I hope the audiences will go out humming the songs and carrying this phenomenal cast's energy and excitement with them," she said.
In addition to homeschooled students, students are from:
Carbondale Community High School.
Carterville High School.
Cobden High School.
Frankfort Community High School.
Herrin High School.
Johnston City High School.
Marion High School.
Murphysboro High School.
Pinckneyville Community High School.
Partnership since 1997
Artspace 304 has co-produced ASHSTP with McLeod Summer Playhouse for nearly three decades, said Carolyn Deane, its program manager. "Two students came to us for help with their dream of having a regional high school production. We agreed and went to McLeod Summer Playhouse to see if they could provide the venue and production support. We've been partnered for nearly all productions."
The organization helps finance the production through fundraising, sponsorships and grants, including the National Endowment for the Arts, Illinois Arts Council Agency (IACA), the Neil and Mary Ellen Dillard Fund, the city of Carbondale, the Rising Star Donors and the Artspace 304 board. Artspace 304 recruits and helps select the interns. The main source of funding for the interns is the IACA's Summer Youth Employment in the Arts project.
Get tickets
For more information about the performance, visit the MSP website. Beer and wine from the university's Fermentation Science Institute will be served at cash only bars in the lobby before performances and during intermissions. Tickets can be purchased by phone (618-453-6000), in person at the McLeod Theater or Banterra Center box offices, or online. McLeod Theater box office hours are from 12:30-4 p.m. through Aug. 4. Banterra Center ticket office hours are 9 a.m. to 4:30 p.m. Monday through Friday.