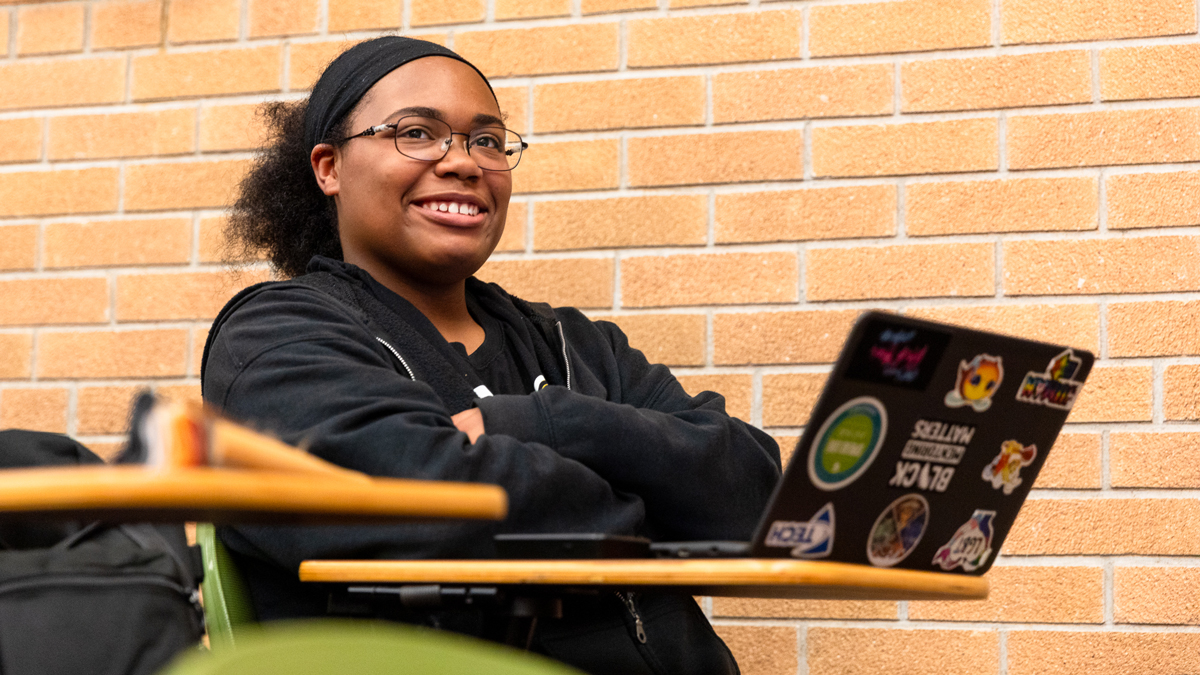 (Top) Kyanda McPherson of Zion, Illinois, participates in one of the college credit classes during the Dr. Seymour Bryson Future Scholars Program. (Below) Sa'Mya McNeely from Stillman Valley, Illinois, (left) and Mario Lipscomb of Gary, Indiana, work on assignments on their computers. (Photos by Malea Bailey)
July 20, 2023
Bryson Future Scholars program gives SIU students a jumpstart toward success
CARBONDALE, Ill. — Mario Lipscomb will officially start as a freshman at Southern Illinois University Carbondale in August, but the young Gary, Indiana, man is confident he will do well, thanks to his participation in the Dr. Seymour Bryson Future Scholars Program this summer.
He said he's now prepared to write essays the correct way, use a wide variety of resources, including the library, tutoring services, the student center, and learning so much.
"I love this program," Lipscomb said. "It's helping me with success."
Lipscomb is among 50 students, including one each from Missouri and Indiana and 48 from Illinois, who are enjoying an immersive campus stay July 3-28. They are earning 8 hours of college credit, residing in Bailey Hall, appreciating campus and community amenities, learning about resources available to them as Salukis and much more.  
"We give them the true-life SIU college experience," said Jeff McGoy, director of Exploratory Student Advisement, which coordinates the program. "The goal is to give them a jump start on their academic careers at SIU and help launch them on the pathway to career success."
History of fostering success
This is the third year for the revamped program, and already, it's proving its worth, according to McGoy. The retention rate last year's participants was a remarkable 83%, and their average GPA was 3.31. The overall retention rate for program participants for the past two years is 72%.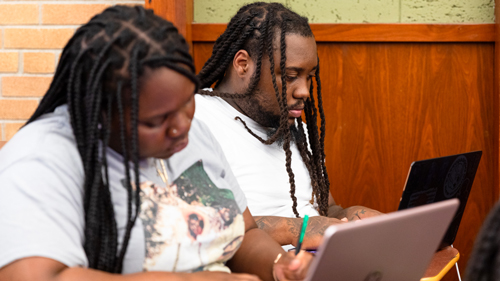 "That's really, really impressive," McGoy said. "These students were chosen to attend SIU through a selective admissions process and are provided assistance to help transition from high school to college. College is a new experience that can be very challenging, so for them to succeed within a month, taking college courses every day, attending mandatory study table, right after completing high school is amazing."
This year's group is one of the largest ever. The Future Scholars program was established in 1991 by the late Seymour Bryson, a triple alumnus of SIU who retired in 2008 as associate chancellor for diversity and Rehabilitation Institute professor. After a brief hiatus, the scholars program resumed in 2021 at the request of Chancellor Austin Lane, with funding from the SIU Foundation.
Offering diverse opportunities
Kyanda McPherson said the Bryson Future Scholars is giving her "a preview of what college will be like this fall," helping her get into a routine, learn to stay on schedule and ask questions. From Zion, Illinois, McPherson is planning to go into nursing/pre-medicine. Although she's not an outgoing person, she said, she's enjoying the chance to meet new people, make good friends and express herself.
"I'm pretty sure I'm going to feel at home here because of the people around me," she said.
The program includes three university core curriculum courses of speech, English and University 101 orientation, study table time featuring tutoring and academic coaching, access to campus resources, visits from campus and community partners, time management instruction, workshops and a variety of other benefits.
The students also meet faculty and administrators as well as their peers and enjoy team-building activities. Five of the six program counselors are graduates of the Bryson Scholars Program themselves.
Fredrick Collins, a freshman from New Lenox, Illinois, said his favorite resource is the tutors and he appreciates "that they are students so they've been through everything we're going to go through and going through currently from the assignments to the stress, to learning how not to procrastinate and the time management. I've been given a head start. I'm a Saluki, and I'm proud to be here. I love being here. I love being a Saluki."
The Bryson Scholars also take educational cultural enrichment field trips to Springfield (Illinois), St. Louis and Memphis, visiting sites where they learn about history, science and more.
---
Media Advisory
Reporters, photographers and news crews will find a variety of opportunities for engaging photos, stories and videos while the Seymour Bryson Scholars are on the SIU campus.
Media are welcome:
Any weekday afternoon from noon to 1:50 p.m. in the Communications Building, Rooms 1018, 1020 and 1022, as the students will be participating in the communications studies class where they will give speeches and do other activities.
Monday, Tuesday, Wednesday and Thursday evenings from 6:15 to 7:45 p.m. at the tutoring center in Morris Library, as participants are engaging with SIU faculty members and working on writing assignments and other activities.
Students will be participating in a variety of other activities, including touring facilities and using campus amenities at various times.
All times, dates and locations are subject to change, depending on weather and other factors. For more information about the Dr. Seymour Bryson Future Scholars Program, or to confirm exact times and locations for specific events and coverage opportunities, contact Jeff McGoy, director of Exploratory Student Advisement, at 618-453-6807, 618-453-2422 or jmcgoy@siu.edu. Watch a video to learn more.