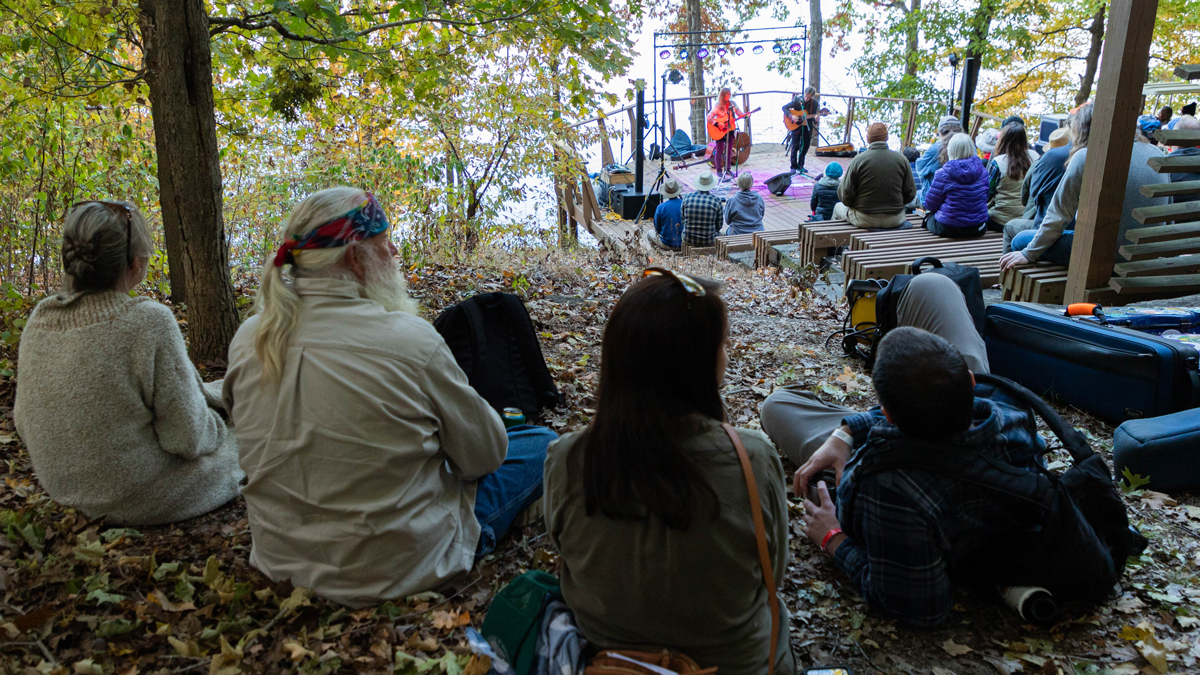 July 18, 2023
Make plans now for SIU's Touch of Nature Outdoor Education Center's upcoming events
CARBONDALE, Ill. — Touch of Nature Outdoor Education Center, Southern Illinois University Carbondale's large experiential facility, is gearing up for a year filled with special activities for all ages and interests. Tickets and reservations are already available for several major events during the 2023-2024 academic year.
Highlights include the three-day Little Grassy Get Down Music Festival, the return of the historic Buffalo Tro with steak cooked just like the country's ancestors prepared them, bicycle and 5K races, and a big weekend all-inclusive family-style great solar eclipse celebration.
As always, the facility, located in the Shawnee National Forest, is available for use for a wide variety of events and programs to meet needs throughout the region and beyond. Its multi-use trails are open to mountain bikers and any other nonmotorized users as well.
Little Grassy Get Down
The Little Grassy Get Down, a family friendly music festival set for Oct. 6-8, is one of the biggest events of its kind, featuring primarily original Americana music from around the Midwest along with other activities for all ages. Weekend passes are on sale now with a variety of lodging options; day passes will be available soon.
Buffalo Tro
The Buffalo Tro is returning this fall after a brief hiatus. The popular tradition will take place Nov. 17 with a new, relaxed format ensuring an enjoyable evening for all, organizers say. This year, there won't be an auction, but participants will enjoy good music, socializing and of course, a meal featuring steak cooked over hot, stacked coals and "clinked," just as Plains Native Americans prepared them hundreds of years ago. Registration will be available online in August.
Eclipse Crossroads
SIU is a prime viewing spot for the April 8, 2024, eclipse as it lies within the path of totality. The total eclipse is expected to last 4 minutes and 9 seconds, one of the longest viewings available. The university, which was also the site of a world-recognized celebration for the August 2017 total eclipse, is hosting the Southern Illinois Crossroads Eclipse Festival in 2024. A variety of events will take place on campus, and Touch of Nature is hosting a special all-inclusive watch party and celebration April 6-9, 2024.
Registration is already underway and proving quite popular, according to Brian Croft, director of Touch of Nature. Tickets cover all activities, food and lodging for the entire weekend. With lodging options including everything from tent camping to cabins, from a lodge to hotel-style accommodations, there are packages and prices to appeal to everyone.
Learn more about the Touch of Nature eclipse celebration in this video.
Assorted programming offered
Croft said the 3,400-acre Touch of Nature, nestled among the scenic Shawnee National Forest, about 8 miles south of Carbondale on Giant City Road, offers several types of programs: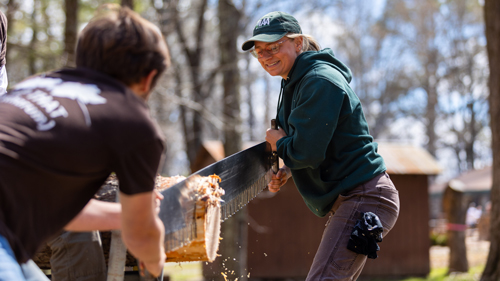 "We will design programs for businesses and organizations," Croft said. "If you're looking for a field trip, inclusive programs, corporate retreat, team-building weekend, community group experience or various other programs or activities, we're happy to help. Everyone can benefit from an outdoor experience."
To inquire about a designed-for-you program or experience, fill out the online form.
In 2022 alone, Touch of Nature held more than 100 programs and events, welcomed a record 310 participants at summer camps and much more.