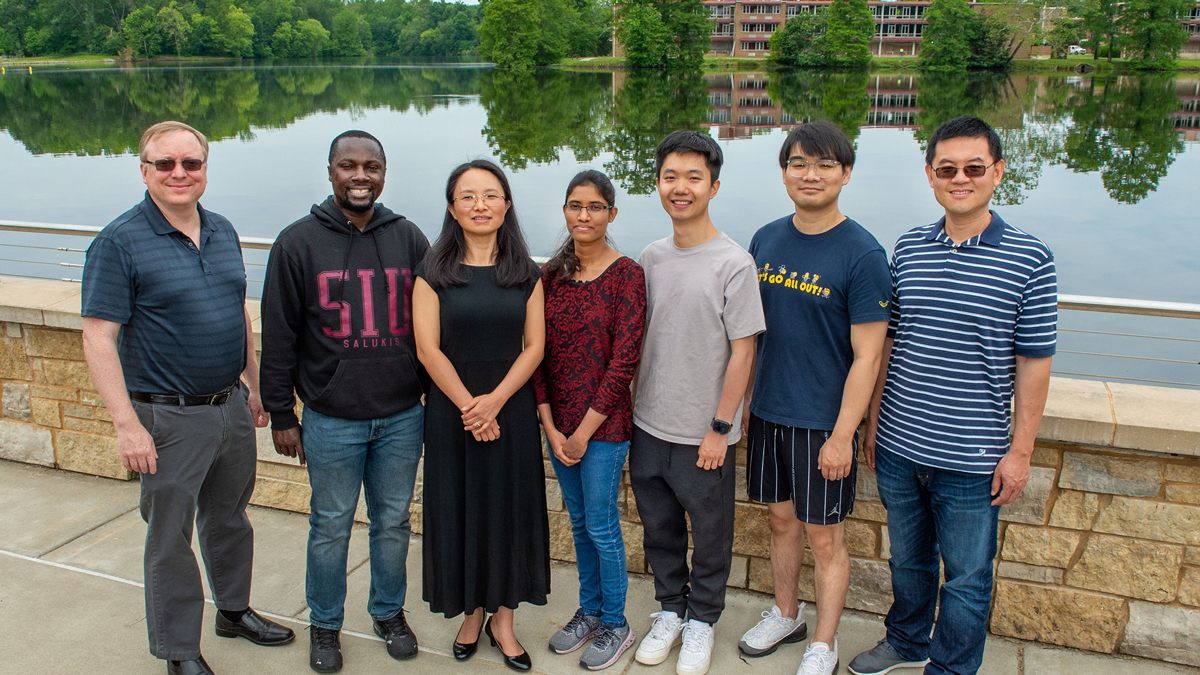 Members of an SIU team researching green ways to combat toxic algae blooms, from left, include Boyd M. Goodson, professor in the School of Chemical and Biomolecular Sciences; Joseph M. Kalinzi, research assistant; Jia Liu, team leader and associate professor in the School of Civil, Environmental and Infrastructure Engineering; Ishani M. Senanayake, research assistant;  Haoran Yang, doctoral student in engineering science; Minxiao Wang, doctoral student in electrical and computer engineering; and Ruopu Li, associate professor in the School of Earth Systems and Sustainability. (Photo by Russell Bailey)
June 01, 2023
SIU researchers get $100,000 more to treat toxic algae blooms with sunlight, nanoparticles
CARBONDALE, Ill. — A research team at Southern Illinois University Carbondale will continue its work on mitigating a common but toxic problem afflicting small bodies of water throughout the country, thanks to a new two-year $100,000 grant from the Environmental Protection Agency.
Jia Liu, associate professor in the School of Civil, Environmental and Infrastructure Engineering, is leading a crew of professors and students working on ways to eliminate toxic algae blooms by using solar power combined with iron-based nanomaterials to destroy its harmful effects. Her team's research is focused on Campus Lake at SIU and Carbondale Reservoir, but the problem exists everywhere.
"If successful, our work will demonstrate an important, environmentally friendly way of dealing with a widespread issue," Liu said. "It could challenge."
Work on the project began in 2020, with an initial $25,000 proof-of-concept grant from the U.S. EPA's People, Prosperity and the Planet Program, or P3. The most recent Phase II grant went to only five teams in the U.S.
Funding brings opportunity
P3 is a unique competition open to teams of college and university students working to design solutions for a sustainable future. It aims to foster progress toward environmental awareness by achieving improved quality of life, economic prosperity and protection of the planet.
SIU's solution to this problem, for instance, may be applied to other communities having similar issues involving occasional periods of rapid growth, or "blooms," of the harmful blue-green algae known as cyanobacteria. It's harmful to pets and wildlife, and human contact with the water affected by the blooms can cause skin rashes. Consequently, lakes afflicted with the condition should not be used for swimming and fishing, and SIU officials have restricted the use of Campus Lake at times during the last decade while the university searched for an environmentally responsible solution.
A new approach
Liu's team's concept aims to mitigate the harmful algal blooms during the early stages by reducing the amount of cyanobacteria, degrading cyanotoxins (which other methods don't address) and removing phosphorus from the water.
Using samples from the lake, members use a gene-based method known as qPCR to determine the concentration of toxic cyanobacteria in a bloom. Researchers then employ magnetic photocatalysts, or iron-based nanoparticles, to mitigate the toxins.
Photocatalysis is a process by which light is used to accelerate a chemical reaction. In a previous project, Liu won a P3 grant to investigate using photoreactors and iron nanoparticles to remove a group of toxicants from water samples. In this current project, however, natural sunlight will serve as the light source for the chemical reaction.
Working in concert, the solar light and nanoparticles inactivate toxic cyanobacteria via physical attack and generated free radicals. They also break down toxins released by bacterial species and remove phosphates by adsorption, or the process by which a solid holds onto molecules of a gas or liquid as a thin film.
Because the nanoparticles are iron-based, they can easily be removed from the water using magnets, thus minimizing the addition of solid material to the lake sediments.
New money moves project forward
The new grant will help researchers deploy a more comprehensive approach to monitoring algae blooms using drones and automated, solar-powered water-sampling techniques. Combining these two methods could develop ways to predict such occurrences before they happen and improve response. It also will help researchers examine how water quality factors might impact the algae blooms, leading to more efficient mitigation techniques.
In addition, the new grant will help researchers develop and manufacture a solar-powered floating, point-of-use system that will combine analysis and treatment for areas impacted by algae blooms. The team will deploy the system on Campus Lake for testing.