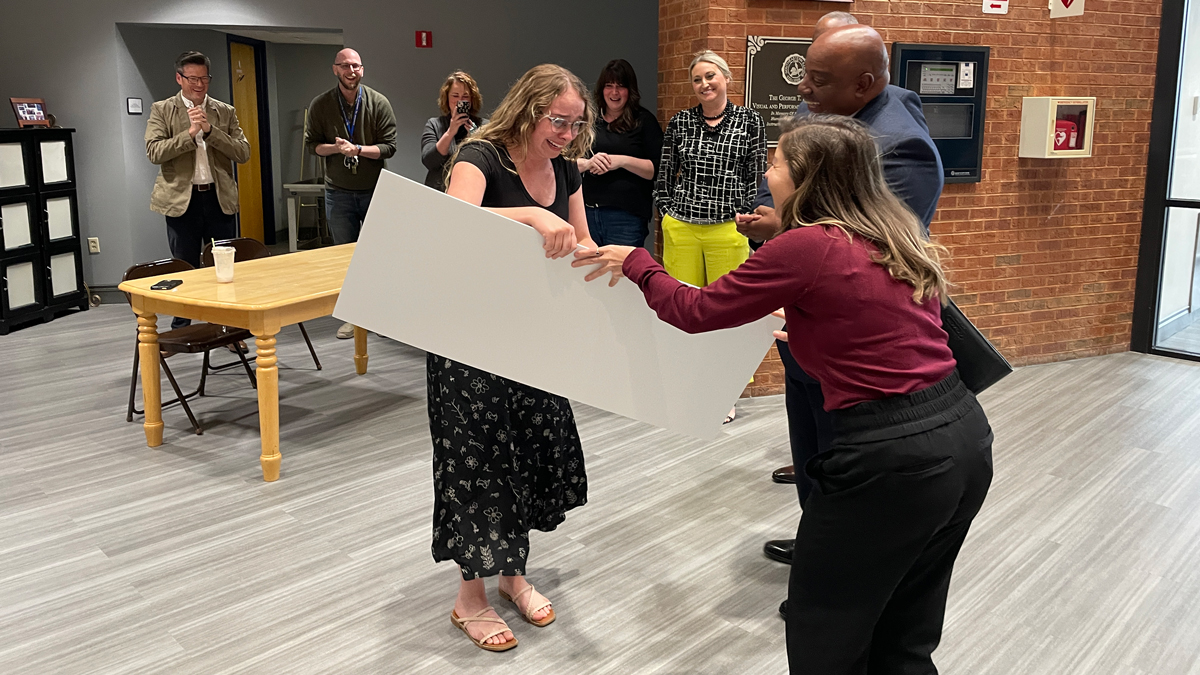 Joyous moment: Bailey Warner of Carbondale, who earned an associate degree in arts with honors from Southeastern Illinois College in Harrisburg earlier this month, reacts after recently receiving a Provost's Scholarship from SIU Carbondale officials. A member of the college's Phi Theta Kappa Honor Society, Warner will be a pre-music major at SIU. (Photo and video courtesy of Southeastern Illinois College)
May 31, 2023
SIU Carbondale awards Provost's Scholarships to community college students
CARBONDALE, Ill. — Sixteen high achieving community college students from Illinois, Arkansas and Kansas have received Southern Illinois University Carbondale's 2023 Provost's Scholarships, which cover tuition and mandatory fees for two years.
"These remarkable students — several of them in our own backyard — have imagined a better future and have worked hard toward making it a reality. That's why they are receiving the Provost's Scholarship," Chancellor Austin A. Lane said. "To see the delight on their faces when we surprise them with our university's highest honor for transfer students is a joy. Scholarships like this fit in well with our Imagine 2030 strategic plan, which includes a pillar for student success and engagement. We look forward to welcoming our Provost's Scholars to campus this fall."
The students selected demonstrate high academic achievement, a strong record of leadership in their communities and participate in numerous extracurricular activities. Several recipients received surprise personal visits from university officials. (Watch a brief video.) The scholarship is valued at over $31,000. The students, by hometown, name, community college and primary program major, are:
ILLINOIS
Aurora: Juan Chiu, Waubonsee Community College, civil engineering.
Benton: Audrey Gulley, Rend Lake College, political science.
Carbondale: Bailey Warner, Southeastern Illinois College, pre-music.
Carlyle: Zachary Kampwerth, Kaskaskia College, agribusiness economics.
Cisne: Grace Milligan, Illinois Eastern Community Colleges, undecided.
Columbia: Lydia Dowell, Southwestern Illinois College, art.
Crystal Lake: Chase Lotito, McHenry County College, electrical engineering.
Geneva: Carlos Gomez, Waubonsee Community College, history.
Hoffman Estates: Margaret Krupp, Harper College, radiologic sciences.
Marion: Alexis Edwards, John A. Logan College, elementary education.
New Berlin: Dain Richie, Parkland College, finance.
Sherman: Josie Dame, Lincoln Land Community College, health care management.
Tamms: Daisha Carthell, Shawnee Community College, physical therapist assistant.
Washington: Miles Niehaus, Illinois Central College, pre-music.
ARKANSAS
Success: Makayla Ward, Crowley's Ridge College, zoology.
KANSAS
Junction City: Ashlynn Shea, Barton Community College, zoology.
An article about all of the 2023 Chancellor's and Provost's Scholars will be published this fall.