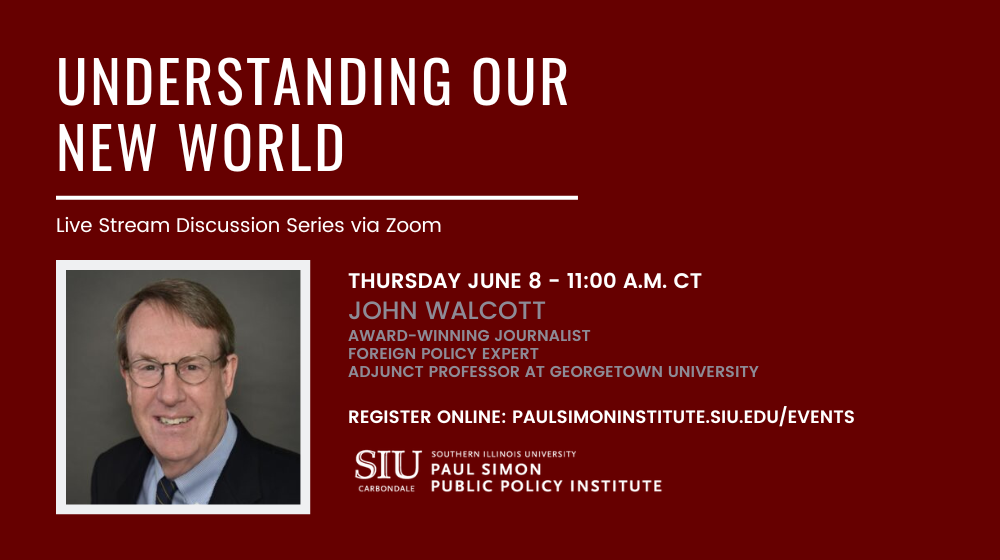 May 23, 2023
SIU's Paul Simon Institute to host journalist, foreign policy expert
CARBONDALE, Ill. — John Walcott, an award-winning journalist and foreign policy expert teaching at Georgetown University, will join Southern Illinois University Carbondale's Paul Simon Public Policy Institute for a virtual conversation at 11 a.m. June 8.
Walcott and John Shaw, institute director, will discuss "The Search for Truth in an Age of Confusion." They will review the changing media environment in the United States and worldwide and consider the daunting challenges now facing journalists and analysts to ascertain what is truthful.
The conversation is part of the institute's Understanding Our New World series. The program via Zoom is free and open to the public, but registration is required.
"John Walcott is a legendary reporter and editor who has repeatedly demonstrated how journalists should pursue the truth," Shaw said. "His career illustrates that journalists can be respectful of institutions but also skeptical and relentless in their search for relevant facts. His career has been based on the phrase, 'Truth is not subjective.'"
Walcott's lengthy and distinguished career in journalism took him to more than 80 countries. He covered civil wars in Lebanon and Central America, the implosion of the Soviet Union, the rise of China and politics in Washington. He was the Washington, D.C. bureau chief for the Knight-Ridder and McClatchy new services and a senior editor at Newsweek, Reuters and Bloomberg. In addition, he has taught media and world affairs at Georgetown's School of Foreign Service for nearly 25 years. He is also an emeritus board member of the National Press Foundation.
As the Washington bureau chief for Knight-Ridder, Walcott and his team were the only journalists to vigorously challenge President George W. Bush's administration's claims that Iraq and Saddam Hussein possessed weapons of mass destruction. Their work inspired the 2018 film, "Shock and Awe," in which actor and director Rob Reiner portrayed Walcott. He is also co-author of "Best Laid Plans: The Inside Story on America's War on Terrorism."
More information, a list of the institute's upcoming events and past speakers and events are available.