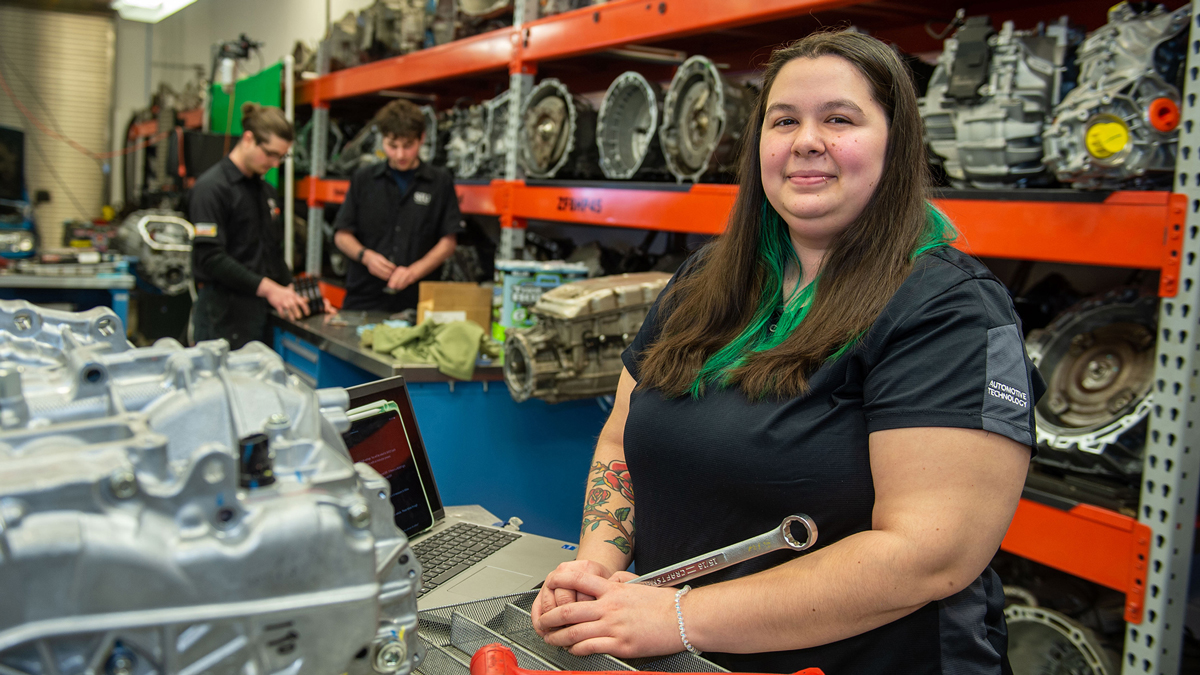 May 04, 2023
Nontraditional auto tech major grateful for SIU's support
CARBONDALE, Ill. – Some folks see an automobile as four wheels and a means to an end. Southern Illinois University Carbondale senior Angelina Lopez sees a good time solving problems.
Lopez, an automotive technology major from Homewood, Illinois, will graduate this spring armed with one of the most marketable degrees in the country. A mother and nontraditional student, Lopez said SIU is a supportive environment that has made her entry into the traditionally male-dominated world of automotive technology seamless and natural.
"I enjoy the family atmosphere, and the faculty and staff within the program are welcoming to all students," she said. "I had my son, Nova, during my sophomore year, and all the faculty within the automotive program have been a support system for me."
Need for speed
Lopez grew up in Steger, Illinois, before moving to Homewood in the seventh grade. Attending Homewood-Flossmoor High School, she began taking automotive classes and joined the Auto Club and the school's Viking Racing Team.
"I liked problem solving. It's a real-world scenario. Every time you incur a problem on a vehicle, it's something new," Lopez said. "Granted, lots of vehicles have similar issues, but that doesn't always mean they have the same fix."
A visit from Mike Behrmann, an adjunct associate professor in the School of Automotive at SIU,
would set Lopez on a path that would turn her interests into a career. Lopez said Behrmann's visit was key to her decision to head south for college.
"He visited our high school and spoke to us about SIU and the automotive program, and how the auto program here at SIU was in the top three automotive schools in the country," Lopez said. "When I applied, I was so confident in my application that I didn't even apply anywhere else. I knew I wanted to go to SIU."
Behrmann said he could see Lopez had the drive and determination to excel.
"She was taking various student leadership roles within her high school automotive classes, and she had the fortitude to help others," Behrmann said. "She knew her passion was to help lead the vast automotive industry and that the best place to learn and be part of it was at SIU."
Even with that confidence, Lopez said making the decision to enter the auto tech industry as a woman could be daunting.
"It can be hard to be a female in a male-dominated industry. Before coming to SIU, I had faced countless remarks about 'being in the kitchen' or not belonging in the auto industry. It's just something you face as a minority in the industry."
There's no doubt she's been accepted now, however, after taking a job with a top automotive company after graduation in May.
"Originally, I just wanted a stable job after graduation, but I received a couple of different offers and have accepted a job offer with Toyota Research and Development in Ann Arbor, Michigan," she said. "I had an internship with them over this past summer – the first SIU student to ever intern in their R&D department – and will be continuing my employment with them.
"I think my goal now is to graduate and build a life for my son and me."
Lopez credits SIU with helping her achieve her goals. She's received scholarships and other support, and faculty are always there for her and helped her find opportunities, she said.
"Mr. Eugene Talley, for example, is who makes information sessions possible. An information session is where companies come to the university and recruit SIU automotive technology students. He pushes for the best in students," she said. "Ms. Cay Gerlock runs the school's parts store, and she is like a mother to me. My son, Nova, loves to visit her farm. Mr. Rodney Collard for example, is always understanding, and if you don't understand something, he tries to explain it in a different way, and Mr. Andrew Croxell was my teacher for a couple of classes. He's always there if you need advice. These are just a few of the supportive faculty and staff."
Behrmann said Lopez places a high importance on learning, not only for herself but also others around her.
"She sets challenging goals, identifies the content of knowledge to be learned, and maintains active pursuit until mastered," Behrmann said. "She sets high expectations and feels comfortable pushing herself to excel. We are proud to have her as part of the SIU Automotive family."