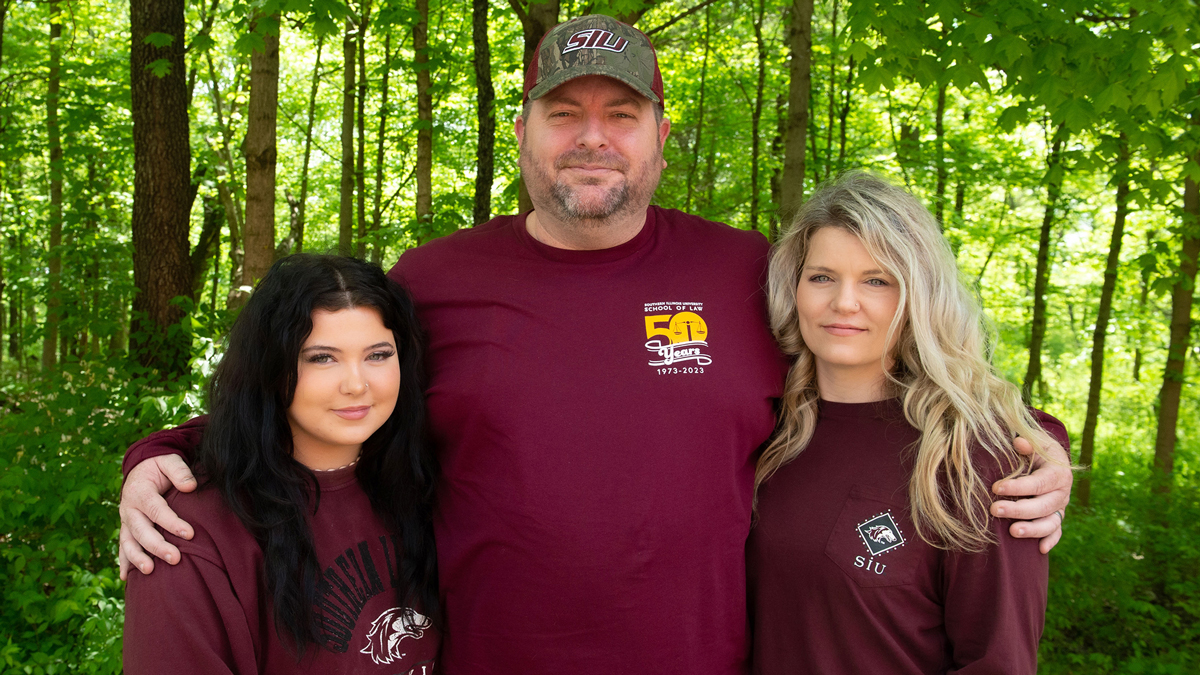 Continuing the mission: Ryan Taylor, center, with daughter, Abigail, left, and wife, Laura, are all SIU Carbondale students. Ryan Taylor will graduate from the SIU School of Law on May 12; while Abigail and Laura Taylor are both students in the Fashion Studies program. (Photo by Russell Bailey)
May 03, 2023
Mission continues: Veteran earns SIU law degree to better help fellow vets
CARBONDALE, Ill. — Earning his law degree from Southern Illinois University Carbondale's School of Law on May 12 is the completion of one mission for U.S. Army and Iraq War veteran Ryan Taylor and the start of another.
Although his active military duty has ended, Taylor, who lost a lung and suffered a traumatic brain injury from the war, is looking to the next chapter with the same focus he carried while serving his country.
While Taylor plans to pursue a personal injury practice after passing the bar exam, a primary focus will be to continue helping veterans with Department of Veterans Affairs benefit claims and to continue work with  Freedom Sings USA, a nonprofit organization that pairs "professional songwriters with veterans, military personnel and their families to help them tell their stories through song."
Taylor, 44, his wife Laura, and their children moved to Carbondale from Lewisburg, Tennessee in 2020 so Ryan could pursue his law degree. With a degree in business administration from Middle Tennessee State University, Taylor said a primary reason he came to the SIU School of Law is its Veterans' Legal Assistance Program (VLAP). The program offers law students an opportunity to help veterans and surviving spouses in appealing denials of VA disability benefit claims. Other factors for selecting SIU included the law school's tuition, housing costs in Carbondale and the proximity to Murfreesboro, Tennessee, where their daughter, Rebekah, 23, lives.
SIU checked every box for the close-knit family. Laura Taylor and daughter Abigail, who graduated from Carbondale Community High School last year, are in SIU's Fashion Studies program. A son, Benjamin, 21, attended SIU last year in the criminal justice program but is serving in the U.S. Navy.
"We just knew that we were coming here. I knew that this was a place that was going to show me how I could do what it was that I wanted to do. Before law school, I was already helping my friends get their veteran's benefits, and I was pretty good at it," Ryan Taylor said. "Now I wanted to get to where I was legally good at it to where people can call me and say, 'Can you help me get my benefits?' and I can say, 'I've gotcha.'
"There was nobody else out there I saw that was an affordable school and offering anything that was directly focused on how to help veterans with their benefits. We didn't apply anywhere else."
Injured twice while in Iraq
Taylor served nearly five years with the 82nd Airborne Division, including two years in Iraq from 2006 to 2008, before he received a medical retirement due to his injuries. Taylor's left lung needed to be removed several months after a cannister rigged with Q fever, an infectious bacteria caused by Coxiella burnetii (COX-ee-ELL-ah burn-ETT-eye), exploded and sprayed troops as they kicked in a door. The bacteria stayed stagnant for several months, but doctors were forced to remove the lung before it spread to Taylor's other lung and heart. The traumatic brain injury was the result of a remote controlled IED (improvised explosive device) that was placed in trees and detonated while soldiers were walking past.
"I really want to be back holding the big machine gun in the group making sure that everybody is still making it through whatever tough times they have," he said. "But they told me I had to come home because of my injuries. I still want to be fighting with my guys, and this is my way to keep fighting. I'm very passionate about it."
Looking out for others remains Taylor's focus. Taylor earned academic credit in the VLAP program his second year in law school, and he volunteered there afterward.
"Ryan's prior experience and passion for helping his brothers- and sisters-in-arms were invaluable in the clinic," said Martin Parsons, a clinical assistant professor of law who directed the VLAP program and is now an adjunct faculty member. "His hard work and advocacy were instrumental in securing VA disability and education benefits for several veterans."
While several law firms and clinics do similar work, Parsons said, "there are not enough lawyers with Ryan's passion, enthusiasm and determination to advocate on their behalf. Ryan will be an invaluable addition to the field of VA disability claims appeals."
A song to help veterans
Taylor acknowledges his difficulties once he returned home. At one point, a counselor suggested that he connect with the Chattanooga, Tennessee-based Freedom Sings USA, where songwriters visit veterans, listen to their experiences and put those to lyrics and music. The veterans receive a CD of the song to help with healing. The program has expanded to Arkansas and Colorado, and Taylor's hope is to start classes in Southern Illinois.
Taylor told them of a 2010 song he wrote about combat-related trauma "and trying to figure out how to cope." Nashville songwriter Don Goodman, who co-wrote "Ol' Red," urged that Taylor's "Some Days" be recorded, and it is the fourth track on the Freedom Sings USA Volume II album.
Taylor said several combat veterans have contacted him through the years to tell him the song saved their lives "because they realized they were not the only one going through this intense, insane struggle." It also helped many veterans' spouses better understand their loved one's issues.
"Being able to help other people became my therapy," Taylor said. "I've gotten to be alongside some real heroes in life who didn't make it, and now I get to be alongside some other heroes who are on the verge of not making it who I get to help."
An SIU family connection
The Taylors expect to stay in Carbondale for several years. Abigail is a freshman in the fashion design program while her mother, Laura, is a junior specializing in fashion styling. Daughter Mycah, 15, is a homeschooled freshman. The couple's oldest son, Bishop, 22, lives in Benton.
"There was no hesitation we were going to do this as a team," Laura Taylor said. "We're here to conquer."
Abigail Taylor likes the diversity found on campus and the varied activities at the Student Center. Because she always has loved clothes, selecting a major was "kind of an easy choice for me," she said.
"Living in the dorms is a good experience because my roommate isn't like me, but we still do things and I learn different things and find new experiences through my roommate," Abigail said.
Laura and Abigail have one class together this semester. Abigail smiled when noting she doesn't have to walk to class because her parents pick her up. Her mother, meanwhile, pointed out that her daughter doesn't have to buy supplies.
"We are great study buddies," said Laura Taylor said, adding that she is also interested in art history after taking a couple of classes.
Thankful for SIU
Taylor emphasized he's grateful to the law school faculty and his classmates, several of whom, like him, are nontraditional students. Through the military and raising a family, he understood the need for discipline when approaching law school.
"Even though I was the 'older guy,' they were all very welcoming," Taylor said. "The faculty goes above and beyond to make sure that we know the material."
While Taylor started law school during the pandemic, Angela Upchurch, law professor and associate dean for academic affairs and curriculum development, said that didn't deter him from fully engaging with class and with course materials.
"Ryan is a focused student who brings his discipline and professional work ethic to his studies," she said. "I enjoyed having Ryan as a student in my classes because he was always interested in learning why the law dictated a particular outcome and examining the law as a social science.
"I know that Ryan will combine his experiences prior to law school with his legal training to meet the needs of his clients, and he will serve our region well."