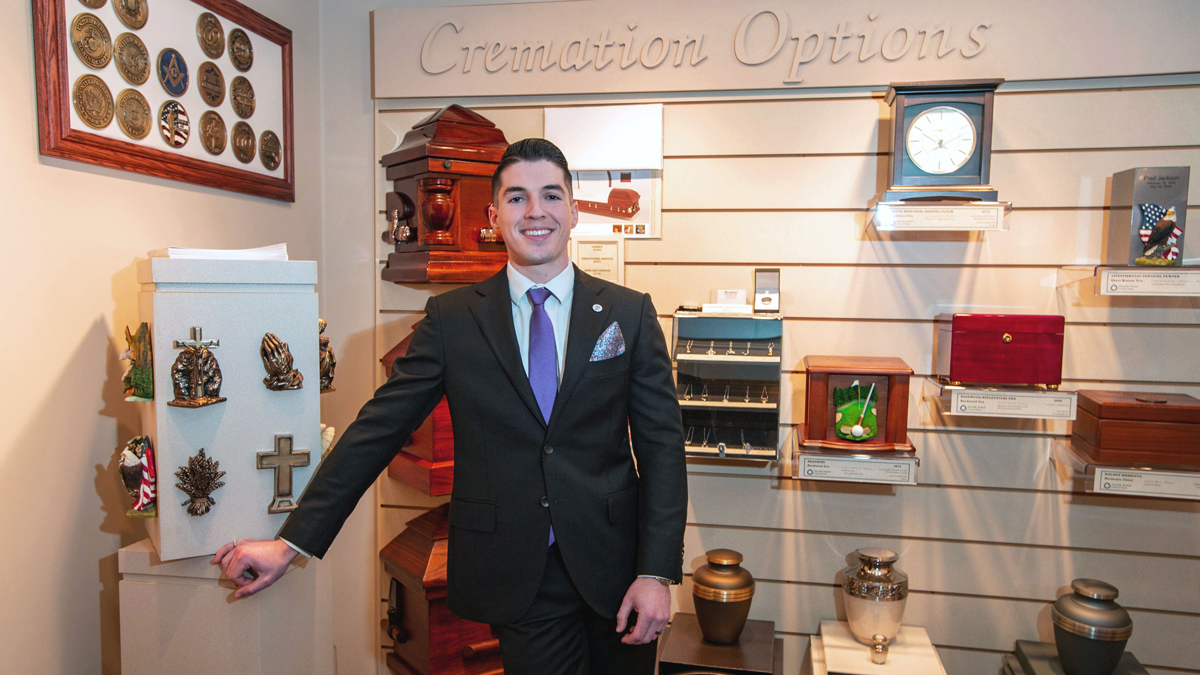 Colten Savage, first-place winner of the Service Corporation International Scholarship, has an internship at the Meredith-Waddell Funeral Home in Energy. (Photo by Russell Bailey)
April 11, 2023
SIU student wins top prize in national mortuary science contest
CARBONDALE, Ill. — From the military to college to the top prize in a national competition and a job waiting after graduation – that's where Colten Savage has traveled in the last four years, thanks to hard work, determination and Southern Illinois University Carbondale.
Savage, a senior mortuary science and funeral service major from Blue River, Wisconsin, recently won the Service Corporation International Scholarship, claiming the $10,000 prize.
"It is such an honor for Colten to win the most prestigious mortuary science scholarship in the country," said Anthony Fleege, mortuary science and funeral service program director and associate professor. "He has exemplified the qualities and traits that are found in excellent funeral directors since the day he started at SIU. His drive, perseverance and can-do spirit set him apart on a national stage."
A nontraditional student, Savage came to SIU after a 4-year stint as a field radio operator in the Marine Corps. As Savage, the son of an SIU alumnus, was wrapping up his tour of duty in 2019, he had decided on a career shift. He chose his new profession for one simple reason.
"I'm passionate about helping people and having an impact on families," he said. "Being there to assist them and help them pick up the pieces at a difficult time is an incredible feeling. My goal is to give them a positive last image of their loved one and a meaningful farewell. The satisfaction I get helping others is awesome."
As he began checking out MSFS programs, he discovered that SIU was home to one of the rare four-year bachelor's degree programs and that he could start during the January 2020 semester. On top of that, he fell in love with the area and the camping, trails and scenery it offered.
The decision was made, and he is very happy about it.
Tough competition
Just getting selected as a finalist in the SCI contest, sponsored by one of North America's largest providers of funeral, cremation and cemetery services, was quite a feat. Hundreds of students submitted entries including essays, applications and videos. The best 25 were chosen as winners, with numbers 11-25 each claiming $2,500.
The top 10 finalists then travelled to Houston where they met with company officials, toured the corporate offices and participated in three separate interview panels with company and industry representatives from across the country.
Savage said he was one of the youngest among the 10 finalists, going up against a longtime attorney, a federal court translator who spoke 17 languages, a fellow Marine veteran from the communications field who was stationed at the same base as Savage, and other remarkable candidates. Ultimately, Savage was announced as the winner, claiming the $10,000 grand prize. The other nine received $5,000. Savage also won the Steve Mack Memorial Scholarship for $1,000 from SCI.
"The other students came from a lot of different backgrounds, had a lot of awesome experience and were incredibly impressive," Savage said. "I was honestly amazed that I won."
Experiential, well-rounded study
At SIU, Savage found a strong academic program with extensive practical experience, helpful mentors and ample support.
"I really like SIU's program, and I appreciate the faculty, especially Professors Anthony Fleege and Robert Broomfield (assistant instructor)," he said. "They have found a way to make what would seem to be the most mundane classes, like regulations, interesting. They also go above and beyond to help us succeed. I've emailed them late at night and gotten a response quicker than you would believe."
He said SIU's MSFS program is impressive for other reasons as well.
"One of the things that makes SIU's program special is that you can complete your entire bachelor's degree here," Savage said. "Some programs require you to do your general studies elsewhere before completing your MSFS. It was appealing to me to do it all in one place. And SIU offers so much hands-on experience."
He's also excited about another recent addition to SIU's MSFS program — the only university-housed crematory in the U.S. He said the academic curriculum is challenging, and the standards are high, with a 75 being a flunking grade. But he's grateful for all of the support from faculty, staff, mentors and friends at SIU, helping him reach his goals. He also appreciates his spouse, Ell Savage, and cat, Suki, who have provided him with love, support and study help.
Employed before graduation
Savage has also been enhancing his experience with an internship at Meredith-Waddell Funeral Home in Energy this semester, and he already has a job waiting after graduation.
He had already decided he wanted to head to the northwest, and after winning the competition, he accepted a job offer as a funeral director and embalmer apprentice from Howell, Edwards, Doerksen with Rigdon-Random Funeral Directors in Salem, Oregon. The business is owned by Dignity Memorial, which falls under SCI.