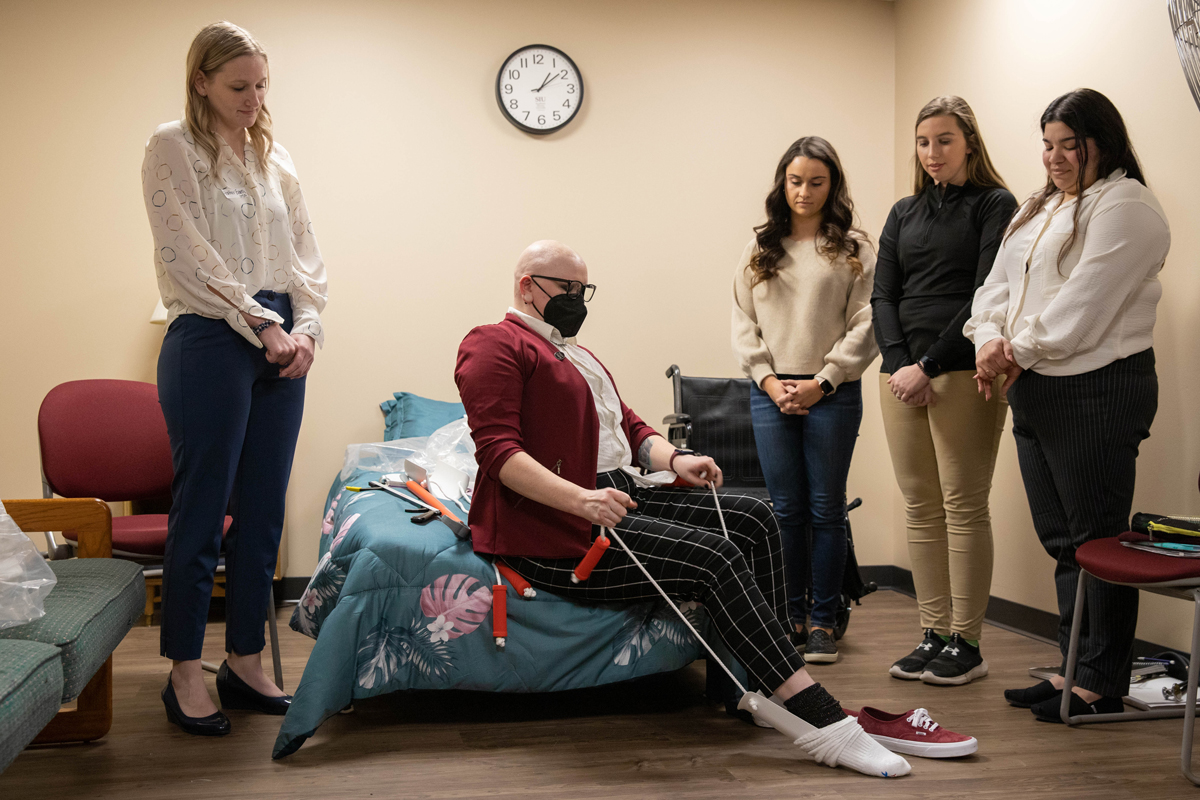 Occupational therapy doctoral students practicing their skills are, left to right: Heather Evans, Kae Edgcomb, Kayci Tanner, Mayci Doerflein, and Michelle Soto.
April 10, 2023
New, unique SIU doctorate helps meet need for occupational therapists
CARBONDALE, Ill. — Preparing occupational therapists for fulfilling careers of helping clients accomplish everyday tasks to optimize their health, well-being and quality of life is the focus of Southern Illinois University Carbondale's new hybrid entry-level occupational therapy doctoral program, which features education and training in a state-of-the art lab with a full working kitchen, laundry area and more, along with collaborative experiences with students in related health care fields.  
"There's a substantial need for occupational therapists across the country with a growing need in Illinois, especially in Southern Illinois," said Danila Cepa, program director.
Occupational therapists help people who have difficulty with routine tasks because of injuries or disabilities such survivors of strokes, patients with chronic, painful conditions or people who need assistive equipment and instruction.
"Just think about the activities that occupy your day, from getting dressed and eating to writing, shopping, cooking, doing laundry and performing a wide assortment of other tasks. Those are the things occupational therapists help people learn or relearn to do," Cepa said. "Our program provides the knowledge in how best to do that and gives students practical experience through the simulated learning lab. We simulate practice at all levels of care representing hospital in-patients to working with people in their own homes. We frame the environment just like those our clients will have."
Meeting the need in the region, SIU has already drawn interest not only from students in Illinois but also Missouri and other neighboring states.
One of those students is Abriana Jones of St. Louis, who started the program in fall 2022 after completing her bachelor's degree in psychology and her master's degree in kinesiology from SIU. Jones said she's very excited to be part of the first doctoral class where students and faculty are "able to implement new ideas. We really get the necessary one-on-one attention we need, and we are lucky to have professors who really care about our development and want nothing more than to see us succeed."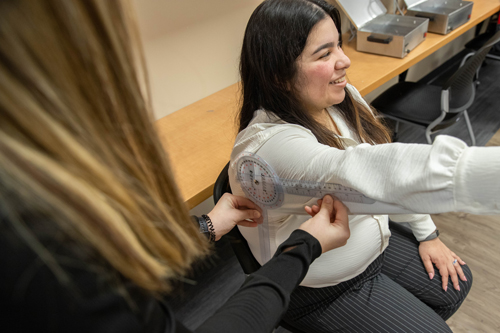 Jones has known since she was a sophomore that she wanted to become an occupational therapist and spoke with Julie Partridge, graduate program director and professor of sport and exercise psychology.
"In talking with her, I realized that staying at SIU was the right option for me," said Jones, who is a graduate assistant in the graduate school assistantships and fellowships office. "I like the way this format melds classroom and practical experience. It's nice to be taking classes that give us real-world experience while allowing us to develop into the health care professionals we aspire to be."
She's looking forward to her first summer fieldwork placement, and after completing the program in 2025, Jones will be seeking a position as a pediatric occupational therapist and eventually hopes to open her own pediatric therapy center and perhaps a cryotherapy (cold therapy) facility.
"This program is unique because it's one of the few doctoral level occupational therapy programs in the state of Illinois," Cepa said. "Students enter with a bachelor's degree, and in three years, can complete their doctorate."
Cepa and Kim Parr, assistant professor of practice and academic fieldwork coordinator for the program, said it also has a special format as students attend classes online during the week and in-person every other weekend for a total of eight to nine weekends. They also complete two full-time, 12-week internships during the summers along with a 14-week capstone featuring advanced practice the final summer.
Students get practical experience in a diverse variety of locations. SIU has more than 60 sites in Illinois, Missouri and Kentucky for field work, and the university works with students to help them find a facility that best aligns with their interests for their final capstone experience and project.
"Our program is unique in that the field work is split so students get extensive practical exposure with classroom time in between," Parr said. "They begin with online classes and weekend classes and then serve a practicum, applying the theoretical to the real world. Then it's back to class for more advanced learning. Unlike most programs, the SIU OTD program integrates fieldwork throughout the curriculum so academic work is integrated with practical learning."
The weekend in-person classes take place in an all-new, state-of-the art learning hub, specifically built for the program to provide faculty-guided, hands-on training in the Applied Sciences and Arts Building, also called the CASA building. The lab includes a full working kitchen and laundry area as well as an area where occupational therapy students can practice helping simulated clients with the wide array of daily living activities. The lab is used by other academic units as well.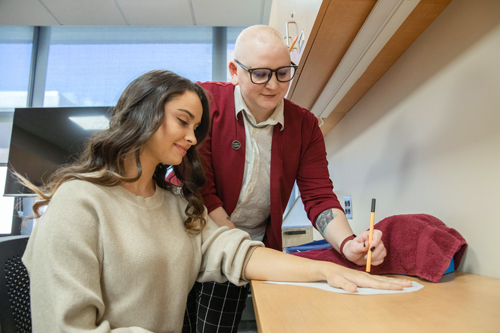 The lab includes an orthotic fabrication area so students can practice creating specialized upper extremity splints to support performance of daily activities. There's also a mat table area for simulated practice of various treatment techniques, just like what is used in therapy clinics.
Another bonus for SIU's program is that the lab is equipped with cameras so students can record their simulated therapy sessions so they and faculty members can assess their performance.
"It's one thing to learn and practice skills, but it's another to see yourself performing them and have the opportunity to receive input from peers and instructors," Cepa said. "It allows them to debrief and reflect on their work and experience."
Holistic experience
The students also collaborate with their peers in other SIU health-related programs to reflect the way they will handle cases in the working world. That includes working with students in the nursing, physical therapy assistant and communication disorders and sciences programs to provide an enhanced learning experience for all involved and better prepare students for the future.
"The curriculum includes an interprofessional education and practice day, which we will repeat each spring, so these students can spend time learning how to communicate effectively with each other and complete interprofessional practice in an acute care setting such as a hospital," Parr said.  "They explain their individual roles to one another and then participate in a lab session, working together to share practical skills."
SIU's program includes research and innovation, patient advocacy, leadership skills development, career development, and practice and study to improve intervention outcomes.
The national job outlook is good for therapists, with a projected employment rate growth of 14% in the 10-year period ending in 2031, much higher than the average job growth rate, according to the U.S. Bureau of Labor Statistics. Moreover, a therapy career is rewarding in more ways than one, officials said, with a 2021 median annual salary of $85,570 and the chance to make a real difference in people's lives.
The program, which prepares graduates for entry-level careers as occupational therapists has been granted candidacy status for accreditation by the Accreditation Council for Occupational Therapy Education of the American Occupational Therapy Association and will complete a pre-accreditation review and onsite evaluation to be granted accreditation after which students will be eligible to sit for the National Board for Certification in Occupational Therapy (NBCOT) Certification Examination. After successfully completing that exam, graduates will be registered occupational therapists. States require licensure, but licenses are typically based on the NBCOT certification examination.  
About half of the occupational therapists in the United States work in occupational therapy offices or hospitals while the rest find employment in outpatient services, schools, nursing homes and home health services.
Paving the way toward leadership
Program officials say they are also creating a program that paves the way to leadership roles and that meets the need of a variety of students, including those who already have associate degrees as occupational therapy assistants.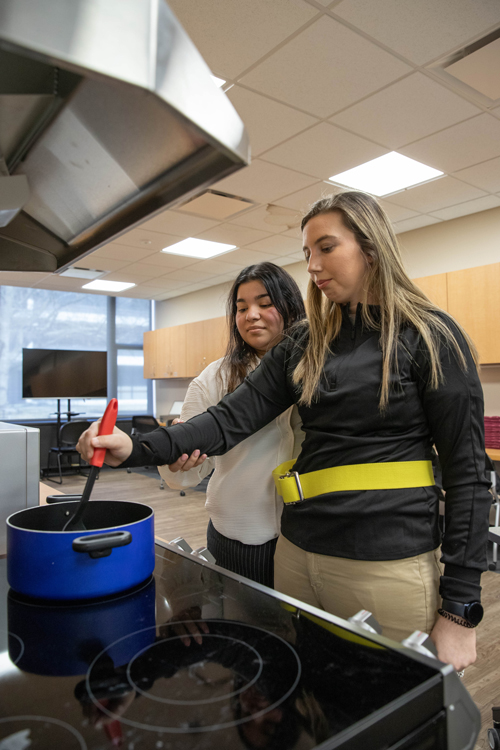 "We are actively working with occupational therapy assistants who do not have their bachelor's degree," Parr said. "These potential students can connect with an adviser from the health care management (HCM) program to possibly obtain their health care management bachelor's degree with their previous academic experiences potentially counting for some HCM coursework," Parr said. 
Sandra Collins, health care management program director, professor and distinguished faculty member, noted that through numerous Saluki Step Ahead agreements, SIU is working to facilitate such transitions as this, which provide added value.  She said this option for the OTD degree is particularly attractive for working professionals since SIU offers a 100% online health care management bachelor's degree option, as well as an on-campus option.
Having the health care management background also helps pave the way toward enhanced career possibilities, officials said.
"Our program is specifically designed to generate leaders within the profession," Cepa said.
Applications accepted now
SIU's inaugural class includes seven students, and in the future, officials anticipate a cohort of 30 students beginning the program each fall. Current students have a variety of academic backgrounds and degrees: occupational therapy assistant, physical therapy assistant, exercise science, psychology and other health-related majors.
To apply, a student need only have a bachelor's degree and 18 hours of prescribed prerequisites.
Applications are now being accepted for fall 2023. 
Learn more at sah.siu.edu/graduate/otd or by emailing health.sciences@siu.edu or email the program director at danila.cepa@siu.edu.
---
Captions:
Second photo: Mayci Doerflein practices range-of-motion measurements on Michelle Soto.
Third photo: Kae Edgcomb measures Kayci Tanner in order to create a specialized upper extremity splint, which is used to help with daily activities, in the SIU lab's orthotic fabrication area.
Fourth photo: Michelle Soto assists Mayci Doerflein with a simulated cooking activity. Doerflein, who is playing the part of a patient who had a stroke and is learning to safely cook again following her illness, is wearing a gait belt around her waist, which allows the therapist to help balance patients in case they start to fall.
Photos by Yenitza Melgoza