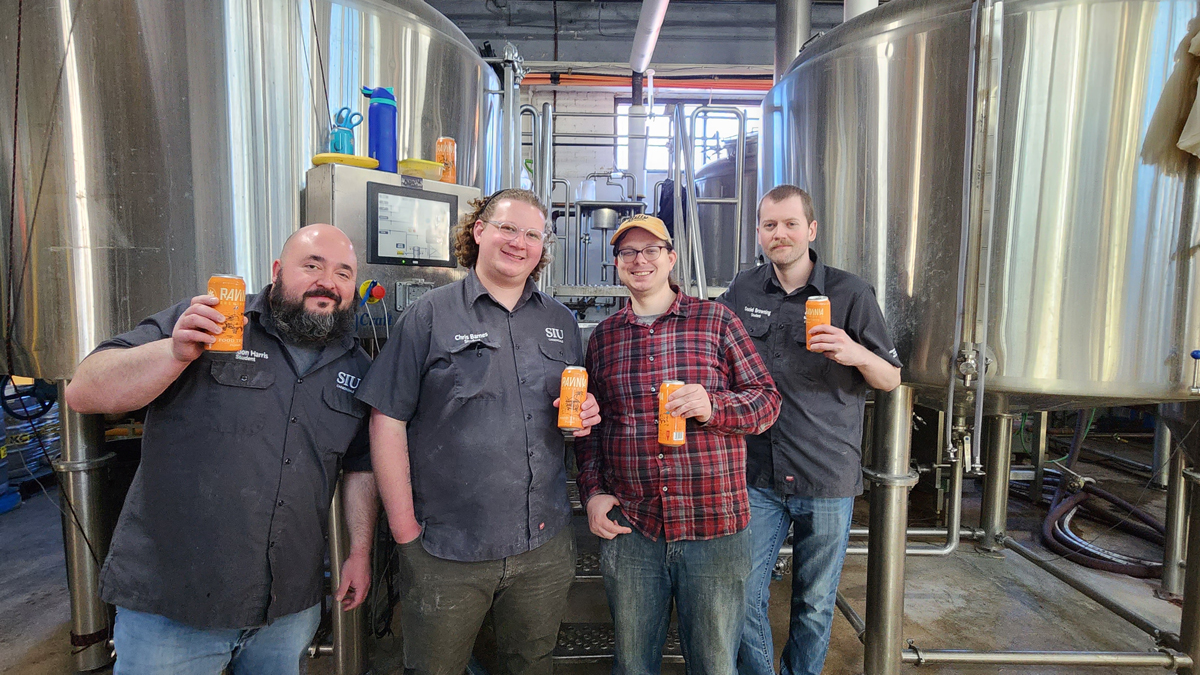 Fermentation science students enjoy a test batch of King Ale, a cream ale style beer that will be released Tuesday, April 4. The beer, created by SIU staff and students, was designed by Saluki Brew Works, an offshoot of SIU's Fermentation Science Institute, in partnership with Ravinia Brewing Co. From left are some of the students who worked on the beer, including Brandon Harris, Chris Barnes, Scott Whitehead and Daniel Browning. Additional students who worked on the beer not pictured include James Benefiel, Rachel Bernier, Jennifer Cesolini, Zachary Current, Sam Hanson, Greg Serangeli, Joshua Virella and Jamie White. (Photo provided)
March 31, 2023
SIU students and staff lead creation of new beer
CARBONDALE, Ill. – Grabbing a cold one with a distinctive Saluki twist will become even easier soon, when Southern Illinois University Carbondale's Fermentation Science Institute and a partnered private brewing company release a new SIU-branded brew Tuesday, April 4.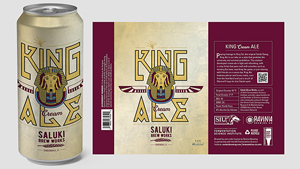 FSI and Ravinia Brewing Co. will unveil King Ale, a cream ale style beer with American roots first produced during the 19th century and developed to compete with pre-prohibition lagers. Typically featuring prominent use of corn in the grist mash to lighten the flavor, the beer is designed as a light, refreshing beer.
The FSI and Ravinia Brewing Co. previously released two other brews – Salukitoberfest and Dog Pound Porter. But King Ale was an SIU-led creation, said Matt McCarroll, director of the FSI.
"Students and staff of the FSI developed the beer style and formulation, and University Communications and Marketing took the lead on a collaborative effort to develop the label and branding," McCarroll said. "The students brewed seven prototypes before landing on the final formulation. Some of the students were able to travel to Chicago to assist in brewing the beer at Ravinia's Logan Square location during spring break."
---
Reporters, photographers and news crews are welcome to cover "A Taste of Saluki Spirit," set for 5:30-7:30 p.m. Tuesday, April 4, at McLafferty Annex, home of the FSI and future home of Saluki Brew Works, a student-run brewery planned for the facility. Students, staff and alumni are slated to attend the event, which is fully booked. 
---
McCarroll said the latest beer is the culmination of the collaboration and planned partnership with Ravinia, which ultimately will see the company locate its production facility in the McLafferty Annex.
"These beers will soon be produced on campus, but Ravinia offered the opportunity to collaborate and bring these beers to the market now," McCarroll said. "The students have gained the experience of working with a commercial brewery to bring their own ideas to a commercial product. They are learning that being able to make a great beer is only part of what it takes to profitably bring a product to market."
As an equal partnership, the proceeds from the beer sales are split evenly between Ravinia and the FSI, which it will use to expand the facilities and support a bachelor's degree in fermentation science, McCarroll said.
"That is a win-win-win opportunity for the university, the students and the consumer," he said.