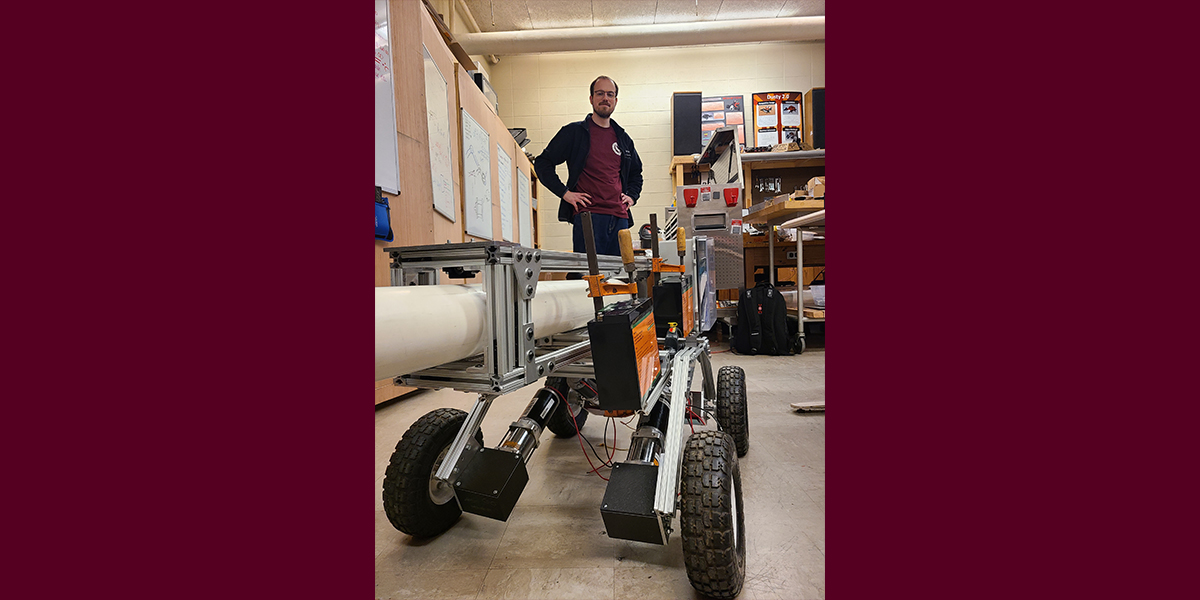 Aaron Faivre, a senior in electrical engineering, Dixon, Illinois, looks over MoonDawg, a 175-pound autonomous mining robot destined for this year's NASA Lunabotics competitions. Two other SIU robotics teams are designing robots for the Robobrawl tournament March 30-April 1. Those battlebots include Reece, seen here under construction, and Steelucki, seen below in a 3-D design representation.
March 28, 2023
SIU robotics teams gear up for battle, moon mining
CARBONDALE, Ill. – Two teams of up-and-coming engineers at Southern Illinois University Carbondale are getting ready to rumble – robot style – while a third team is building one that theoretically could remotely mine the moon for precious minerals.
Robots are just a thing at SIU.
The SIU robo-battle teams – Demo Dawgs and Team Better Team – will compete at this year's Robobrawl tournament at the University of Illinois Urbana-Champaign, March 30-April 1. The annual event features 30-pound machines slugging it out in a 16-by-16-foot arena during a two-day, double-elimination tourney.
At the same time, another team is building MoonDawg, a 175-pound autonomous mining robot. MoonDawg, which will participate in competitions late this month and in May, is designed to traverse a simulated moonscape, dig beneath a layer of very fine limestone (standing in for the lunar surface) and collect the gravel representing icy regolith, before bringing it to base.
Battle robots continue tradition
In 2019, an SIU battle robot named Absaluki 3: Revenge of the Absaluki, came out undefeated at Robobrawl, while another SIU robot finished in the top 16 and two others in the top 32. Gavin Heintz, a senior in electrical engineering from St. Louis and captain of the Demo Dawgs, said the COVID-19-canceled years of 2020-21 caught up with last year's SIU entry in devastating fashion.
"There was this big gap between where there were no competitions," Heintz said. "I was stuck in my freshman year in the fall of 2019 without anything to do for the next two years. Come 2022, and the competition was back on, but many of those who had the knowledge necessary were gone."
SIU managed to field a battle robot, but both the team and "Reggie" were lacking in some areas.
"We finished our bot, Reggie, in the trunk of my car just minutes before the competition at UIUC,' Heintz said. "Poor Reggie ended up in the first round against a team of pros, who had actually competed on the Battlebots TV show before. Obviously, he didn't make it too far but didn't go down without a fight."
Back to basics
With that in mind, both current SIU battle robot teams are returning to tried-and-true weapon designs. Both teams are using spinners, which are essentially whirring sawblade-like appendages aimed at slicing and dicing opponents. Demo Dawgs and its robot, Steeluki, are using a vertically oriented spinner, while Team Better Team's robot, Reece, is wielding a horizontal spinner.
"Our main strategy in designing was to improve where Reggie, which also used a vertical spinner, failed last year," Heintz said. "Since the vertical spinner is a tried-and-true combat robot design, we thought it'd be a good starting place to adapt it using our own style, rather than complicate things with a new idea."
Devoting themselves to the robot effort requires careful time management among school, work and robotics, Heintz said. Inexperience can take a toll there, as well.
"There was a lot of trial and error in our design flow the last couple of years – lots of testing to see what works and what doesn't," he said.
Mining the moon
The MoonDawgs, meanwhile, plan to compete in two NASA Lunabotics competitions, one of which is virtual this year and scheduled to finish March 29, with another in-person competition at the University of Alabama May 21-26. Such competitions feature dozens of teams from around the country and provide students with practical experience in the full engineering lifecycle process, from concept development to end product.
Jed Paterimos, a senior in computer engineering and captain of the MoonDawgs, said the robot is equipped with a custom chassis holding four drive motors that power custom aluminum wheels. It uses a custom steel auger and covered by a plastic sleeve that can dig and move material into a storage area. An operator controls the robot wirelessly using a website designed by the team.
Divisions of skills and labor
As with the battle robot teams, the MoonDawgs are largely young and inexperienced this year. But each of the 12 members brings a diverse skillset, all of which must be coordinated to result in a functioning and competitive machine. Fabrication with shop tools, computer programming, electronics expertise and other skills must come together seamlessly for success.
"We have learned a lot about each other, and how we to work together as a team comprising electrical and computer engineers, as well as computer science majors," Paterimos said. "We've had to learn time management skills ranging from learning each other's schedules and finding times for everyone to come together and work on the robot for more than one day a week, to finding time to complete and submit the needed paperwork for the competitions."
Faculty adviser sees inspiration
Bruce DeRuntz, professor in the College of Engineering, Computing, Technology and Mathematics and faculty adviser for all three teams, said it has been nothing short of inspirational watching the students rebuild from the enormous setback of the pandemic.
"What most people don't realize is that being part of these teams also gives students the interpersonal and problem-solving skills that will set them apart from their peers in the workplace," said DeRuntz, who also is director of the college's Leadership Development Program. "I have companies contact me every year looking for our great students who are part of our college's incredible design competition teams."
Team members
Demo Dawgs members, their degree programs and hometowns where available include:
Gavin Heintz, senior in electrical engineering, St. Louis
Brad Jaunich, sophomore in electrical engineering, Palos Hills, Illinois
Christopher Catron, junior in computer engineering, Hoopeston, Illinois
Sam Chwalisz, sophomore in mechanical engineering, Elgin, Illinois
Ethan Harper, sophomore in biomedical engineering, Dunlap, Illinois
Lance Griswold, junior in physics, Berwick, Illinois
Zach Johnson, sophomore in biomedical engineering
Team Better Team members, their degree programs and hometowns where available include:
Emily Parks, sophomore in elementary education, Marion, Illinois
Amanda Barajas, freshman in computer science, Fairmont City, Illinois
Josh Greuel, senior in electrical engineering, Sigel, Illinois
Josh Ramage, junior in computer science, Mattoon, Illinois
Jhovy Gonzalez, senior in mechanical engineering, West Frankfort, Illinois
MoonDawgs members, their degree programs and hometowns where available include:
Jed Paterimos, a senior in computer engineering, Beecher, Illinois
Andrew Bailey, freshman in information technology
Aaron Faivre, senior in electrical engineering, Dixon, Illinois
Jeremiah Sathanand, senior in electrical engineering
Marco Caliendo, senior in electrical engineering, Wood Dale, Illinois
Jared Hillyer, junior in electrical engineering
Curtis Shuman, senior in electrical engineering, Polo, Illinois
Emmanuel Gonzalez, graduate student in electrical and computer engineering
Thomas Boyd, senior in computer science, North Chicago, Illinois
Daniel Finlay, sophomore in computer science, Mendon, Illinois
Carmen Schwartzberg, junior in electrical engineering Oak Forest, Illinois
Andrew Barnes, senior in computer science, Danville, Illinois