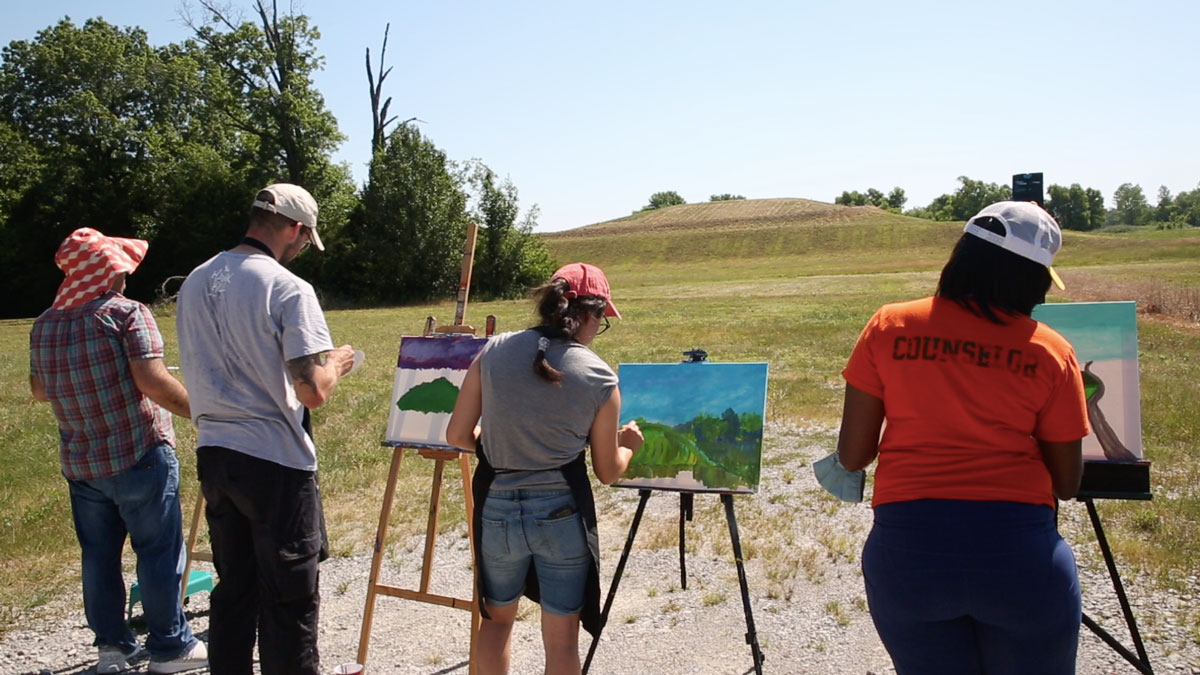 Students work on paintings at the former Koppers wood-treating site in Carbondale last summer as part of an SIU class funded by a Mellon Foundation grant that examines environmental injustices along the Mississippi River, through transdisciplinary research in the humanities, arts and social sciences. (Photo provided)
March 14, 2023
Mellon Foundation grant allows SIU students to address environmental, racial injustices
CARBONDALE, Ill. — Southern Illinois University Carbondale students can learn about the intersections of environmental and social justice in a regional context through creative field research and engagement with community organizations as part of a 2-½ -year grant from the Andrew W. Mellon Foundation.
At SIU, the grant will support courses that illuminate cultural, environmental and political histories of the Mid-Mississippi region, where development was accompanied by social displacement, racialized violence and exploitation. Grant programming and courses will equally highlight the importance of the grassroots organizations and cultural movements that carry on the work of communicating, healing, repairing and building solidarities.
Sarah Lewison, a professor in the School of Media Arts, and Alfred Frankowski, an associate professor in philosophy in the School of History and Philosophy, spearheaded SIU's portion of the multi-layered collaborative project over the last year.
"We are thrilled that we will be able to enhance our student's experiences through this platform," Lewison said. "We will be experimenting with field study and workshops for students, faculty and regional activists, and will be able to offer opportunities to students and faculty alike."
Mellon award has many facets
The Mellon Foundation's award of more than $16 million in 2022 went to 12 liberal arts colleges for "social justice-oriented humanities curricular development." Macalester College in St. Paul, Minnesota, received $1.497 million for its Mississippi River Watershed: An Immersive Humanities Curriculum project, aimed at developing "innovative humanities-based educational activities that critically examine issues at the confluence of race, environment and extraction" along five hubs of the 2,300-mile river. SIU, partnering with Rhodes College in Memphis, is on the Lower Mississippi River Hub. SIU's first course, offered in summer 2022, was co-taught by Frankowski (philosophy) and Lewison (media arts). In the course, titled Decolonizing Spatial Sovereignty, five SIU graduate students in communication studies, art and design, and media arts considered the politics of race, place and space in the regional context of the Mid-Mississippi watershed.
The class studied how settler colonialism is defined by the relation to power and the aftereffects of violence "that have shaped the Black and Indigenous political experience, globally and in this country." That included examining political violence and how sovereignty and coloniality still affect how people think and remember about these histories.
The three-week seminar began with a survey of literature about colonialism and racialized forms of state power to prepare for visiting speakers and field workshops. In Cairo (Illinois) and Memphis (Tennessee), SIU students learned about grassroots neighborhood development organizing from Rhodes College faculty, students and locals. A graduate student from Cornell University shared his research on police surveillance conducted in urban environments. In Carbondale, students from SIU visited and made paintings at the former Koppers wood-treating site to learn about the environmental justice battle over the reuse of this contaminated land.
Upcoming courses
In fall 2023, Lewison is teaching a new course in environmental media, Rivers and Forests without End: the Mississippi Open School, open to undergraduate students across the campus. Students will do creative field research to tell the stories of human communities, and ecosystems in the region which, having already experienced colonization, development, and displacement, now face new upheaval due to climate change. In 2024 Finley Freibert, an associate professor in the School of Media Arts, and Joseph Smith, an assistant professor who is cross-appointed in the School of Africana and Multicultural Studies and Philosophy will teach another new course about Media Ecologies of Race.
Lewison believes that interdisciplinarity is critical to contemporary education and that students hunger to be learning in connection with the real world outside of class.
"I'm really excited to be able to expand the work that we might be able to do to a larger campus community and to Carbondale," she said.
For more information on the program, contact Lewison at slewison@siu.edu.