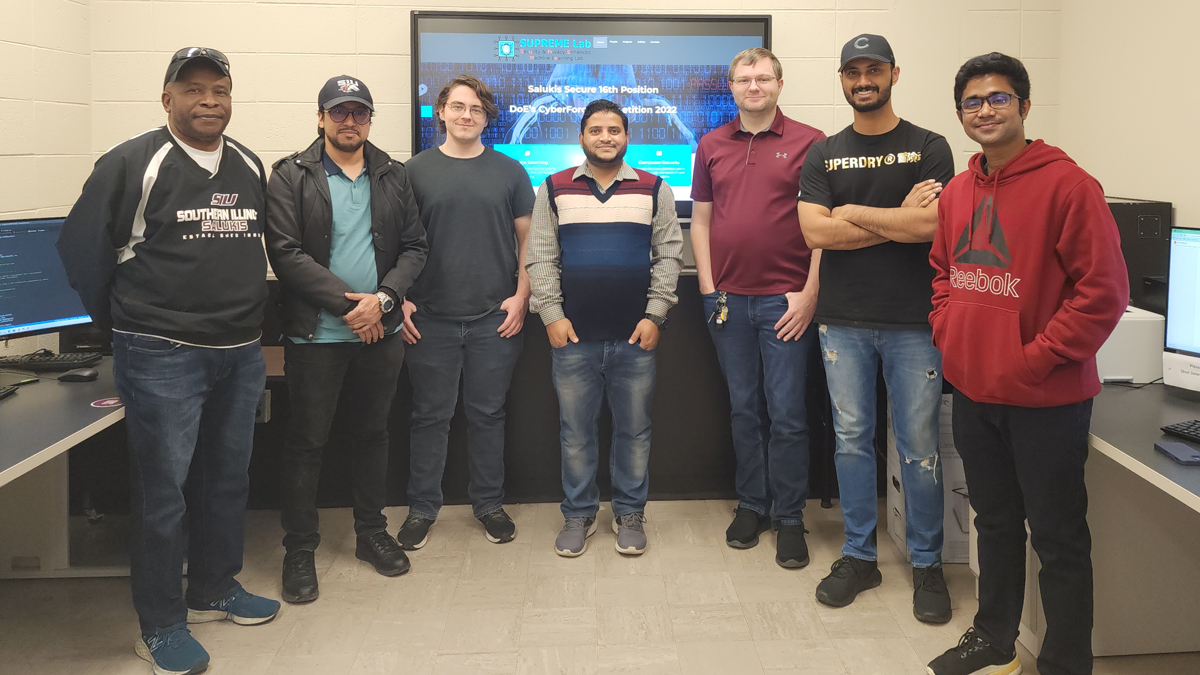 CyberSalukis team, from left: Robert Wigfall, Mohammad Mashud Nesary, Trenton D. Spencer, Sajedul Talukder, team faculty adviser, Tyler Joseph, Sai Mani Teja Puppala, and Ismail Hossain.
March 09, 2023
A team of graduate students from the computer science program recently placed highly in a national cybersecurity contest
The CyberSalukis placed 16th overall during the U.S. Department of Energy's CyberForce Competition, held late in 2022. 
The DOE competition is aimed at building students' critical infrastructure and cyber security nexus knowledge and awareness of hands-on cyber education. It also aims to increase fundamental understanding of cyber security within a real-world context.
The CyberForce competition included a range of cybersecurity activities related to a renewable energy scenario revolving around a fictitious electric vehicle manufacturing plant and its solar power generation facility.
More than 140 teams from 108 institutions across country participated in the competition. The SIU School of Computing team, CyberSalukis, finished 4th among the 12 participating teams from Illinois, while another SIU team, Security Dawgs, secured 41st place in the competition overall.
CyberSaluki team member include
Doctoral students Ismail Hossain and Sai Mani Teja Puppala, as well as master's graduate students Tyler Joseph, Mohammad Mashud Nesary, Trenton D. Spencer, and Robert Wigfall. CyberSalukis's faculty adviser is Sajedul Talukder, assistant professor in the School of Computing and the director of the Security and Privacy Enhanced Machine Learning (SUPREME) Laboratory at SIU.