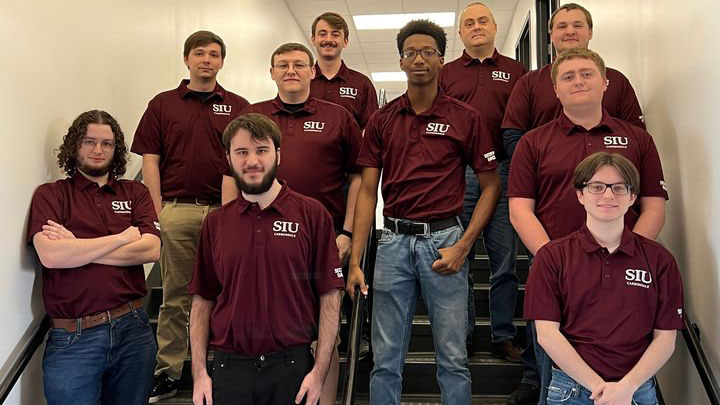 Members of SIU's Security Dawgs cybersecurity team will compete this weekend in the wildcard round of the Collegiate Cyber Defense Competition. Members of the team, from bottom left, are Mike Whisenhunt, Tony Barnes, Andrew Barnes, Alex Hayes, Dustin Myers, Isaac Brown, Tyson Nicklin, Matthew Pawlowski, Matthew Nicklin and Trent Grider. (Photo provided)
March 02, 2023
SIU student cybersecurity team among top in the Midwest
CARBONDALE, Ill. – Southern Illinois University Carbondale's student cybersecurity team placed as one of the top teams among students from three states during a recent competition, catapulting the Security Dawgs into an additional round of competition this weekend.
The Security Dawgs placed third out of 18 teams from Illinois, Missouri and Wisconsin at the Collegiate Cyber Defense Competition Feb. 18. The team also placed second in the Illinois state portion of the contest.
Eight SIU students participated in the intense seven-hour competition, which tested their ability to secure a pre-compromised computer network system while also preventing a group of professional penetration testers from causing further damage.
In addition, the participants also were issued requests to perform various administrative tasks, including configuring system services and installing updates during the event, said Matthew Nicklin, assistant lecturer in SIU's School of Computing and the team's adviser.
Nicklin said students must commit a significant amount of time to be successful in the highly competitive contests. The current team began preparing for the CCDC in August, with training and practice time ramping up in January.
"The desire to win the competition motivates the students to invest a significant amount of time, outside of class, learning the systems," Nicklin said. "Historically, students who have competed in the CCDC have received job offers from some of the area's best employers."
Members of the team will compete Saturday in a CCDC wildcard round. Team members will compete remotely from Carbondale, testing their skills against aggressive cyberattacks.
Security Dawgs team members, with their programs and hometowns, include:
ILLINOIS
Dustin Myers, team captain, a senior in information technology, Johnston City
Mike Whisenhunt, senior information systems technology, Mount Vernon
Trent Grider, senior in information systems technology
Tyson Nicklin, junior in information technology, West Frankfort
Andrew Barnes, senior in computer science, Danville
Isaac Brown, senior in economics, O'Fallon
Matthew Pawlowski, junior in information technology, Mundelein
Tony Barnes, senior in information technology, Danville