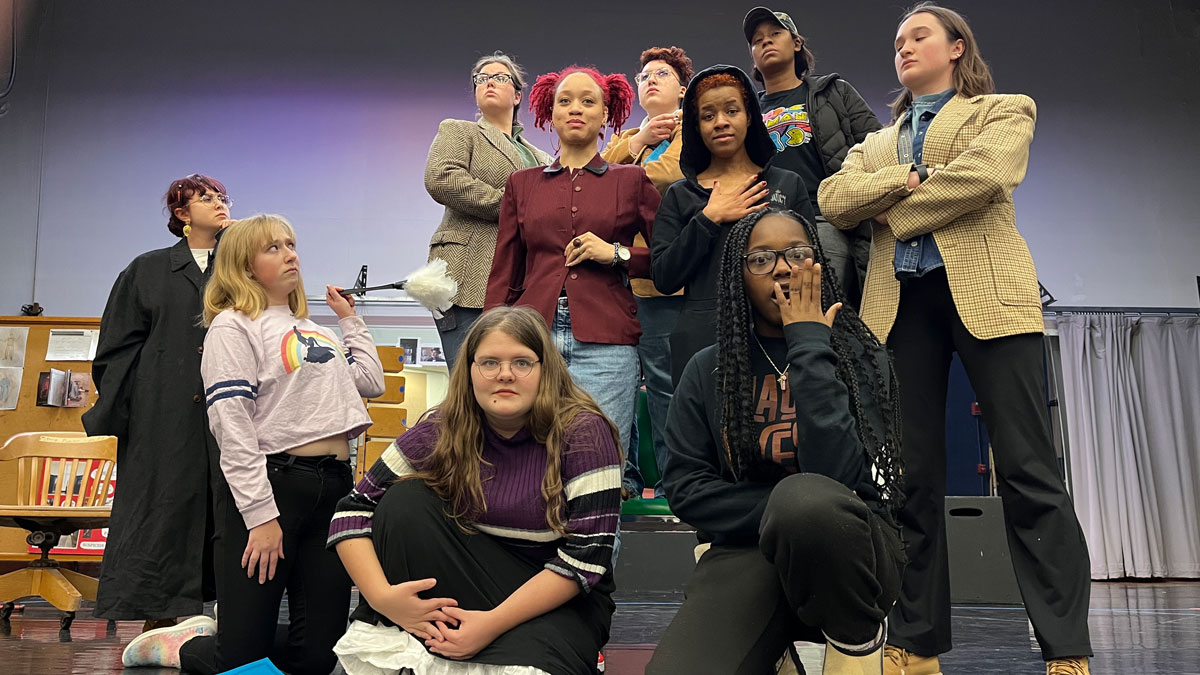 Southern Illinois University Carbondale theater students are preparing to perform Agatha Christie's timeless "The Mousetrap," March 7-9 on the McLeod Theater stage. (Photo provided)
March 02, 2023
Don't get caught: "The Mousetrap" hits SIU's McLeod Theater stage March 7-9
CARBONDALE, Ill. — A classic murder mystery of seven snowbound strangers with tales of sordid pasts and intrigue will play out on Southern Illinois University Carbondale's McLeod Theater stage next week through Agatha Christie's "The Mousetrap."
The performances primarily by School of Theater and Dance students are at 7:30 p.m. Tuesday-Thursday, March 7-9 (rescheduled from late February).
Nearly 29,000 performances
Initially written as a radio play, "The Mousetrap" opened in 1952 in London and is the world's best-known and longest-running play. Matthew Williams, an assistant professor, performance and movement, notes Christie produced a radio play to mark the 80th birthday of Queen Mary in 1947 with "Three Blind Mice," which provided the basis for "The Mousetrap."
"As a faculty we chose this play for its obvious audience appeal as well as the fact that it offers a valuable opportunity as a 'language' play," Williams said. "Our actors have all been trained in and are using British dialects. There is one Italian dialect as well."
Rehearsals began Jan. 16
More than 50 students are working on this production, which, Williams noted, has a completely non-cis- male-identifying cast. That was partly out of necessity, "but also a decision that allowed certain actors to play roles that they would not normally be able to play," he said.
The student cast, which includes two understudies, with hometowns listed, comprises:
Mrs. Casewell — Eli Jovanovic, sophomore, theater, Chicago.
Radio voices — Arianna Foreman, junior, theater, Atlanta.
Sgt. Trotter — Amethyst Fanning, senior, musical theater, Highland, Indiana.
Mr. Paravicini — Terrisha Adams, senior, education, Chicago.
Christopher Wren — Sabrina Holtgrew, junior, theater, St. Charles, Missouri.
Giles Ralston — Carolyn Ridler, junior, theater, Arlington Heights, Illinois.
Mr. Metcalf — Aubree Jean, senior, musical theater, Bay City, Michigan.
Swing — Grace Douglas, sophomore, musical theater, Leipsic, Ohio.
Mollie Ralston — Xiana Jones, sophomore, musical theater, Jackson, Tennessee.
Mrs. Boyle — Malia Jones, sophomore, musical theater, Cairo, Illinois.
Swing — Faith Smothers, freshman, theater, Fredricktown, Missouri. 
"It's an incredible opportunity that follows in line with the Elizabethan tradition of one gender playing all genders, a la the men playing all of the female parts in Shakespeare's plays such as 'Romeo and Juliet,'" Williams said. It also provided "a creative opportunity and challenge" for Haley Saylor, a graduate student in theater and costume designer, "to transform half of our cast through clothing, makeup and facial hair."
"Who doesn't like a whodunit?  And this production comes at a time when murder mysteries like this are popular," said H.D. Motyl, professor and interim director of the School of Theater and Dance. "This is the grandmother of all murder mysteries!"
Williams hopes audiences walk away from the performances with a passion to explore an Agatha Christie crime novel.
"If we do our jobs right, patrons will walk out of the theater feeling exhilarated, having ridden the thrilling psychological roller coaster that is 'The Mousetrap,'" he said.
Tickets available now
Tickets are $20 for adults, $18 for senior citizens and $8 for students. Tickets available through the SIU ticket office, the McLeod Theater ticket office, Monday through Friday, noon to 4:30 p.m. when the university is in session, or by calling 618-453-6000.
Motyl noted that a partnership with SIU's Fermentation Science Institute (FSI) will provide beer and local wines in the lobby before the show and during intermission.