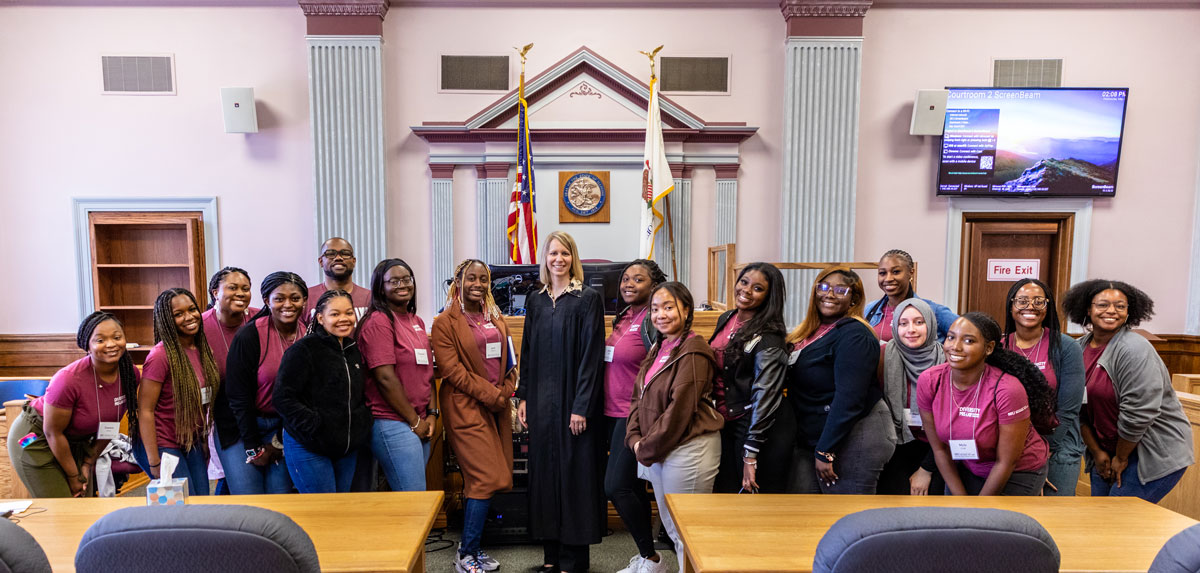 Participating students in the SIU School of Law's inaugural Diversity Prelaw Summer Institute meet First Judicial Circuit Court Associate Judge Ella York at the Jackson County Courthouse in Murphysboro, Illinois, in May 2022. (Photo provided)
March 01, 2023
SIU School of Law Diversity Prelaw Summer Institute seeks students
CARBONDALE, Ill. — High achieving college sophomores and juniors who want to gain insight into legal careers and prepare for law school are invited to attend the Southern Illinois University School of Law Diversity Prelaw Summer Institute.
Scheduled for May 21-27, the weeklong institute is part of SIU Carbondale's commitment to diversifying the legal profession. In the past year, SIU Law started the institute and has signed agreements with two historically Black colleges and a minority-serving institution to prepare potential students to apply to and succeed in law school.
Limited to 15 students, the institute is free and includes food and housing, an online Law School Admission Test (LSAT) prep course and transportation to events. The application deadline is March 15. Applications will be reviewed, and those accepted will be notified by email. Additional information and the registration form is at bit.ly/SOL-SUMMER-INSTITUTE.
"What I enjoy most about the institute is engaging with students who were like me in undergraduate school: interested and passionate about attending law school but lacking guidance," said Deidre Powell, this year's program director.
"Due to my own fear and uncertainty during undergraduate school, I decided not to take the LSAT and settled on teaching. Seven years later, I finally mustered up enough courage to study for the LSAT and attend law school. I don't want our student participants' dreams deferred. Being able to expose our summer participants to SIU's law school and the legal field while they are still pursuing their undergraduate degrees brings me ultimate joy."
Powell, an associate in the Armstrong Teasdale litigation group St. Louis office and a 2021 SIU law school alumna, assisted with the inaugural institute in May 2022.
The institute fits well with SIU's strategic plan, Imagine 2030, which includes a pillar to improve diversity, equity and inclusion, said School of Law Dean Camille Davidson.
"The process of applying to and succeeding in law school can be overwhelming, especially for students who are first generation college or law school," Davidson said. "This is an opportunity to share information about the process of applying and skills needed to succeed in law school."
A year ago, participating students came from SIU Carbondale, SIU Edwardsville, Governors State University, Harris-Stowe State University, Howard University, Jackson State University, Skidmore College, Stillman College and the University of North Carolina-Chapel Hill.
Students will participate in legal writing exercises, case briefings and a simulated law class. They will also visit the National Civil Rights Museum in Memphis, Tennessee; network with community leaders; visit the Armstrong Teasdale and Bryan Cave Leighton Paisner litigation firms, and the Missouri State Public Defender's Office. They will learn about identifying legal career opportunities and financing law school.