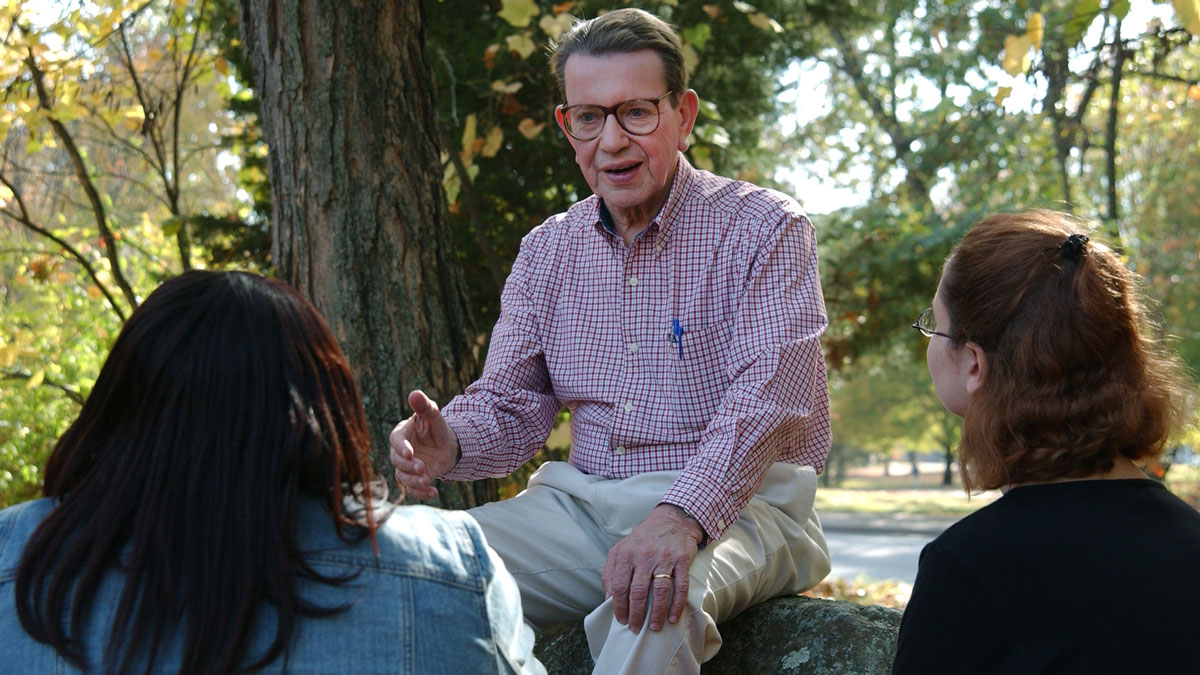 Former U.S. senator and public policy institute founder Paul Simon talks with college students on the SIU Carbondale campus in October 2003. (University Communications and Marketing photo)
February 28, 2023
SIU's Paul Simon Institute seeks Illinois college students to revitalize democracy
CARBONDALE, Ill. — The Paul Simon Public Policy Institute at Southern Illinois University Carbondale today (Feb. 28) announced an award that will go to current Illinois college or university students for the design and implementation of projects to revitalize democracy in their communities.
The Paul Simon Democracy Prize honors the institute's founder, the late U.S. Sen. Paul Simon. Three prizes of $5,000 will be awarded. Proposals could involve hosting public discussions or debates, registering voters, funding school newspapers to cover local issues, creating a speaker series on community matters, developing a program to recruit and train poll watchers — or an entirely new idea to expand and revitalize democracy.
"Paul Simon was compassionate and passionate about many things — especially the enduring challenge to renew and revitalize our democracy," John Shaw, institute director, said. "We want to find ways to encourage and inspire students to think about, design and implement concrete programs to improve our democracy."
The institute now has three programs to underscore Simon's commitment to better government and smarter politics: the Paul Simon Democracy Prize, the Renewing Illinois Summit for college and university students in the state and the Paul Simon-Jim Edgar Statesmanship Award, honoring officials in Illinois state and local government.
"These three programs embody Paul Simon's most aspirational and inspiring values," Shaw said.
For the Paul Simon Democracy Prize, students must submit a video proposal to the institute by April 1, 2023. Prizes will be announced on April 17.
The institute is looking for proposals that are persuasive, imaginative, optimistic and can realistically be implemented within six months. Videos should be between 3 and 5 minutes and will be assessed on the quality of the proposal, not the video itself.
"However, creative and persuasive and well-produced videos will get our attention," Shaw said.  
The three winning videos will be posted on the institute's website and YouTube channel. Prize recipients will be invited to a celebratory reception at the institute in fall 2023 and asked to describe how their proposals are being implemented.
Complete details of the Paul Simon Democracy Prize are available on the institute website.
Simon was a two-term senator from Illinois. After leaving public office in 1997, he returned to his Southern Illinois roots and established the then-Public Policy Institute at SIU Carbondale. The institute was renamed to honor Simon's legacy after his death in December 2003.
Simon also served in the Illinois House and state Senate and served four years as Illinois' lieutenant governor. In 1974, Simon was elected to the U.S. House of Representatives where he served for 10 years before winning election to the U.S. Senate. In 1987-88, he sought the Democratic nomination for president.
The institute is a nonprofit, nonpartisan think tank promoting better politics and smarter government and preparing young people for careers in public service.