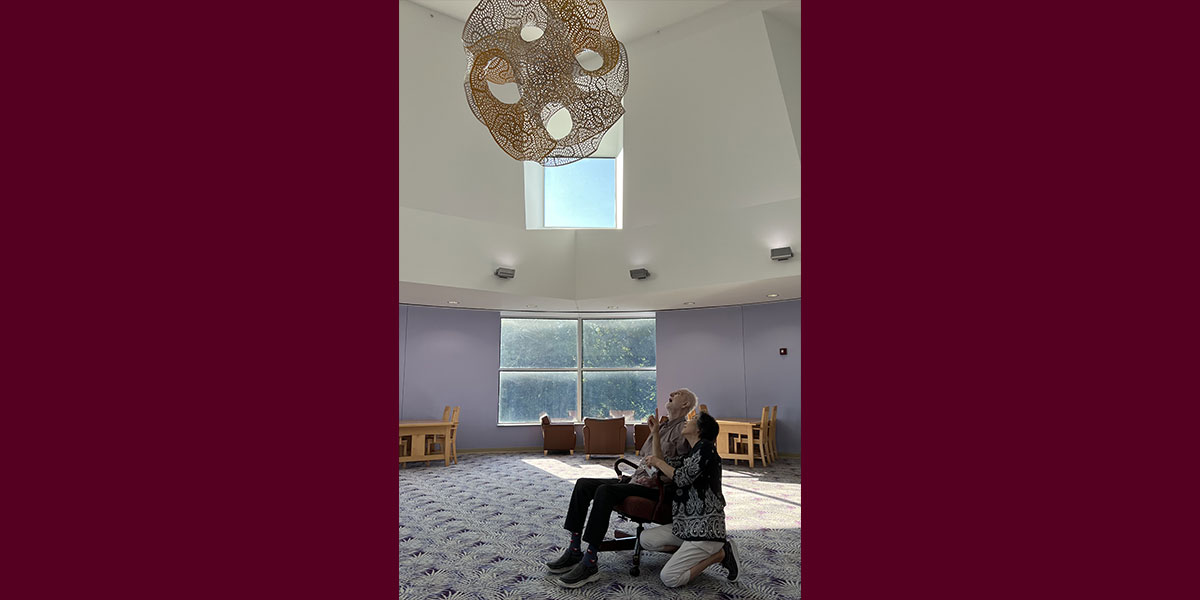 Magic and Science together: Alan Schoen, SIU Carbondale professor emeritus, and his wife, Reiko Schoen, admire the Yellow Moon Gyroid made by algorithmic artist Jesse Louis-Rosenberg, honoring Alan Schoen's 1968 discovery. The gyroid is in Morris Library's rotunda on the third floor. (Photo provided)
February 24, 2023
SIU's Tenney lecture to focus on interdisciplinary teaching of math and textiles
CARBONDALE, Ill. — Elisabetta Matsumoto, an associate professor of physics at the Georgia Institute of Technology whose research centers on the relationship between geometry and material properties of soft systems including textiles, 3D printing, and liquid crystals will deliver the University Honors Program Charles D. Tenney Distinguished Lecture on Friday, March 3, at Southern Illinois University Carbondale.
Matsumoto's lecture, "Knotty Knits: A Chat about Math and Crafts," is at 3 p.m. in Morris Library's John C. Guyon Auditorium. Admission is free, and the public is invited. A reception will follow. Registration to watch the program is also available via Zoom.
While on campus, Matsumoto will also discuss her interdisciplinary work during a gallery talk from 10 a.m. to noon March 3 in Quigley Hall. The presentation, hosted by the School of Architecture, is also free and open to the public.
---
Media advisory
For more information or to arrange for interviews with Elisabetta Matsumoto, contact Jyotsna Kapur, University Honors Program director, at 618-453-2824 or jkapur@siu.edu.
---
Matsumoto's visit culminates a year of activities led by Reiko Schoen around the August 2022 installation of the Yellow Moon Gyroid in Morris Library's third-floor rotunda, Jyotsna Kapur, University Honors Program director, said. Schoen is the wife of Alan Schoen, an SIU Carbondale emeritus professor of mathematics who discovered the gyroid in 1968 while working at NASA as a scientist.
Gyroids are infinitely connected periodic minimal surfaces with no straight lines and Schoen's discovery led the way to discovering these structures throughout nature, including the shimmering colors of butterfly wings and soap bubbles. A minimal surface is a surface that has the smallest area possible within a given boundary. 
"Matsumoto's lecture fits with this year's honors program theme of blending the arts, math and sciences, to foster curiosity and wonder about the universe we inhabit and how we come to know it," Kapur said.
"Matsumoto's research is both deep and wide, as she is able to connect the oldest of human arts and crafts, for example, knitting and sewing, with technologies of coding and programming as well as architectural enquiry into the strength and elasticity of soft materials. This is exactly the kind of education we value in honors."  Matsumoto is also interested in using sewing, 3D printing and virtual reality in mathematical art and education. Just this past semester, Professors Lingguo Bu and Grant Miller from the School of Education offered an honors seminar, Making Math Fun for Children, creating toys for learning with 3D printing. We hope to continue to offer this inventive seminar in the coming years."
Kapur said the events continue the honors program's mission "to foster creativity and improvisation across disciplines and to honor its legacy on our own campus – to celebrate the innovators and teachers, who inspired students to think out of the box."
Professor Alan Schoen, is a perfect example, she said.
"Not only a mathematician, Professor Schoen is a thinker, maker and educator – whose discoveries have now blossomed in so many different fields," she said. "Honors seeks to nurture the same spirit of curiosity and invention in our students. Through our curriculum and civic engagement, we foster in students the joys of thinking comprehensively, working collaboratively and contributing to society."
Lecture series honors former SIU provost
The lecture series honors Tenney, whose 42-year history with SIU Carbondale included duties as coach, professor and administrator. He served as the university's provost and vice president from 1952 to 1971 before he retired in 1973. He was instrumental in university organizing and planning and transforming SIU Carbondale from a teachers college. 
Event co-sponsors are Morris Library, the School of Architecture and the School of Education.
(Editor's note: Elisabetta Matsumoto is pronounced Eli-sa-betta Ma-tsu-moto.