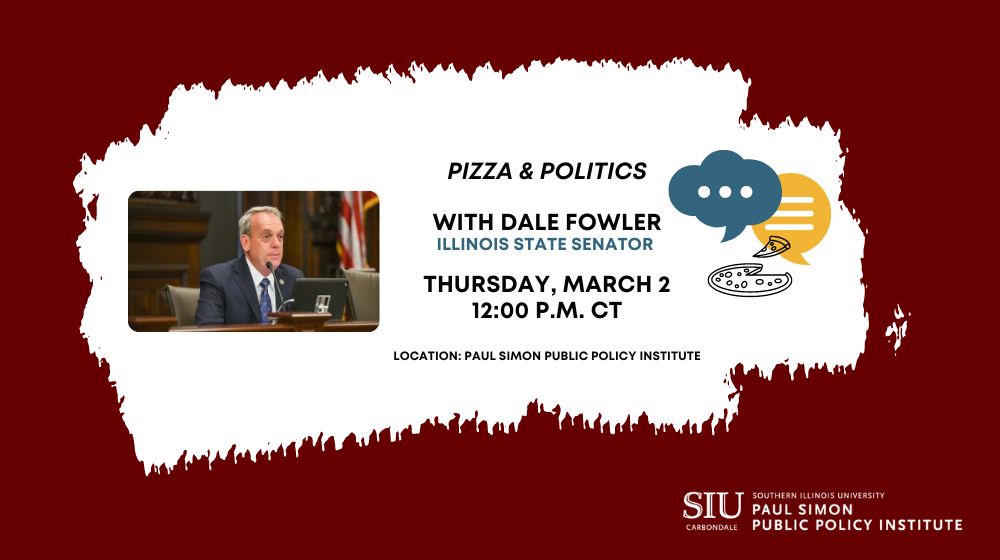 February 22, 2023
SIU's Paul Simon Institute to host state Sen. Dale Fowler next week
CARBONDALE, Ill. — Illinois State Sen. Dale Fowler will discuss this year's legislative agenda for the state when he participates in a Pizza & Politics session at Southern Illinois University Carbondale's Paul Simon Public Policy Institute on March 2. 
Fowler, R-Harrisburg, will discuss his career in politics and his current work in the Illinois General Assembly with John Shaw, institute director. The session is at noon in the institute's lobby, 1231 Lincoln Drive. The event is free and open to the community. Preregistration is encouraged. 
A former mayor and city council member in Harrisburg and Saline County Board member, Fowler has been in the Illinois General Assembly since 2017 and re-elected in 2018 and 2022. He is co-chair of the Senate Higher Education Committee and a member of the energy and public utilities, revenue and transportation committees. 
"Sen. Fowler has demonstrated an impressive — and inspiring — willingness to work with members of both parties to confront challenges in our region and across Illinois," Shaw said. "We are especially interested in learning about his hard work and bipartisan efforts to revitalize Cairo. We are also interested in learning his views on the state of higher education in Illinois." 
The 59th Senate district includes all or part of Alexander, Franklin, Gallatin, Hamilton, Hardin, Jackson, Johnson, Massac, Pope, Pulaski, Saline, Union and Williamson counties. 
Fowler has been an advocate for the construction of a port in Cairo, Illinois, at the confluence of the Ohio and Mississippi rivers. Fowler participated in a virtual discussion in April 2022 as part of the institute's Understanding Our New World series. 
Outside of his senate duties, Fowler, a native of Eldorado, is also business development officer for Peoples National Bank in Harrisburg. He also worked at the Vienna and Shawnee correctional centers and at the Illinois Youth Center in Harrisburg. He co-founded the Fowler-Bonan Foundation, which provides clothing and shoes to low-income children. 
The Pizza & Politics sessions are opportunities to engage in free-flowing discussions about such topics as policy issues, careers in politics, public service and advocacy.