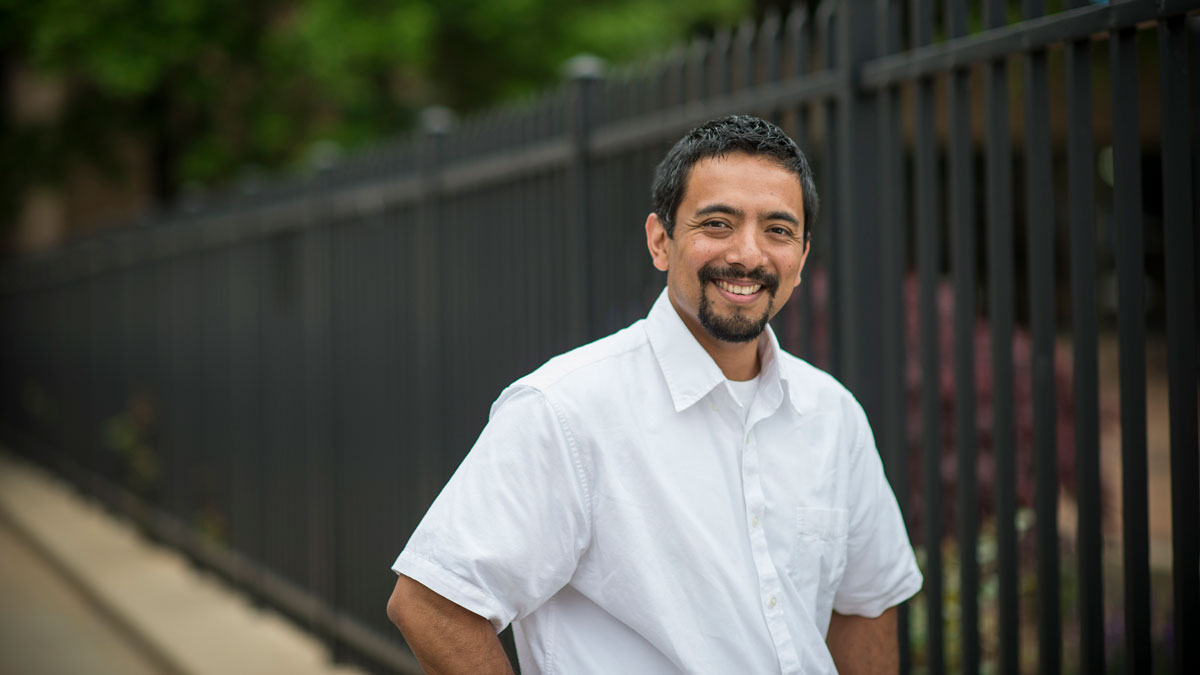 Sujan Shrestha, an associate professor at the University of Baltimore will deliver the Charles D. Tenney Distinguished Lecture at SIU Carbondale's Morris Library on Feb. 6. (Photo provided)
January 27, 2023
SIU's Tenney lecture to focus on interdisciplinary teaching of math, art and science
CARBONDALE, Ill. — Sujan Shrestha, an associate professor at the University of Baltimore who is known for his research on teaching through games and interactive digital technology, will deliver the University Honors Program Charles D. Tenney Distinguished Lecture next month at Southern Illinois University Carbondale.
Shrestha's lecture, "Touchy-Feely: The Power of Interdisciplinary Approaches to Math, Art and Science," is at 6 p.m. Feb. 6 in Morris Library's John C. Guyon Auditorium. Admission is free, and the public is invited. A reception will follow. Registration to watch the program is also available via Zoom.
The program will include an arts and artifacts show in the library's Hall of Presidents and Rotunda, featuring the work of designer, scientist and architect R. Buckminster Fuller. The show features Fuller's models in the library's Special Collections Research Center, artifacts related to Fuller and interdisciplinary work by the School of Architecture. There will also be geometric art (geoflakes) created by artist and curator Benjamin Lowder, along with models and art from students and community members.
---
Media advisory
For more information or to arrange for interviews with Sujan Shrestha, contact Elizabeth Donoghue, University Honors Program assistant director, at 618-453-4371 or elizabeth.donoghue@siu.edu.
---
Established interdisciplinary lab
Shrestha is an associate professor in the simulation and game design program in University of Baltimore's College of Arts and Sciences. His research interests encompass digital humanities, with work focusing on the preservation and accessibility of historical and cultural artifacts. With a background in experimental art and new media, Shrestha noted that he finds solutions in meaningful restoration and preservation of history by means of storytelling, games and emerging technology, and collaborates with people worldwide.
Shrestha established the University of Baltimore's GameLab, a multipurpose interdisciplinary laboratory to support students in science, technology, engineering and mathematics through arts, or STEAM. He is an active board member and the treasurer of the Bridges Organization, which oversees an annual conference on mathematical connections in art, music, architecture, education and culture. 
Initiating dialogue across disciplines is one of the major goals of an honors education, said Jyotsna Kapur, director of the University Honors Program.
"This approach sparks creativity and, one hopes, sets students on a lifelong love with learning from other people, approaches, and methods." 
Just this past semester, associate professors Lingguo Bu and Grant Miller from the School of Education co-taught an honors seminar, Making Math Fun for Children.  Students used 3D printers to develop toys that they then tried out with children to teach mathematical concepts, said Elizabeth Donoghue, University Honors Program assistant director.
"The class was such a success and embodies the interdisciplinary ethic of the University Honors Program that it inspired the choices for two speakers this semester," she said.
Two Tenney lectures set this semester
Shrestha's lecture is one of two Tenney lectures this spring. Elisabetta Matsumoto, an associate professor in Georgia Institute of Technology's School of Physics, will present "Knotty Knits: A Chat about Math and Crafts" beginning at 3 p.m. March 3, also in Guyon Auditorium.
Lecture series honors former SIU provost
The lecture series honors Tenney, whose 42-year history with SIU Carbondale included duties as coach, professor and administrator. He served as the university's provost and vice president from 1952 to 1971 before he retired in 1973. He was instrumental in university organizing and planning and transforming SIU Carbondale from a teachers college. 
Event co-sponsors are Morris Library's Special Collections Research Center, the School of Architecture and the School of Education.
(Editor's note: Sujan Shrestha is pronounced (Sue-jaan Shrayesh-ta)