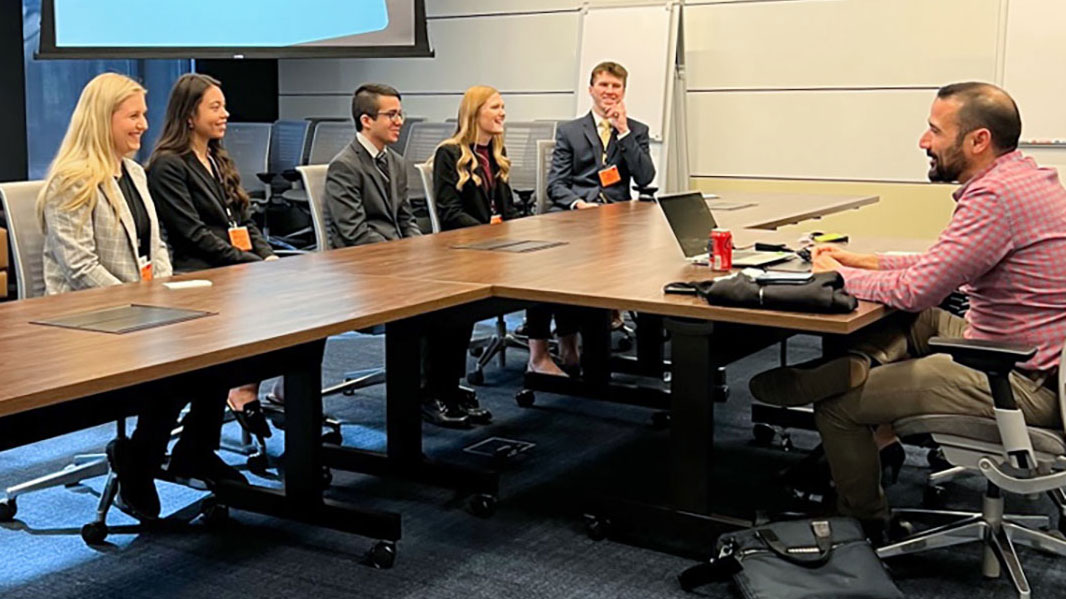 Competing at the national Deloitte FanTAXtic Case Competition in Westlake, Texas, are SIU team members (from left) Jayda Smith, Mackenzie Piazza, Matthew Carrazco, Lexie Lingle and Ben Morgan. They presented in front of Deloitte Tax LLP professionals, managers and partners and won first place. (Photos provided)
January 26, 2023
SIU students win national business competition
CARBONDALE, Ill. — National champions. That's the title a Southern Illinois University Carbondale business student team claimed last weekend when competing for the first time ever in the Deloitte FanTAXtic Case Competition, which asks students to present solutions to a realistic business challenge and address business and tax implications.
"Some of the best accounting programs in the country were at this national competition. For our program to win demonstrates the extraordinary program and students that we have at the SIU School of Accountancy," said Tim Hurley, the accounting clinical assistant professor who serves as the team's faculty adviser. "It was an overwhelming joy to see these students put in so much hard work and to be rewarded for it on the national stage."
Hundreds of students from dozens of colleges and universities across the country competed in eight regional business solutions competitions, sponsored by Deloitte Tax LLP, with the top two teams from each advancing to the nationals last weekend at Deloitte University in Westlake, Texas. The University of Southern California (USC) took second place, and third went to the University of California, Los Angeles (UCLA), last year's national champ. The Salukis had bested two of the nation's top finishers from the past two years to advance to the nationals, and there, they also topped such tough competition as the University of Florida, the University of Illinois Urbana-Champaign, the University of Illinois Chicago, the University of Tennessee and Brigham Young University.
"I am extremely proud of the hard work from my teammates as this wouldn't have been possible without 100% effort from everyone on the team," said Lexie Lingle, a sophomore accounting major from Anna, Illinois. "We have felt endless support from the faculty, staff and our fellow classmates, and we were so happy to bring the spotlight to our university and our accounting program. Competing with many of the top universities in the nation, it was an amazing feeling to bring our talents to light and win the national competition."
Other Saluki FanTAXtic team members are:
Mackenzie Piazza, a senior accountingand finance major from Normal, Illinois.
Matthew Carrazco, a junior accounting major from Des Plaines, Illinois.
Jayda Smith, a sophomore accounting major from Marion, Illinois.
Ben Morgan, a freshman finance major from Kankakee, Illinois.
The students credit the knowledge they had gotten through SIU classes and working with Hurley. They also said the additional experience they received through several campus organizations was vital to their success. Some cited knowledge and insights gained through their experience with the Saluki Student Investment Fund (SSIF). Carrazco and Morgan are members of SSIF, which manages a nearly $3.5 investment portfolio for the SIU Foundation. The registered student organization consistently outperforms professional management firms in the S&P 400 Benchmark.
Some participate in the Accounting Society and Beta Alpha Psi, as well as the Beta Alpha Psi Volunteer Income Tax Assistance (VITA) program, which provides invaluable exposure to accounting experience, Carrazco noted. Each spring, student volunteers in the VITA program prepare income tax returns for low- to moderate-income community members.
"This gave us knowledge on the flow of the individual tax return and how certain calculations are incorporated," Piazza said.
Simulating true-to-life accounting challenges
The contest presents students with a complex, real-world tax issue in an interactive format that includes case simulation, role playing and presentations. The regional competition was virtual, but the national contest went live. In both phases, Deloitte Tax LLP professionals, managers and partners offered the students support and guidance during the competition and posed as clients.
Hurley said the national competition was an extension of the regional contest, in which each university student group was given a specific case to handle, representing a "client" who owns a business and wants to start a new, separate venture. The teams had to consider which funding option would provide the lowest overall tax liability and what type of business entity should be formed, among other considerations.
"Our focus and goal in the national competition was to provide the best possible solution to our hypothetical client, as they were facing new tax challenges related to the business world today," said Piazza. "We had to research topics related to inflation that were causing prices to rise in the supply chain, the start-up business' tax consequences for taking on a new investor to obtain funding, and how business operating losses can affect tax returns for entrepreneurs and investors."
Carrazco said the client was looking for ways to fund a second business, a campsite. He had a list of potential investors but could select just one, based on the share of the business each investor requested, possible marketing opportunities and the investors' expertise.
"We then had to consider which type of corporation the business owner should file based on the investment he accepted, and ultimately, which choice would result in the lowest tax liability for him and his company," Carrazco said.
Tough task
There were many factors to be considered by the Salukis, and they said the contest posed a tough battle.
"The most challenging part of the competition for our team was the time constraints in providing a solution," Lingle said.
The team had just two hours to prepare its initial presentation, which involved weighing and ranking the investors' offers, and three hours for the final presentation, which took the solution to the next level by preparing a scenario based on the recommended investor and other considerations.
"Although it was difficult, our team worked together very well," Lingle said. "We each took on a part of the task and worked to bring all of our parts together to create a visually pleasing, knowledgeable and accurate presentation."
Carrazco noted that the team worked hard and "utilized every second possible" to create the most professional presentation.
"We had to rely on each other and trust in knowing each teammate was working hard on perfecting their part of the solution," Piazza added. "All of us fit our roles perfectly, and we communicated efficiently, knowing we were very limited in time."
Underdogs persevered
As first-time competitors, the students had no idea what to expect. Knowing they were not favored to win, they set their goals high.
"We were very content just being at Deloitte University among so many smart individuals," Carrazco said. "We knew that many of the teams around us were quite prestigious, but we were determined to prove that Salukis can compete with the best universities in the U.S."
As the contest evolved, their aspirations grew.
"After giving our presentation and diligently answering the very challenging questions from the judges, we felt confident that we had done everything we could to put ourselves in a position to place in the top three," Piazza said.
Lingle agreed, noting that the Salukis "went into awards with confidence in our solution, coupled with a feeling of hope."
While they thought they had a great chance of placing, it was still a most excellent shock to come out on top, they said.
"Our reaction to winning was pure happiness! Hearing Southern Illinois University announced as first place will forever remain in my mind," Piazza said. "When the SIU logo appeared on the screen showing us in first place, we knew all our hard work had paid off, and we could genuinely celebrate our accounting students being named the best in the country. With SIU being one of the smaller schools in the competition, we lived our underdog story and won while representing the amazing SIU community."
The students definitely made their program and college proud, faculty and staff say.
"It's such an exciting accomplishment for the SIU students to win this national competition, particularly since it's the first time they've even competed," said Benna Williams, School of Accountancy program coordinator and associate lecturer and CPA.
Students benefitted in multiple ways
The SIU team members say their FanTAXtic experience allowed them to enhance their problem-solving, teamwork and public speaking skills. It's also a huge boost on their resumes and was a valuable opportunity for them to get real-world experience in the tax field in preparation for the careers they will pursue after graduation.
"It really means a lot to me," said Carrazco, "because I plan to pursue a career with Deloitte, hopefully at their Chicago location, and this was a great first step on that path."
He and his teammates said they also formed meaningful bonds with one another that they are confident will last a lifetime.
"One of my favorite things about this competition was how it brought me so much closer to my teammates," Piazza said. "I will forever cherish the memories I made with these incredible people, and they have become some of my best friends."