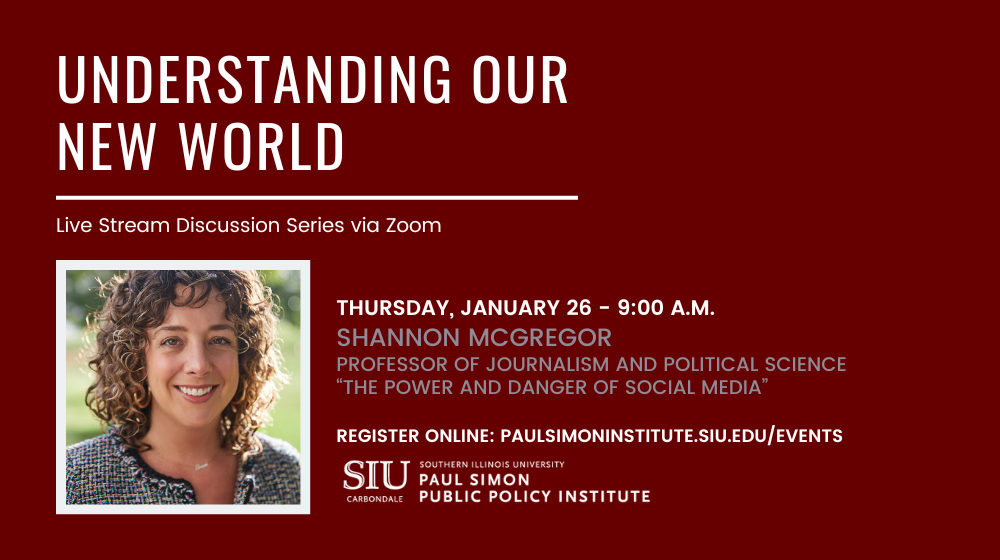 January 20, 2023
SIU's Paul Simon Institute examines social media impact on journalism, politics, and government
CARBONDALE, Ill. — Shannon McGregor, a professor of journalism and political science at the University of North Carolina at Chapel Hill, will join Southern Illinois University Carbondale's Paul Simon Public Policy Institute on Thursday, Jan. 26, to discuss the power and danger of social media. 
McGregor will join John Shaw, institute director, at 9 a.m. for a conversation via Zoom as part of the institute's Understanding Our New World series. The event is free and open to the public; registration is required to gain access to the Zoom webinar. Visit paulsimoninstitute.org/events to register. 
The discussion will focus on how social media is impacting journalism, politics and government in the United States. 
McGregor's research focuses on how social media is used by journalists, political actors and the public. Her work has been published in leading journals such as "Journal of Communication," "New Media & Society," and "Communication and Society." She co-edited the book, "Digital Discussions: How Big Data Informs Political Communication." 
"Professor McGregor is an insightful and provocative analyst and a creative and rigorous researcher. She is exploring some of the most important questions that confront American politics," Shaw said. 
Those questions, Shaw noted, include: 
How do politicians, journalists and the public use social and digital media for political purposes?
How do politicians,' journalists' and the public's use of social media impact their behavior?
How does the work of the technology companies that run social and digital media platforms shape the political system in the United States? 
McGregor is exploring these issues through in-depth interviews, textual analysis, surveys, experiments and large-scale computational and network analysis, Shaw said. 
Attendees are encouraged to submit questions for McGregor on their registration form or email questions to paulsimoninstitute@siu.edu.